Meritor Enhances Solutions for Electric Utility, Construction Industries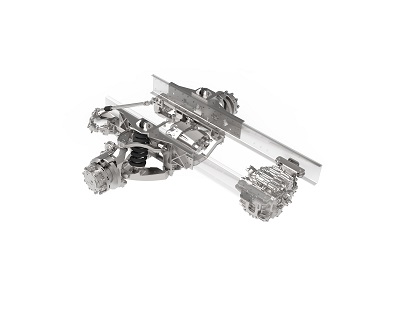 Oct. 7, 2019 -- Meritor Inc. has expanded its solutions for the electric utility and construction industries by launching a lighter variant of its independent front suspension (IFS) and offering an enhanced transfer case.
"Both products are purpose-built with Meritor's field-proven technologies for the demanding needs of utility and construction fleets," said Jim Keane, director, Specialty for Meritor. "Meritor is reinforcing its dedication to excellence in engineering and product development by building a robust portfolio of versatile products for this market."
The IFS variant for Class 6-7 trucks is lighter than the original suspension that launched in 2017, and it includes a larger 285 mm. standard wheel-end. Lightweight air disc brakes fit standard rims and tires in North America, and vented rotors are optional.
Unlike trucks equipped with rigid front-drive axle and leaf spring suspensions, Meritor's bolt-on modular design eliminates the need for frame rail modifications and offers better vehicle handling, stability, and control. With a gross axle rating up to 22,000 lbs., the IFS is equipped with modern steering geometry and a low-profile shift-on-the-fly transfer case. Non-drive versions of the suspension are also available for fleets with rear-drive vehicles requiring the safety benefits of an independent suspension.
The enhanced two-speed MTC-4200-XL-EC series transfer case is designed to deliver mobility and durability for utility as well as medium- and heavy-duty on- and off-highway applications. A new oil distribution system increases oil volume to the chassis-mounted cooler.
Sump oil temperatures are reduced 15% over the previous Meritor model at maximum input speed. Precision-ground gearing delivers durability and torque capability for the most demanding applications and shift-on-the-fly front axle engagement is compatible with automatic engagement systems to offer exceptional drivetrain packaging.