National Crane Unveils Tractor-Mounted NBT30H-2 Boom Truck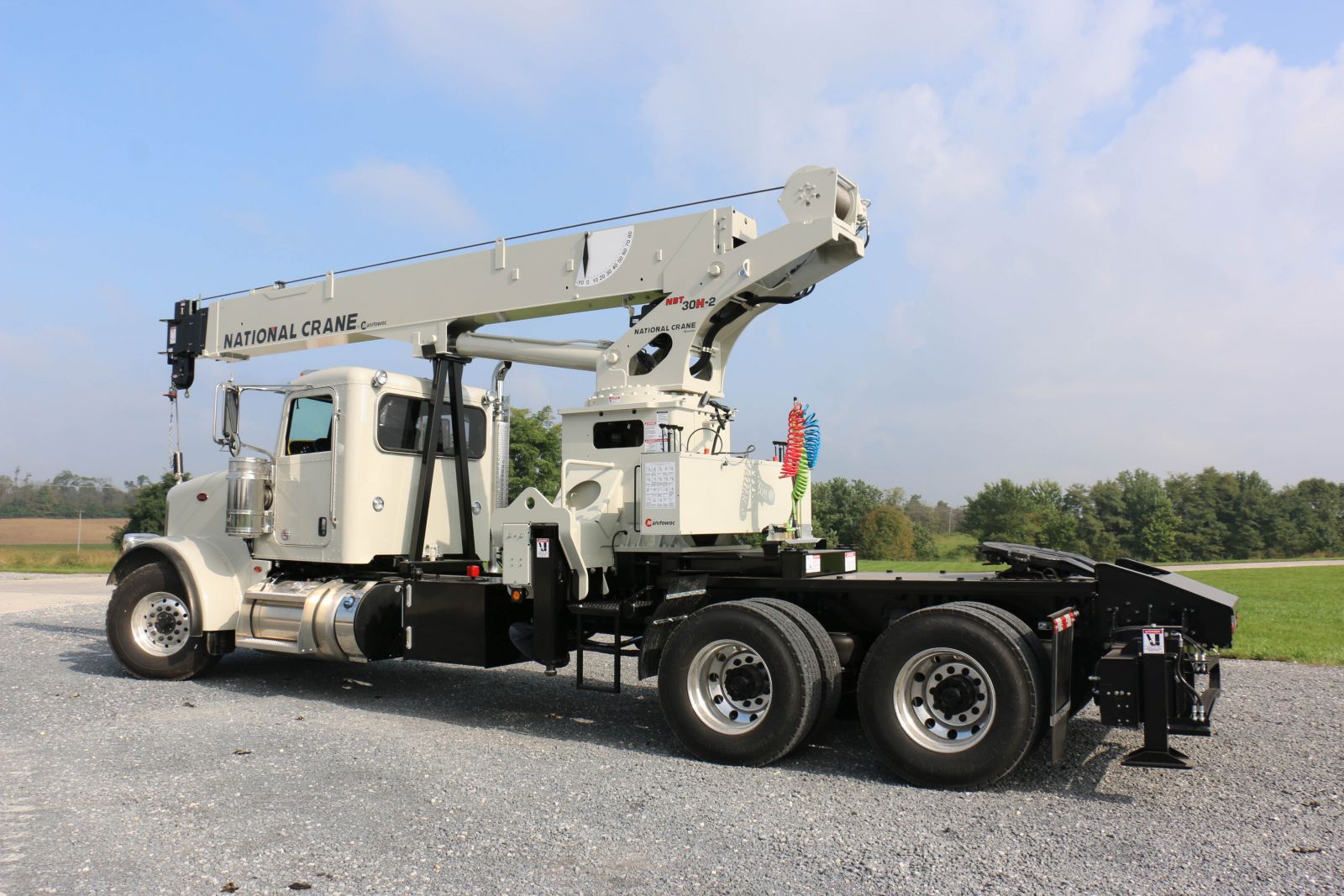 October 16, 2018 - National Crane, Shady Grove, Pennsylvania, has developed a tractor-mounted version of its popular NBT30H-2, the NBT30H-2 TM.

The 30-U.S.-ton crane was created in response to the company's voice-of-the-customer feedback program, an integral part of The Manitowoc Way.

It went from concept to production in just eight months and was designed by a cross-functional team of experts from Manitowoc's Lift Solutions team and National Crane's Truck Modification Center, as well as the company's engineering team.

The primary application for this machine will be oil-field work, but it will also be viable for everyday taxi crane service.

"The NBT30H-2 TM is the next evolution of the boom truck, adding a tractor mount for oil field and taxi crane work," said Bob Ritter, product engineering manager at National Crane. "It was built thanks to a winning combination of speed of engineering and focus on the customer. We've designed this machine to be road legal in all 50 states, without special permitting, and provide superior ROI."

The NBT30H-2 TM features a 69' boom with a 78' maximum tip height that enables more job site use than a traditional 51' tractor-mount boom.

It also offers 360° stability, with and without the trailer attached, thanks to out-and-down main outriggers and stabilizers, as well as a fully integrated heavy-duty front outrigger; all of which can be used at full, mid, and retracted spans.

The hoist features a two-speed, high-performance planetary winch with 390' of 9/16" rotation- resistant wire rope that has a 7,700-lb. single-line pull.

A sturdy boom rest right behind the truck cab delivers solid boom support and quick, easy access to the truck engine for serviceability.

A fixed-position fifth wheel distributes loadings on the truck and trailer. The trailer itself is detachable, allowing for both oil field and taxi crane work. Finally, with nearly 5' of truck frame space available between the crane's frame and the back-of-cab boom rest, customizations such as platform installation, chain rack storage, tool boxes, etc. are possible.

As for the crane's performance and operation, the NBT30H-2 TM features Rated Capacity Limiting (RCL) and anti-two block (ATB) systems. A graphical display capacity limiter and an anti-two block system provide audio visual warnings and a crane function lockout. A real-time color display shows boom angle, length, radius, tip height, maximum permissible load, load indication and warning of impending overload condition. The machine also features real-time J1939 truck diagnostic and monitoring, such as engine regen status, fuel level, oil pressure, battery voltage and more. Finally, a standard Work Area Definition System (WADS) is included for operator definable non-lockout warning limits.

The NBT30H-2 TM makes its international debut at the Permian Basin International Oil Show in October before serial production in Q1 of 2019. Several machines have already been pre-ordered.