National NBT40-2 Series Boom Trucks to Debut at ConExpo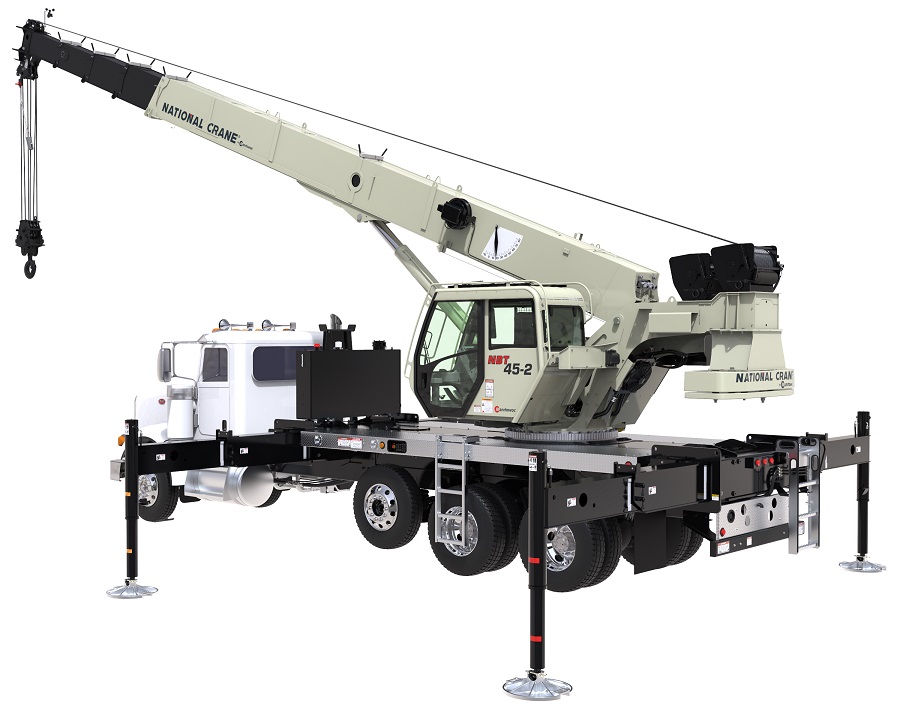 March 4, 2020 -- Among the new crane products Manitowoc will unveil at ConExpo-Con/Agg 2020 in Las Vegas from March 10-14, is the National Crane NBT 40-2 Series of boom trucks.
The new units represent a combined re-engineering of the reliable NBT40-1 series and popular NBT50L series to deliver an upgraded product that offers better capacity, reach, comfort, and features while maintaining the same overall weight as the NBT40-1.
"The NBT40-2 series continues the evolution to the next generation of boom trucks started with the NBT50L Series," said Bob Ritter, product manager of boom trucks at Manitowoc. "It's a complete re-engineering of our boom truck series, and it improves on many aspects of its predecessors, providing the strongest and most competitive load charts available for a 40-U.S.-ton or 45-U.S.-ton boom truck with no increase in GVW."
Ritter added, "With two options for capacity and reach, we're providing customers with options that suit their specific needs. It's another example of Manitowoc's Voice of the Customer product development process in action."
The new NBT40-2 series can be configured for 40-U.S.-ton or 45-U.S.-ton capacity and be equipped with either a 127' or 142' telescopic main boom. Maximum boom tip height is 150'. It also will offer a two-piece 31'-55' telescoping jib which offers a maximum jib-tip height of 204'.
The redesigned turntable and torsion give a solid feel, even when the crane is lifting the extents of the load chart, and the re-engineered stiffer boom maximizes lifting capacity while minimizing flex. Redesigned, fixed counterweights optimize lifting capacity while keeping the rig's weight the same as that of its predecessor.
The crane ideal for commercial or residential construction, thanks to its versatile boom lengths and excellence capacities both in close and at longer radii, says Manitowoc. It's also suited for the utility or tree-service work, especially when users need 200' or more of platform height. Tree service companies will especially like the crane's ruggedness, capacity, and reach, said Manitowoc.
This NBT40-2 boom truck series also raises the bar in operator comfort. It comes standard with a hydraulically tilting cab and a heated operator's seat. Also standard is a front-bumper-mounted SFO and hoist control. Optional wireless outrigger controls and four-position outriggers enable quicker and easier setup. An easy-to-use color graphical display and real-time diagnostics simplify troubleshooting without a laptop.
Additional state-of-the-art features include adjustable electric-over-hydraulic controls, optional multi-camera system for better job site visibility, and a fully integrated wireless wind speed indicator.
The NBT40-2 series shares several traits with the NBT50L series, including its electrical and control architecture. The commonality between these two models will minimize operator and technician training while also making maintenance and parts access easier, compared to its predecessor.
Also at ConExpo, a 60-U.S.-Ton Model
Manitowoc will also showcase a recently released National Crane boom truck at ConExpo, the NBT60L, which debuted in September 2019. This 60-U.S.-ton crane features a 151' telescopic boom with a 161' maximum main-boom tip height. That's 15% longer than the nearest competitor in its capacity class. "We added the longer boom option to the NBT60L to meet the demands of the energy and utility sectors," Ritter said. "These industries will find the longer reach and optimized load charts ideal for their unique applications."