NCCCO Seeks Volunteers to Help Develop Telehandler Operator Certification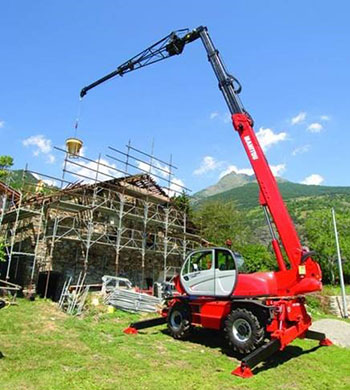 June 10, 2020 - The National Commission for the Certification of Crane Operators is looking for subject matter experts to join its task force that will develop a new certification program for telehandler operators.
Subject matter experts from all aspects of the industry including users, manufacturers, consultants, labor, government/regulatory, insurance, owners, and associations are invited to apply for a seat on the group.
NCCCO is developing the certification in response to industry efforts to comply with OSHA's operator certification requirements.
OSHA requires a certified operator when a telehandler uses a winch.
NCCCO is developing this program so that users can meet federal certification requirements and have the same increased safety benefits that certification has brought to users of other equipment.
NCCCO was formed by industry in 1995 as an independent, non-profit organization to develop and administer a nationwide program for the certification of load handling equipment operators and related personnel. Over the past 25 years, NCCCO has become known for operator and related certifications.
NCCCO has administered more than 1.5 million written and practical examinations and issued more than 726,000 ANSI-accredited and OSHA-compliant certifications. It currently offers more than two dozen certification designations across 12 certification programs.
NCCCO is currently seeking volunteers for the task force that will develop the new Telehandler Operator certification program. It plans to develop the program beginning this summer.
Those who would like to participate on the task force are encouraged to complete and submit an application form.
Experts in their respective fields will staff the group and will be guided by NCCCO's psychometricians.
Other experts will serve as item writers to develop the actual exam questions.
As with the current NCCCO certification programs, a professional job task analysis will be conducted to serve as the foundation for exam development activities.
NCCCO Director of Certification & Credentialing, Bob Mahlman said that development of the new certification program would begin in the third quarter of 2020 and continue throughout 2021. "We are developing a schedule where the development of the program could be complete within 18 months of our first meeting," he said.
Like all other certification programs that NCCCO has developed, this new Telehandler Operator program will rely on three major resources. "The new program will draw on industry support, subject matter expertise, and psychometric guidance," said Mahlman. "All elements of the new program will be developed according to the same strict psychometric standards that are a hallmark of all of NCCCO's certification programs. The resulting certification process will be fair, valid, reliable, and legally defensible."