New Double-Gooseneck Trailer Extends to 58 ft., Can Raise Deck to 45 in.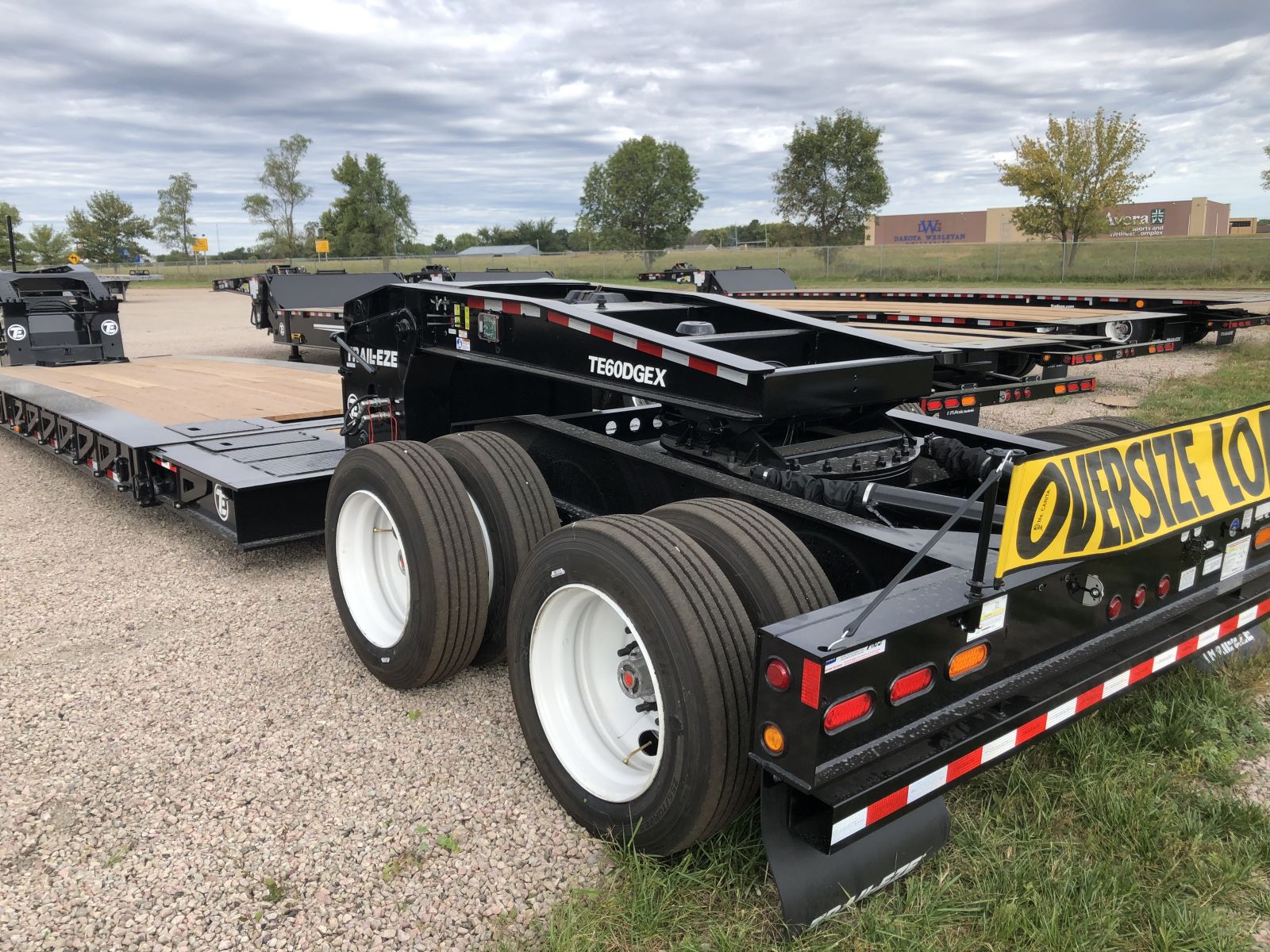 Nov. 12, 2019 - Trail-Eze, Mitchell, South Dakota, has rolled out a new trailer whose deck can extend from 33' to 58', hold 60,000 lbs. closed or 50,000 lbs. extended, and raise its deck hydraulically as high as 45".
Goosenecks at the front and rear are equipped with hydraulic cylinders that can raise the trailer deck by 31" so cribbing or other supports can be removed easily to simplify loading and unloading. Maximum height of the fully raised deck is 45" rear and 44" front.

The rear gooseneck mounts on a tandem-axle rear steering dolly that can be pinned in line for normal travel or unpinned and steered independently with a wireless remote control for maneuvering in tight spaces. The rear carrier can turn up to 32.56° left or right to help maneuverability.

Also, the front gooseneck is removable so equipment can be driven off the trailer, same as from a conventional lowboy. For loading and unloading, the deck can be lowered to ground, for a minimum deck height of 14". For travel, minimum road clearance is 6" and minimum deck height is 20".

The trailer's front section is decked with 1.5" thick apitong hardwood decking and equipped with swing-out outriggers to hold wood to widen the trailer to 12'8". The rear section of the trailer slides out of the front section on smooth-running rollers and locks securely in place with a spring-actuated pin. It can be extended in 4' increments. The rear section of the trailer has no decking, so is suited for self-supporting loads. It can be widened to 12'8" with flat-back removable outriggers that are kept in a built-in storage area when not needed.

At its shortest length, the TE 60DG trailer can support 60,000 lbs. on its 33' deck and measures 60'5" long overall. When extended, it can support 50,000 lbs., offers a 58' long deck, and measures 85'5" long overall.

The first buyer of a Trail-Eze TE 60DG trailer is South Dakota Housing & Development Authority (SDH&DA), which uses the trailer to deliver complete pre-built houses that measure up to 50' long and weigh up to 44,000 lbs. SDH&DA has been using the new trailer for about six weeks.

Steve Maruska, production supervisor, oversees transportation, delivery, and placement of the stick-built houses. He says that, so far, the trailer is "wonderful." SDH&DA loads each house on the trailer and drives it from the manufacturing facility to the home site. There, it elevates the trailer deck, places supporting beams beneath the house, and then slides the house gently onto the foundation.

Maruska says that the trailer's extension deck rolls in and out smoothly and locks into place securely. "As the houses got bigger, we needed a larger trailer to deliver them," says Maruska. "This new trailer has everything we wanted, from plenty of length, to smooth maneuvering, and lots of vertical deck travel. It really makes delivery smooth, consistent, and efficient."
Trail-Eze Sales Manager Shawn Murtha says that the company can apply the TE 60DG concept to create higher capacity models with similar benefits. "We can design and build models with much higher capacities and with a three- or four-axle rear dolly to handle larger loads, if that's what a customer needs," he said.