New Liebherr Crane Lifts 617-Ton Test Load
January 9, 2019 - Liebherr's new LR 1800-1.0 lattice-boom crawler crane has lifted its first large test load, 617 U.S. tons (560 metric tons), at the company's plant in Ehingen Germany.
Liebherr unveiled the LR 1800-1.0, which is expected to have a maximum capacity of 880 U.S. tons (800 metric tons), at its customer days in June.
Near the end of November the new crane hoisted its first large test load as part of the prototype testing procedure.
Equipped with its derrick system, the LR 1800-1.0 lifted 617.3 U.S. tons (560 metric tons) on 275.6' (84 m) of HSLDBV boom at a 39.4' (12m) radius.
The HSLDBV boom system consists of a particularly strong boom (HSL), the derrick system (D), and the new suspended ballast (B), with adjustable variable frame (V).
The V frame is a hydraulically adjustable ballast system that lets the ballast be positioned at long radii ranging from 45.9' (14m) to 75.5' (23m). It delivers maximum flexibility, compared to the standard rigid system.
To hoist the test load, 440 U.S. tons (400 metric tons) of suspended ballast were extended to the 75.5' (23m) maximum radius. The crane was also equipped with 187 U.S. tons (170 metric tons) of ballast on the slewing platform and 77 U.S. tons (70 metric tons) of central ballast.
Over the next few weeks, Liebherr's crane acceptance staff will test the new LR 1800-1.0 with even heavier loads. The tests will be almost complete by the time the Bauma trade show opens its doors in Munich, where the crane will be one of the highlights of Liebherr's exhibit.
A Powerful Crane
Outstanding lifting capacities and low-cost transport around the world are the main features of Liebherr's new LR 1800-1.0 crane.
It has been designed as a particularly powerful crane for jobs with a luffing jib and derrick system, for example for power plant construction and the petrochemical industry.
For the first time, the boom system features lattice sections with three decreasing cross sections so they can be nested inside each other for transport.
To minimize transport costs, each of the LR 1800-1.0's shipping modules measures no more than 9'10" (3m) wide and weighs 49.5 U.S. tons (45 metric tons) or less. Each crawler's 66-U.S.-ton (60-metric-ton) weight can be reduced to less than 49.5 U.S. tons (45 metric tons) by removing the treads.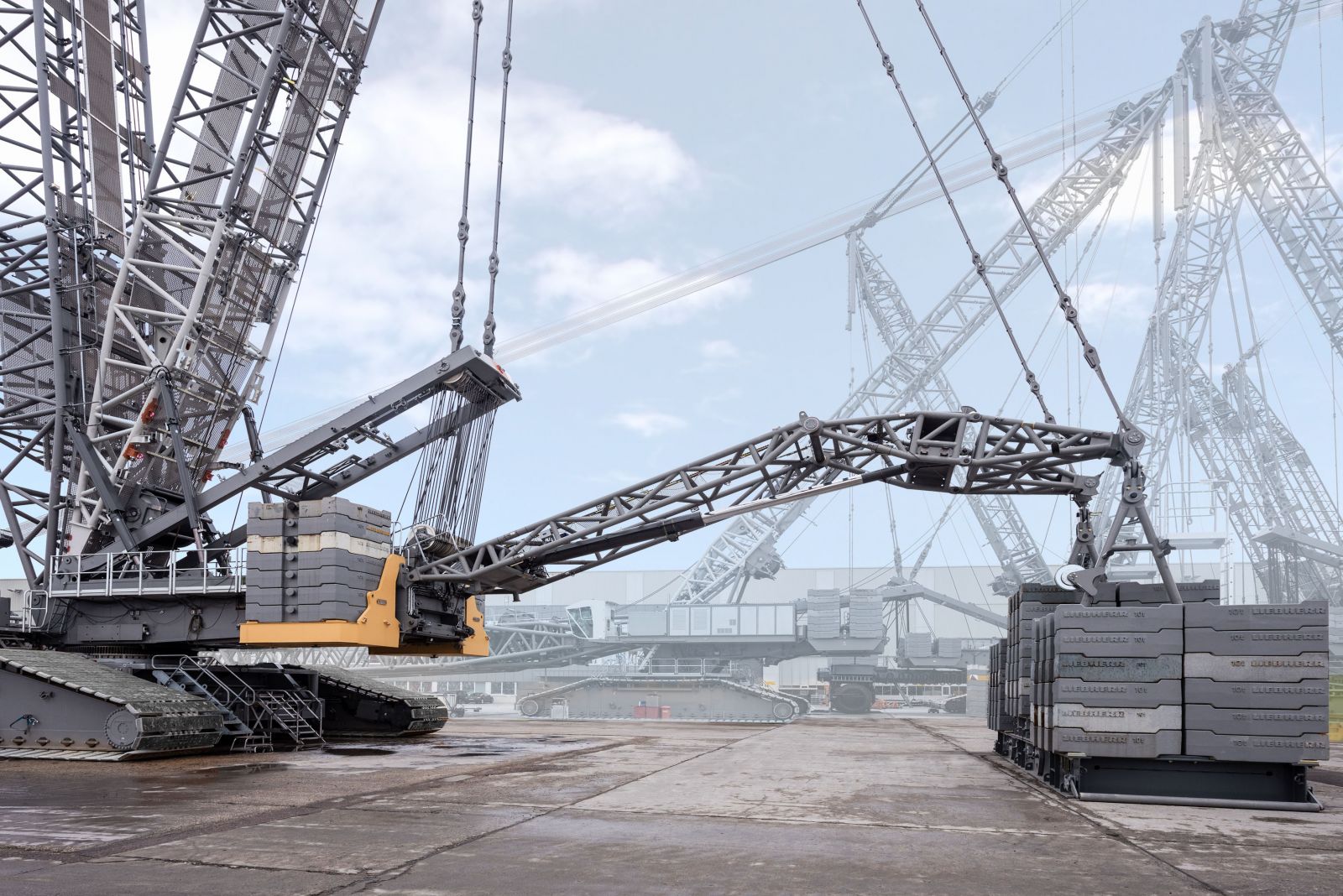 LR 1800-1.0 with ballast at 75.5' (23m)