New Link-Belt Truck Crane Puts 197' Boom On Four Axles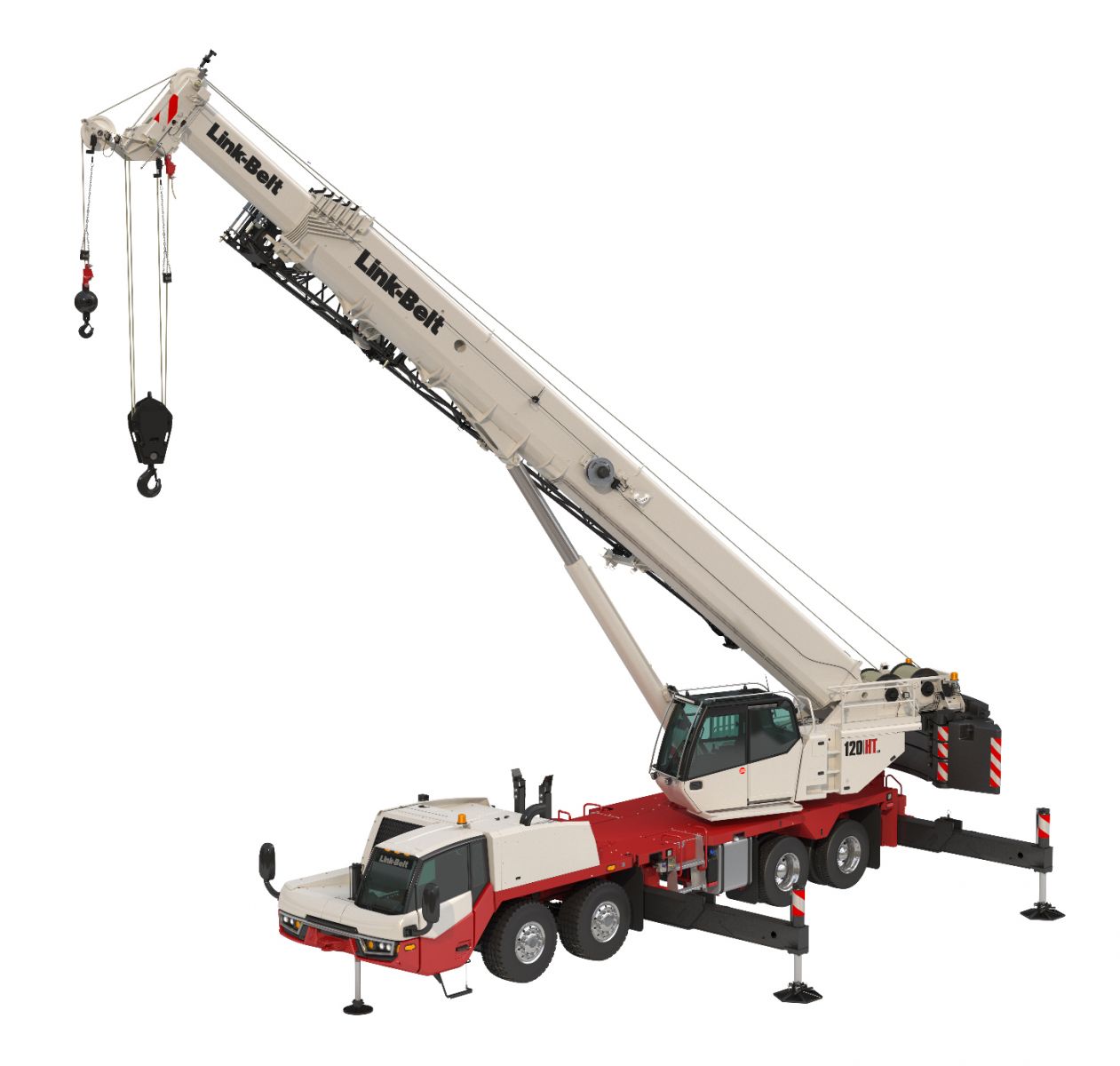 Feb. 6, 2023 – Link-Belt's new 120|HTLB truck crane delivers 120-USt maximum lifting capacity plus 197' of telescopic boom on four axles.
According to Link-Belt, the 120|HTLB combines the reach, capacity, and ride of a four-axle all-terrain crane with the simplicity and operating cost of a truck crane.
Link-Belt is unveiling this variation of its 120-USt truck crane in booth F9213 at ConExpo 2023, Mar. 14-18, in Las Vegas, Nevada.
The 120|HTLB's 197' seven-section, pin-and-latch telescopic boom has a bigger cross section than the 164' boom on the standard 120|HT. And it's nearly 32' longer than the booms of other four-axle truck cranes. In fact, its 197' length matches the maximum boom lengths of four-axle AT cranes and even some five-axle ATs.
That means 120|HTLB users can do more work without swinging a jib. But when a jib is needed, adding Link-Belt's optional, easy-to-mount 58' SmartFly jib boosts maximum tip height to 263.7'.
"Ever since the 120|HT was launched in 2021, customers have told us how much they liked its performance," said Andrew Soper, Link-Belt's product manager for telescopic truck and all-terrain cranes. "Now, this longer-boom version sets the 120|HT platform even further apart."
Easy Roadability
Even with its 197' of boom, the 120|HTLB roads as easily as other four-axle truck- and all-terrain cranes.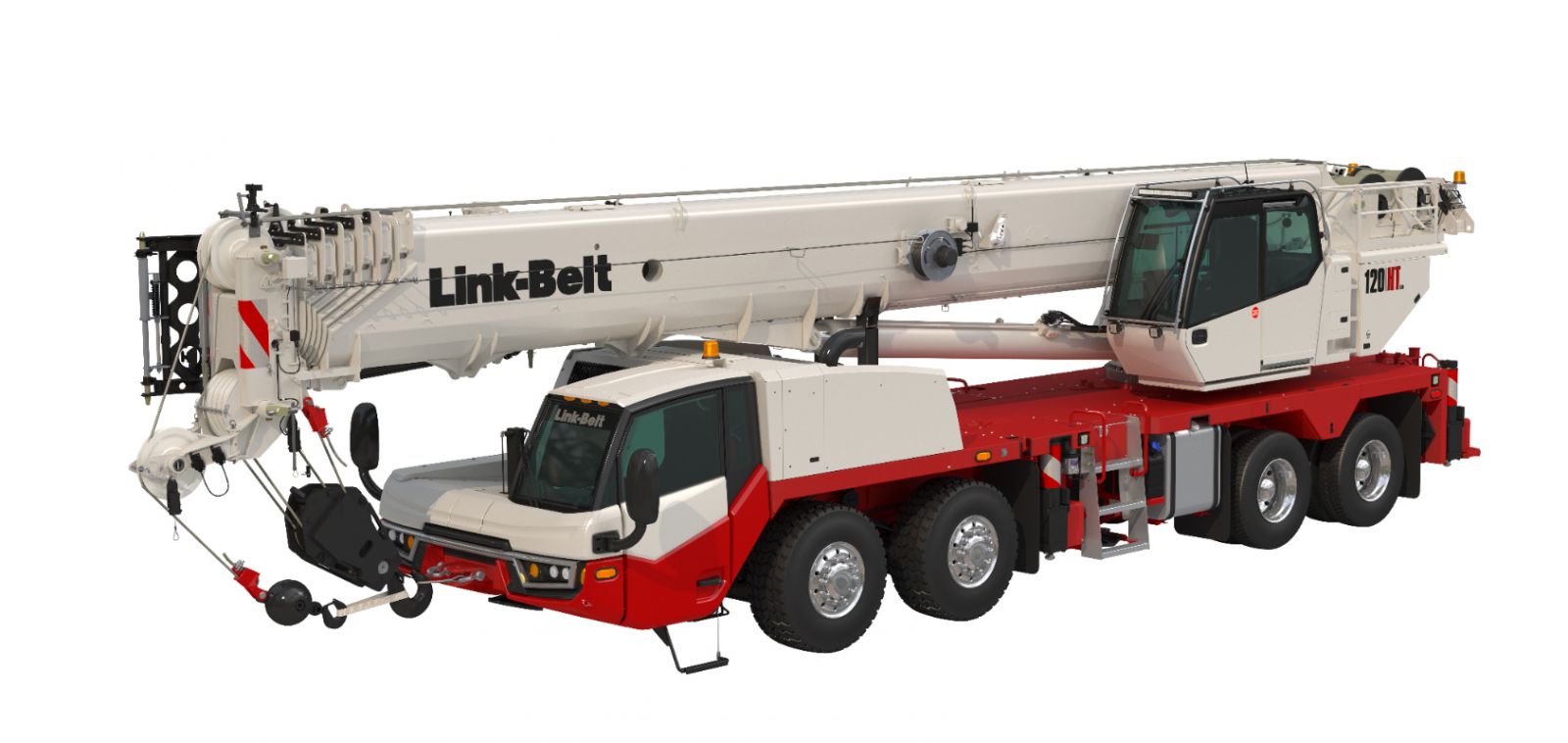 With hook and weight ball but no counterweight, the 120|HTLB roads at less than 94,500 lbs. That's light enough to travel with the boom stowed over the front even in stricter areas like California.
With up to 16,000 lbs. of counterweight and the boom stowed over the front, it can still travel with front-axle loads of less than 26,500 lbs. and rear-axle loads of less than 30,000 lbs. In many cases, that's enough counterweight for the crane do a job without any overflow trucks.
When equipped with a boom dolly, the 120|HTLB can travel with up to 36,500 lbs. of counterweight while meeting most public-highway axle-load limits. That often reduces the number of overflow trucks needed.
The 120|HTLB is built on the same platform as the 120|HT, so its innovative suspension delivers great braking and a ride that rivals the comfort of an all-terrain crane. In addition, its Cummins X12 single-overhead-cam engine complies with EPA 2021 emission regulations, provides great fuel efficiency, and delivers a top speed of 62 mph.
As a bonus, it looks good doing it. "Customers who own the 120|HT tell us that it has a fresh, sleek, sharp, modern look," said Soper.
Also, like the 120|HT, the 120|HTLB features Link-Belt's V-CALC outrigger positioning system, which lets the operator set the outriggers to different lengths in order to meet a job site's space requirements.
Competitive Performance
Link-Belt's Smart Stack counterweight detection system makes setup safer by confirming that the crane is equipped with the amount of counterweight the operator expects.
Even though the 120|HTLB sports 197' of boom, its capacities compete with similarly sized four-axle all-terrain cranes.
It features twin, high-quality, Bravini winches, each delivering single-line pull of up 23,632 lbs. and line speeds to 354 fpm.