New National Crane NBT60XL Blends Boom-Truck and Truck-Crane Benefits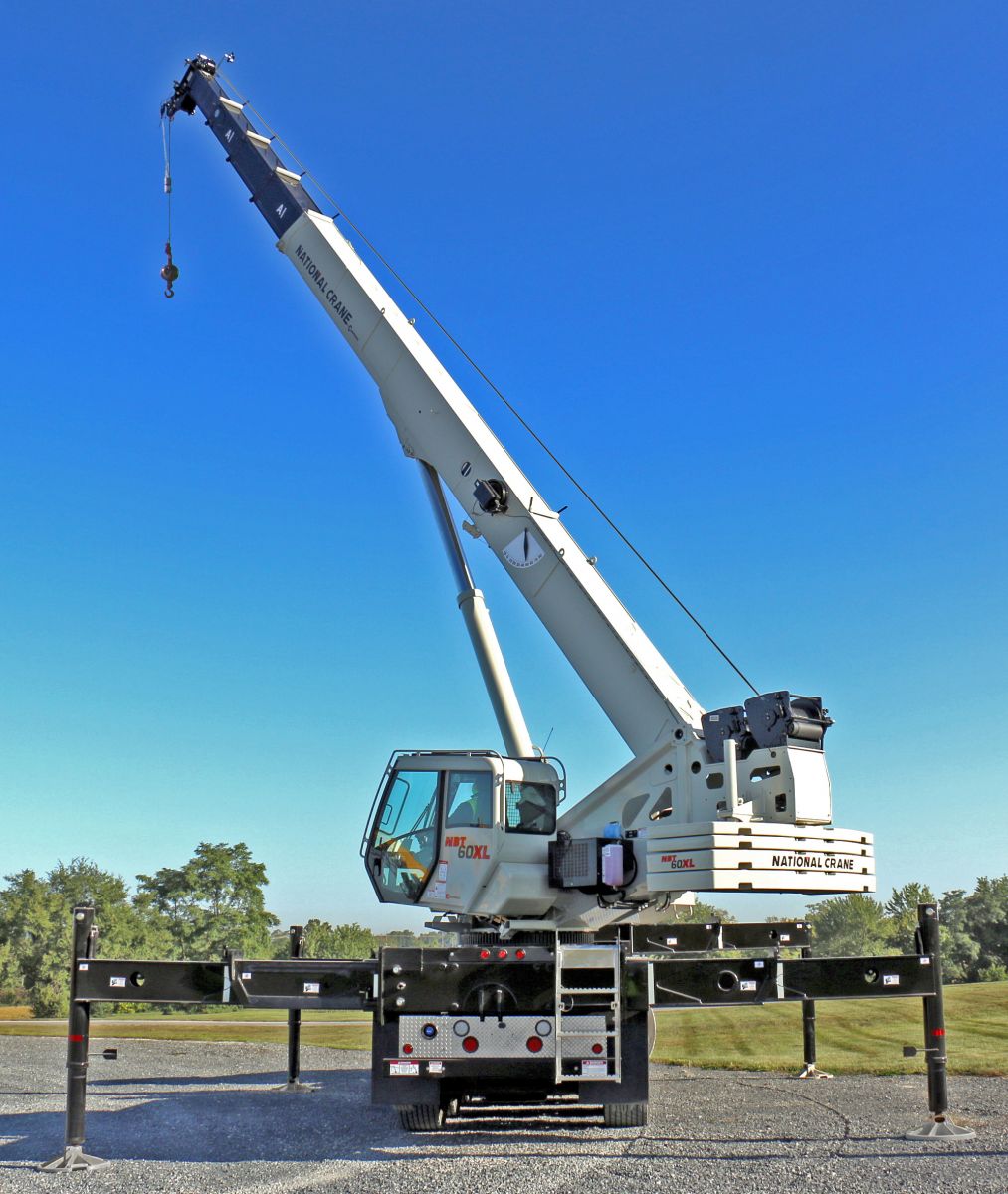 Oct. 2, 2020- The line between boom trucks and truck cranes got a little more blurred on Oct. 2.
That's the day Manitowoc's National Crane brand announced the new NBT60XL boom truck to dealers.
The new model blends the best features from both kinds of crane to give users what they've asked for: a rig that rides like a boom truck and lifts like a truck crane.
It combines the 151' boom length of a boom truck, better lifting capacity than any other 60-USt boom truck or 60-USt truck crane, the solid lifting feel of a truck crane, the highway speed and comfortable ride of a boom truck, the multiple counterweight configurations of a truck crane, and the chassis compatibility of a boom truck.
"The NBT60XL is set to take on all competitors in the 60-US-ton market," said Bob Ritter, product engineering manager for boom trucks at Manitowoc.
"Whether it be boom truck or truck crane, this machine features the best combination of boom length and load chart capacity, along with a sturdy operator's feel and plenty of comfortable maneuverability to get to and from any jobsite," Ritter added.
Here are a few of the NTB60XL's key advantages.
Its 151', five section, full-power boom offers about 40' more reach than a typical 60-ton truck crane and about 15% more than other boom trucks in the same capacity range. That lets users do more work without swinging a jib.
Even though it offers long reach, the boom retracts so compactly that the road-ready truck is under 45' long.
When a jib is needed, the offsettable 36' lattice or 26'-45' telescopic jib mounts quickly for jib-tip or platform heights to 204'.
Although the unit was still successfully undergoing capacity verification tests at press time, it appears to outlift competitive boom trucks and truck cranes by an average of 10%, especially at radii of 45' or more, where most work is done.
Its comfortable cab tilts up to 20° and features a host of features to make the operator comfortable and operation easy — even a heated seat and a Bluetooth FM/AM radio. "The cab really focuses on operator comfort and efficiency," said Ritter. "It's the operator's 'office,' so we want to make it as comfortable and productive a place as we can."
The new truck-crane-type counterweight simplifies installation, boosts capacity, and offers eight combinations from 0 lbs. to 16,000 lbs. Read more detail about the new counterweight and its many benefits later in the story.
Although the new NBT60XL has a name similar to the NBT60L, which the company launched at ICUEE in Louisville, Kentucky, last October, the NBT60XL is without a doubt a new step in the product line's evolution.
Next Step in Evolution
"This is the latest step in the evolution of the NBT/NTC product line that Manitowoc introduced by rolling out the NBT50L Series at Crane Days in 2018," said Michael Heinrich, vice president of sales for Manitowoc's National Crane and industrial crane products.
"This new model builds on the great features of the NBT60L, but adds improvements that came from the voice of our customers, then were designed, engineered, and manufactured through the high-velocity Manitowoc Way," Heinrich added.
Indeed, the new NBT60XL shares many of the outstanding features and components of the NBT60L, including the outriggers, subframe, boom, jibs, swing system, winches, and operator's cab.
Design Developments Bring Big Benefits
Three of the most significant developments in the new NBT60XL are a redesigned superstructure, a new truck-crane-style counterweight system, and new chassis considerations.
The combination of the three brings hefty benefits that not only increase reach and lifting capacity, but also may reduce overall cost, speed up setup, open a vastly wider range of chassis options, simplify permitting, and give users more choices in tailoring the amount of counterweight they take to a jobsite.
All of it, one would suspect, should help improve return on investment by delivering better capacity and reach while reducing operating costs.
"The NBT60L is a very good machine. It has lots of great features that customers love and that we have carried over to the new NBT60XL," said Ritter. "But the original NBT60L design required a chassis that has dual front steering, a special drive train, and some other special features."
More Chassis Choices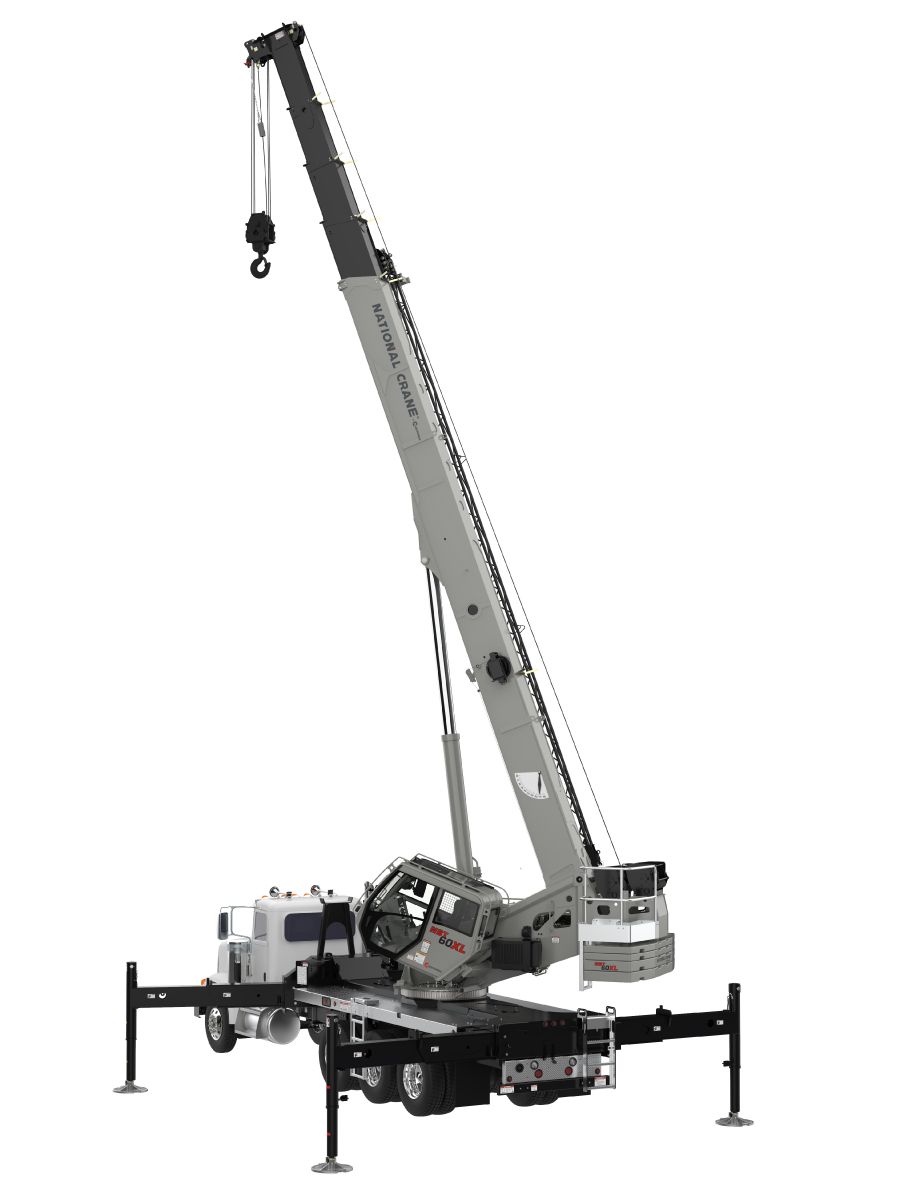 Design efficiencies let the NBT60XL mount on a chassis with a single front axle.
Heinrich explained that that change opens up a much wider array of chassis choices. "The effects of using the more widely available single-front-axle chassis are huge," he said. "Not only are single-front-axle chassis less costly, they also enable us to offer customers more options in suspensions, engines, transmissions, axles, and other options that can customize the chassis to their needs."
All of that customization can make the ride really smooth, comfortable, and fast, so operators can get from job to job more quickly and arrive feeling good.
Also, Heinrich noted that National Crane has truck-modification experts and a Truck Mod Center in Shady Grove, Pennsylvania, to help customers who want assistance in setting up the chassis to their needs.
"We can offer customers the NBT60XL on a Peterbilt, Kenworth, Western Star, Freightliner, International, or Mack chassis, whatever they prefer," he said. "And our experts work with chassis manufacturers to make modifications right at the factory, so installation goes more smoothly during upfitting."
Truck-Crane Counterweights Bring Hefty Benefits
Ritter noted that one benefit of being part of a company that makes many kinds of cranes is being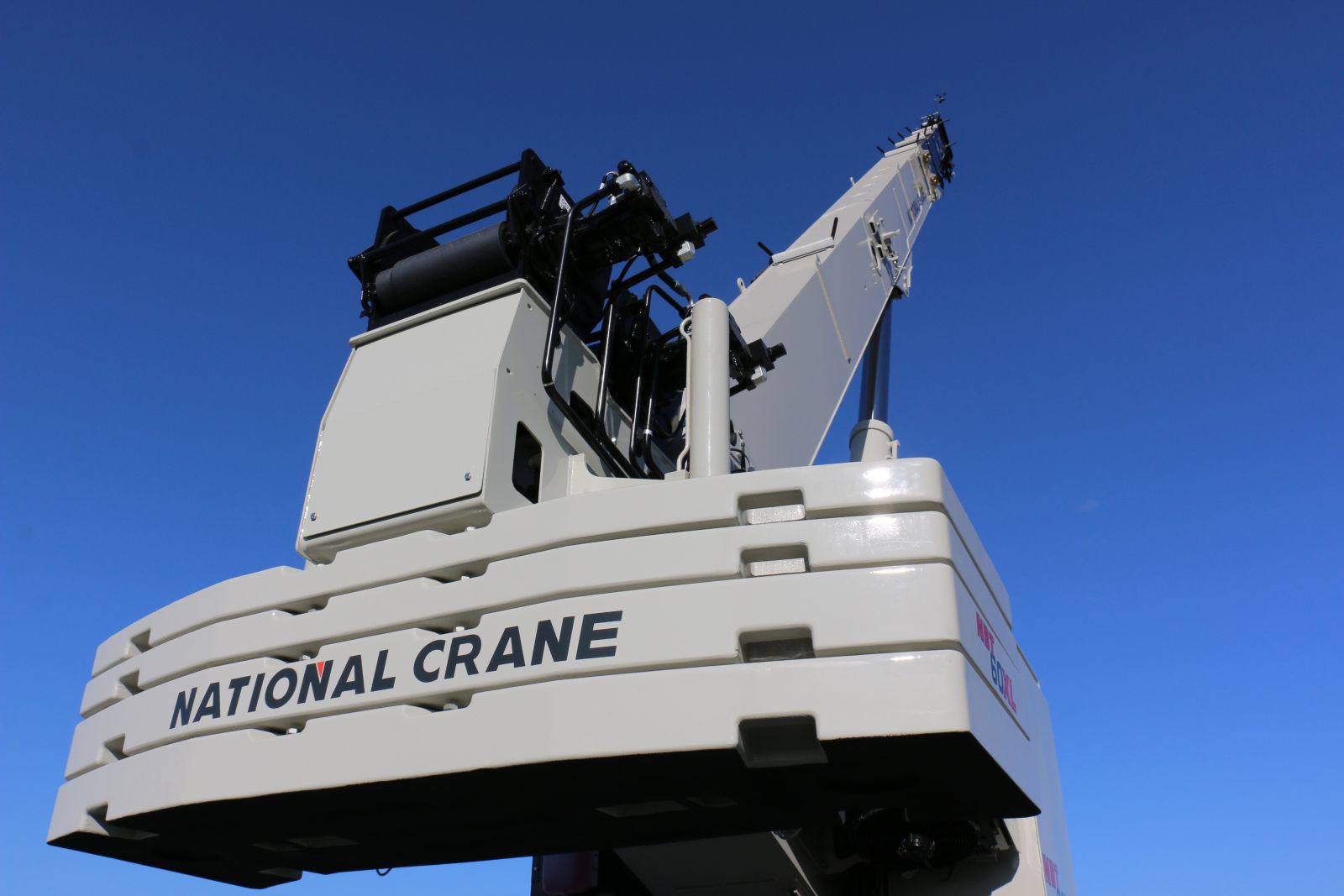 able to apply effective ideas from one type of machine to another. That's what happened with the NBT60XL's counterweights.
"Many of our observant customers will notice that the NBT60XL counterweights look similar to those on the Grove TMS9000-2 truck crane," said Ritter.
The NBT60XL offers up to 16,000 lbs. of counterweight. That's 10,000 lbs. more than the NBT60L.
The full set consists of four slabs.
Two weigh 3,000 lbs., two weigh 5,000 lbs. and all four can be stacked in any order. There is no tray, and the hydraulic self-installation cylinders can pick the entire stack at once for faster and easier installation.
Altogether there are eight counterweight combinations from 0 lbs. to 16,000, so users can choose just the amount needed for a particular job.
"Taking only the counterweights you need to a job helps with permitting, saves fuel, and shortens setup time," said Ritter.
As an example, Heinrich said that although weights can vary greatly, an NBT60XL on a four-axle Peterbilt chassis with single steering axle, a rear tridem, main and auxiliary hoists, side-mounted 36' lattice jib, 4-6 L/B, and full 16,000-lb counterweight weighs about 89,900 lbs. Without the counterweight, it goes just 73,900 lbs.
Of course most of the time a user will take at least some counterweight to a job. Depending on per-axle weight regulations, two or three plates can be stowed on the deck, lowering the boom truck's center of gravity for better on-road handling.
NTC Package Adds More Benefits
Users who choose National Crane's NTC Performance Package also get the benefit of four-position outriggers, (100%, 75%, 50%, and fully retracted), a two-camera system that offers hoist and rear views, and a built-in wireless wind-speed indicator.