New Take-Up and Pay-Out Winders Feature Fully Guarded Coiler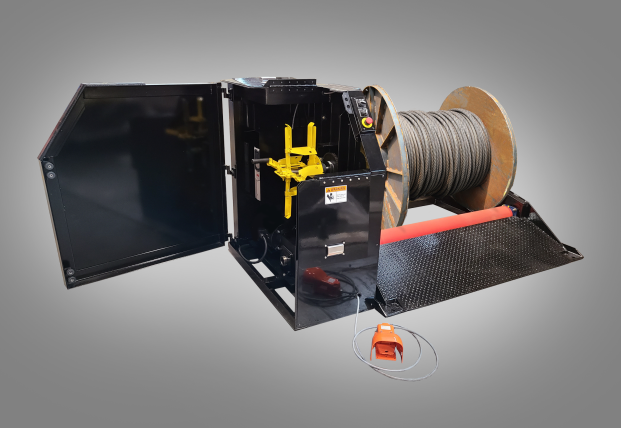 May 10, 2022 - Chant Engineering Co. Inc., New Britain, Pennsylvania, now offers the Sidewinder Series, a new line of shaftless take-up and pay-out reeling machines.
The Sidewinders feature the industry's fully guarded, easily accessible, collapsible coiler for operator safety.
The standard plug-in style collapsible coiler comes with the machine.
Sidewinders come in three capacities: 5,000, 10,000 and 15,000 lbs.
The 5,000-lb. model handles reels from 16"- 84" dia. x 54" wide.
The10,000-lb. model handles reels from 16"-108" dia. x 60" wide.
The 15,000-lb. model handles reels from 16"-120" dia. x 72" wide.
A 20,000-lb. unit is in the works.
The reel speed at the maximum flange diameter is 20 to 14 rpm.
Smaller-flanged diameters rotate faster. The operator controls the variable speed with a pedal control. The drivetrain and coiler are enclosed inside the machine for safety and are all pedal operated. Dynamic braking reduces reel overspin and there are a pneumatic and a manual unloading cylinder that raises the reel for easy unloading.
The Sidewinders measure 93" wide, 95" long, and 52" tall, and weigh 2,700 lbs.