New Valla V210R Electric Crane Picks 23.1 USt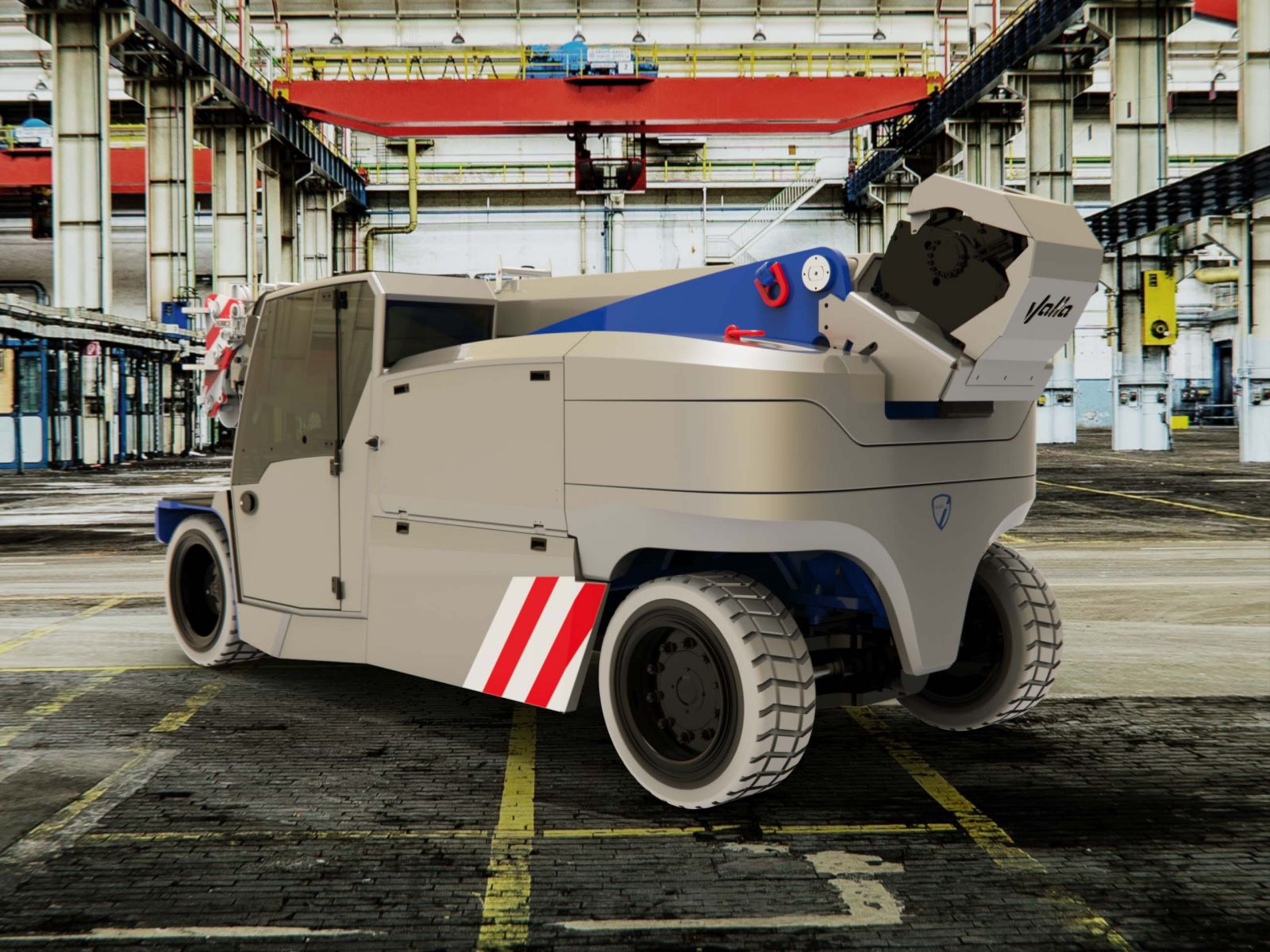 Sept. 22, 2021 - Manitex Valla, a subsidiary of Manitex International based in the United States, has launched the brand new V210R radio- or cab-controlled compact electric mobile crane.
This new addition to Valla's line of electrically powered pick-and-carry cranes is ideal for handling loads indoors, thanks to its compactness, zero-emission operation, choice of operation by radio remote control or its operator cab.
The V210R measures only 6'6" wide by 6'7" tall, and has a turning radius of just 13'6". It can pass through industrial doorways and can work in tight spaces.
Furthermore, due to its compactness and operating weight, the crane is easily transportable in full working configuration, complete with counterweight, on a low-bed trailer.
It can lift up to 46,297 lbs., has a maximum lifting height of 41', and can reach out 27' with 13,007-lb. capacity.
The new V210R incorporates the same family feeling of the "R Series" launched by Valla in 2019. Its front-wheel drive features powerful AC traction electric motors to maximize efficiency; an oscillating rear steering oscillating for maneuverability; and four points of ground contact for maximum stability.
The crane has an exclusive and patented Shield - Stabilizer that both protects the wheels from the load and ensures better stability when deployed.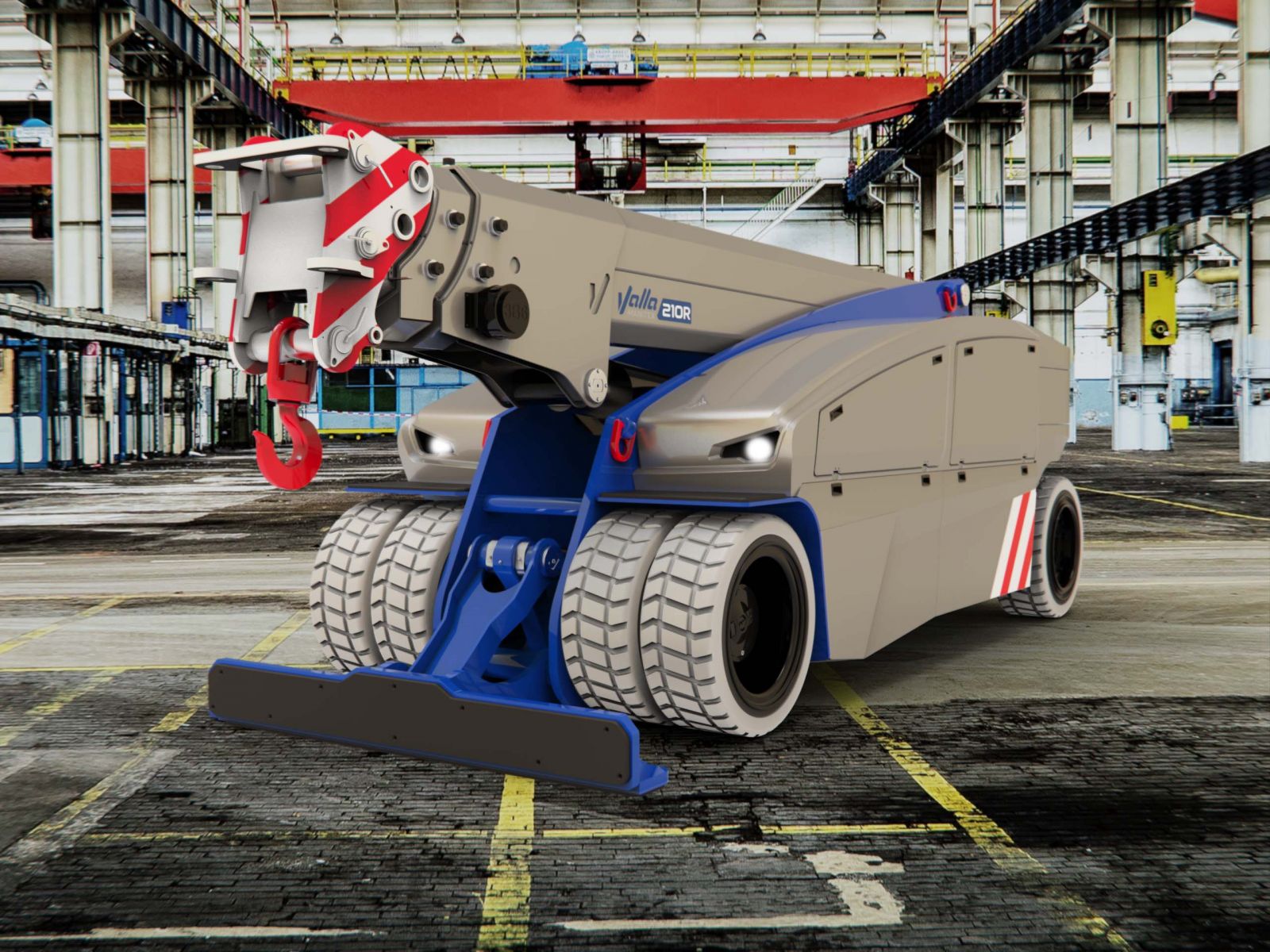 The optional operator's cab has tinted glass, split door, adjustable seat, three-mode adjustable steering column, and an adjustable armrest for the joystick control.
The controls can be configured in three modes: radio only, cab only, or cab and radio controlled.
Its other key features include a 3,190-psi hydraulic system, 180° rear steering, electro-hydraulic brakes, and on-board charger.
Options include hydraulic winch, folding jib, and forks with capacities to 11 USt.
"The V210R development is the response to precise needs coming from the crane rental professionals asking for a higher capacity machine" said Carlo Forini, general manager of Manitex Valla. "We have listened carefully to all the aspects that have been submitted by us, by those companies specialized in indoor handling and machinery removal and we did our best to conceive a machine that will be able to satisfy the demand for a larger unit in payload and performances but still compact, easy to use and reliable."
Forini added, "The R series from Valla, and even more the new V210R, represent a milestone in the evolution of our brand and our technology; we wanted to conjugate our heritage and experience with the voice of our customer to build the future of electric cranes but tailored on their needs" says Steve Filipov, CEO of Manitex International. " At Valla we strive to translate the evolution of our customers' job into solutions to increase their productivity and to provide the best return on the invested capital and, in the meantime, we are always taking care about the environment. We are confident that the new V210R will satisfy all the requirements and will be considered as a landmark in the medium-large size segment."