OZ Lifting Davit Crane Installed on Hospital Rooftop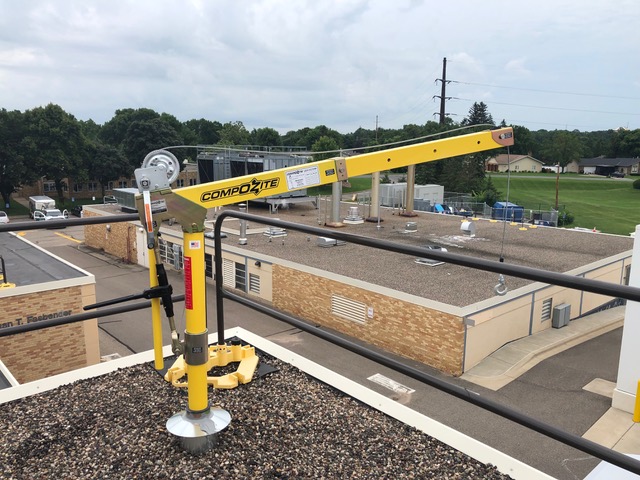 A davit crane, manufactured by OZ Lifting Products LLC, has been installed by Hilmerson Safety on the rooftop of a major regional teaching hospital located in Hastings, Minnesota.
The 1,200-lb. capacity OZ1200DAV, sourced from OZ distributor Sharrow Lifting Products, was the latest in a series of products and services delivered to the facility by Hilmerson, which has provided rooftop fall protection solutions and training for the organization since 2011. Hilmerson has worked with its partners to pioneer continued improvement of working at height best practices and ensuring compliance with OSHA and other standards.

The hospital is an ACS verified Level I Trauma Center for both children and adults, and was Minnesota's first pediatric trauma center to gain that status. The facility will use the crane on a regular (monthly) basis as contractors and third parties perform preventative maintenance on equipment, such as changing filters on rooftop units, air conditioning, fans, and condensers.

Debra Hilmerson, president and CEO at Hilmerson, said, "The OZ unit is one component in an overall, ongoing roof access safety and maintenance project. It is a user-friendly, easy-to-install solution for a valued customer."

John Quinn, CEO at Sharrow, said, "We are proud of our long association with Hilmerson. While the crane was installed as a permanent fixture, the end user enjoys the luxury of being able to remove it for storage away from the elements. The crane was fitted towards the corner of the rooftop, where it can add the most material handling capability and coverage to the user."

The crane is made from a composite material, which OZ holds a patent on the design. This means the product does not rust, while the steel components are zinc plated. In this case, the crane is mounted on a socket base—model OZSOC1—that was covered with sheet metal. The total weight of the crane is just 80 lbs., with the heaviest component weighing only 43 lbs.

"Actually, socket bases are used mainly in the back of trucks or in an area where the installer would pour cement around the base to keep the surface area flat," said Steve Napieralski, president at OZ Lifting. "Most of the time, our OZPED1 pedestal base would be used on rooftops, but this is another example of the diversity and flexibility of our product and the install options."

He added: "Because the crane is so lightweight, many of our sales are for multiple bases with one crane; the users just mount the base where they need to make a lift and move the crane from base to base. Additionally, we provide a drill drive adaptor with every crane, equipped with a hand winch. This allows the operator to use a battery-powered drill to raise the load as an option."