Pure Lifting Buys Lightweight Crane Maker Reid Lifting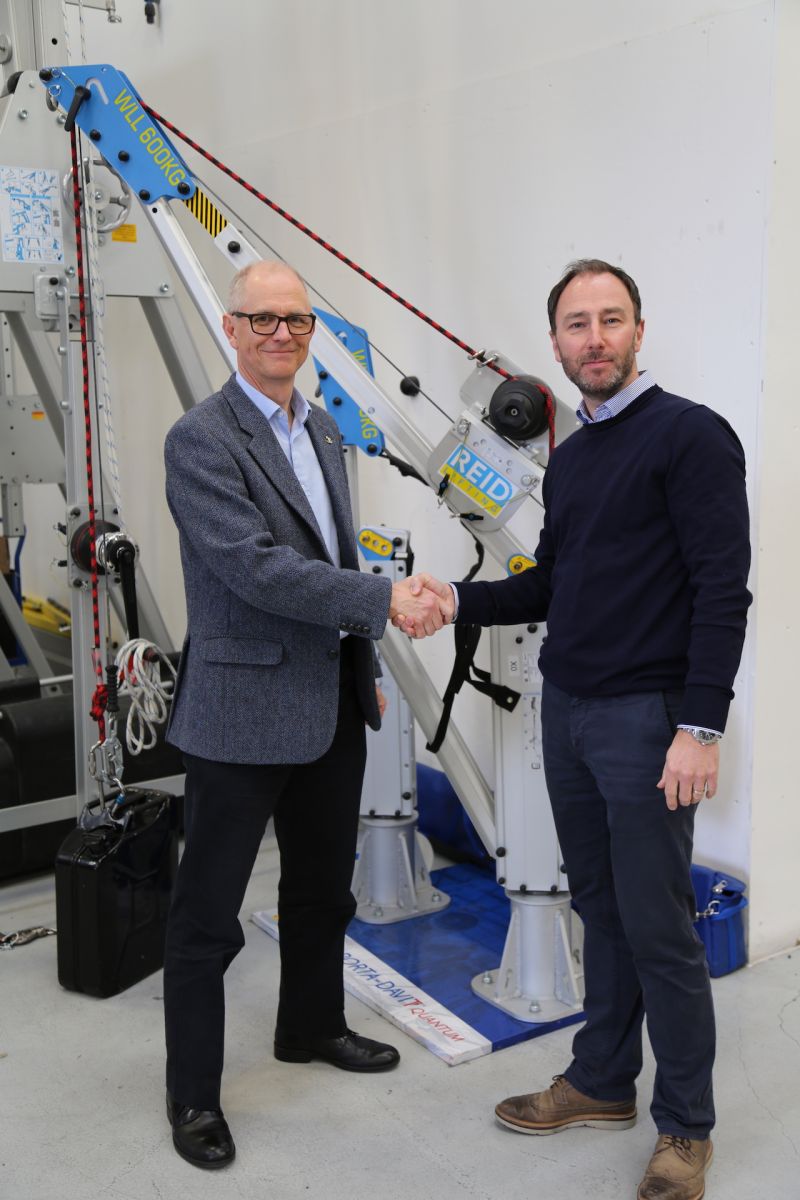 Nick Battersby (l)
Simon Luke (r)
March 30, 2019 - Reid Lifting, Chepstow, Wales, a manufacturer of lightweight gantry and davit cranes, has been purchased by Pure Lifting, a holding company formed to create a global portfolio of portable equipment businesses. The value of the transaction was not disclosed.
At the center of the growth strategy is penetration of markets where the Reid brand is a relative newcomer at the time of acquisition, with North America a primary target.
The acquisition includes all staff and assets, but not the company's buildings and land, located on the Newhouse Farm Industrial Estate, which will remain in the ownership of Nick Battersby, former owner of Reid and the company's outgoing managing director.
The sale of the business will let Nick and Elisabeta Battersby transition into retirement, although Nick will remain as a company director for the foreseeable future.
Simon Luke, whose experience includes many years in ownership and leadership roles, principally in the fall protection sector, is the new managing director.
Luke, one of several investors in the recently-formed Pure Lifting, said: "Nick and his team have done a tremendous job of positioning Reid as a standout manufacturer in the portable lifting equipment marketplace; we look forward to building on its success in addition to realising expansion and global growth potential. Continued innovation and an elevated profile of the many core strengths of the product range will be hallmarks of our ownership."
Battersby said: "Elisabeta and I have been planning an exit strategy for the past 18 months. We have repelled purchasing interest in the past, but the eventual sale represents conclusion of a carefully managed process that results in a new ownership concept that can take the company—and existing and prospective employees—to the next level. Importantly, Pure wants to invest in the existing facility and give energy to global growth endeavours from our Chepstow home. Elisabeta and I are certainly excited about witnessing continued expansion, albeit eventually from afar."
The acquisition will create immediate employment opportunities with new sales leadership being sought to enable Elisabeta to retire this summer, in addition to positions in marketing and operations.
With Reid looking to increase orders and shorten lead times even further, recruitment campaigns are likely to be perpetual, Luke suggested.
Luke said: "Reid have done a fine job of maximising revenue from European markets and many others further afield, but we have earmarked a number of regions that represent growth potential, including the U.S., Canada, and South America. We understand the requirement to localise the product offering and deliver to stateside users, for example, unrivalled solutions in our sector through a vibrant distributor network."
Battersby added: "Combining the new management team with a product range that presents clear advantages in terms of ease of assembly, range of capacity, diversity, and conformity with global certifications and safety standards, certainly whets the appetite. It's business as usual for partners and customers in the short-term, yet plans are already afoot to increase investment in product development and innovation, which will remain at the company's core."