RSS Manufactures Custom Counterbalance Beam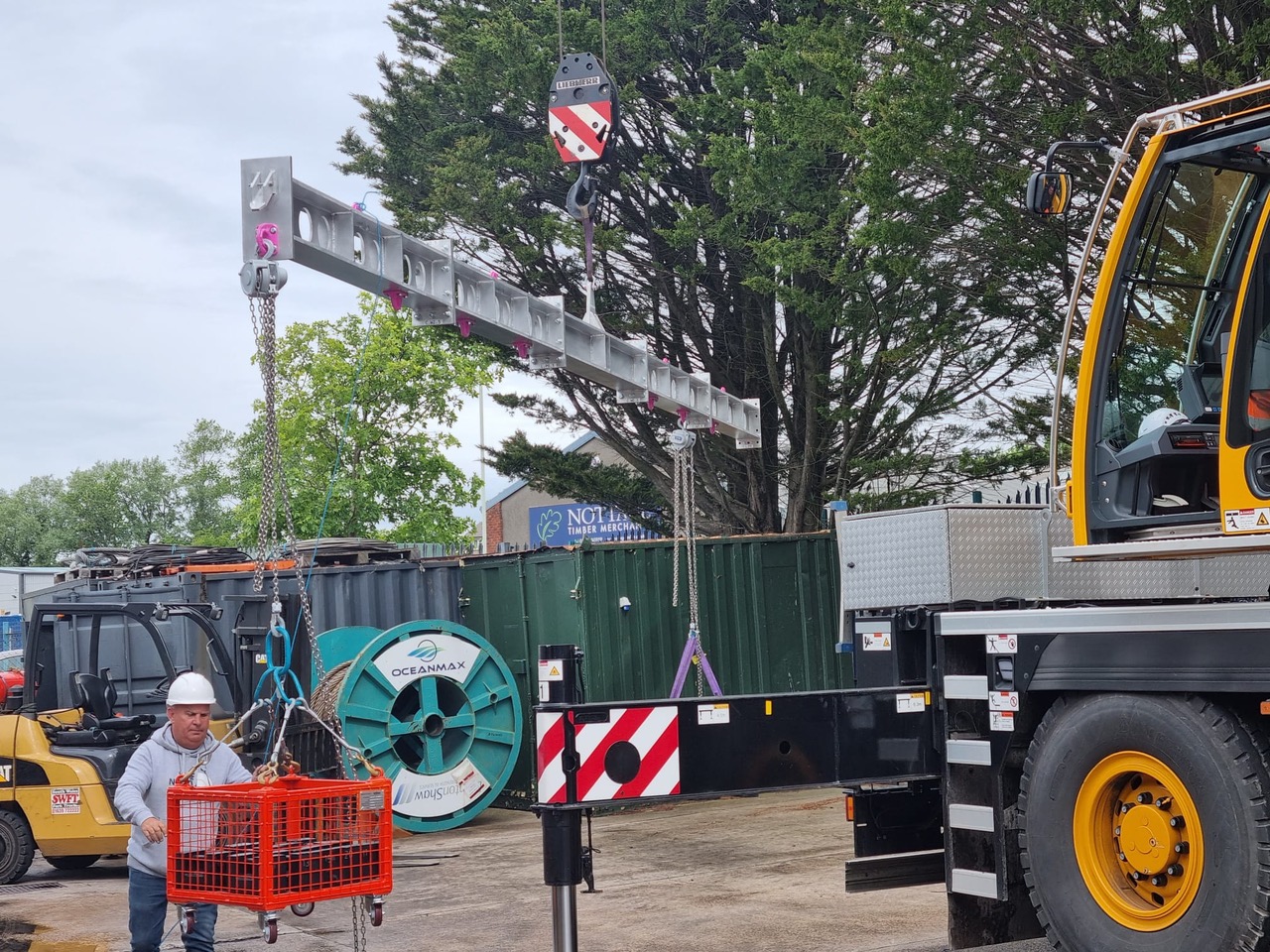 May 31, 2022 - Rope and Sling Specialists Ltd. (RSS) recently delivered a custom aluminum counterbalance beam for installation work at a major U.K. nuclear facility.
RSS again used its Gemmak Engineering business unit to manufacture the 33.5'-long beam, which weighs 926 lbs.
The beam was made for Efinor, recently acquired by fellow French firm Framatome, principally to reinforce the nuclear industry supplier's industrial welding capabilities.
The full scope of work included design analysis and feasibility studies based on the customer's concept and parameters. Logistical issues and low headroom ruled out using a traditional cantilever beam.
The beam, which features a 1.1-USt capacity chain hoist at each end, will be used to give maximum coverage for the installation of equipment plates, floor and wall frames, and ancillary items in an in-containment refueling water storage tank (IRWST) pool, a cylindrical tank filled with water at atmospheric pressure.
The beam will be lifted by a powered hoist, supported from a curved monorail beam installed in the center of the ceiling above.
The beam also features (pink) bolt-on lifting eyes from RUD Chains Ltd., chosen as aluminum cannot be welded to steel, allowing there to be separation of materials.
A counterweight basket is an integral part of the design to equalize the load. Rigging it (as pictured) with master links was the simplest way to connect the basket in combination with a four-leg wire-rope sling assembly.
The fully-assembled beam was recently tested below the hook of a Liebherr mobile crane from R W Christopher Crane Hire, using test weights to counterbalance the beam at different points.
Findings were documented on an Excel load-moment spreadsheet.
Matt Permintella, mechanical design engineer at RSS, who oversaw the three-month project from concept to site testing, said: "We used this basket and rigging method based on the client requirements. As the overall mass of the balance beam assembly was very stringent, wire rope slings were the lightest for the application. Mass was further reduced by having several circular cut-outs along the beam web, and using aluminum construction, as this is roughly three times lighter than steel. The beam is modular by design, due to site access issues, and we supplied it complete in its own storage stillage for transport."
Jason Govier, a lifting engineer at Notus Heavy Lift Solutions, provides lifting and rigging assurance to third-party client, Efinor.
RSS, itself a lifting and rigging specialist, has been a chosen partner since formation of Notus Contract Lifting, part of the Notus Group of companies, which includes Notus Heavy Lift Solutions and Notus Training.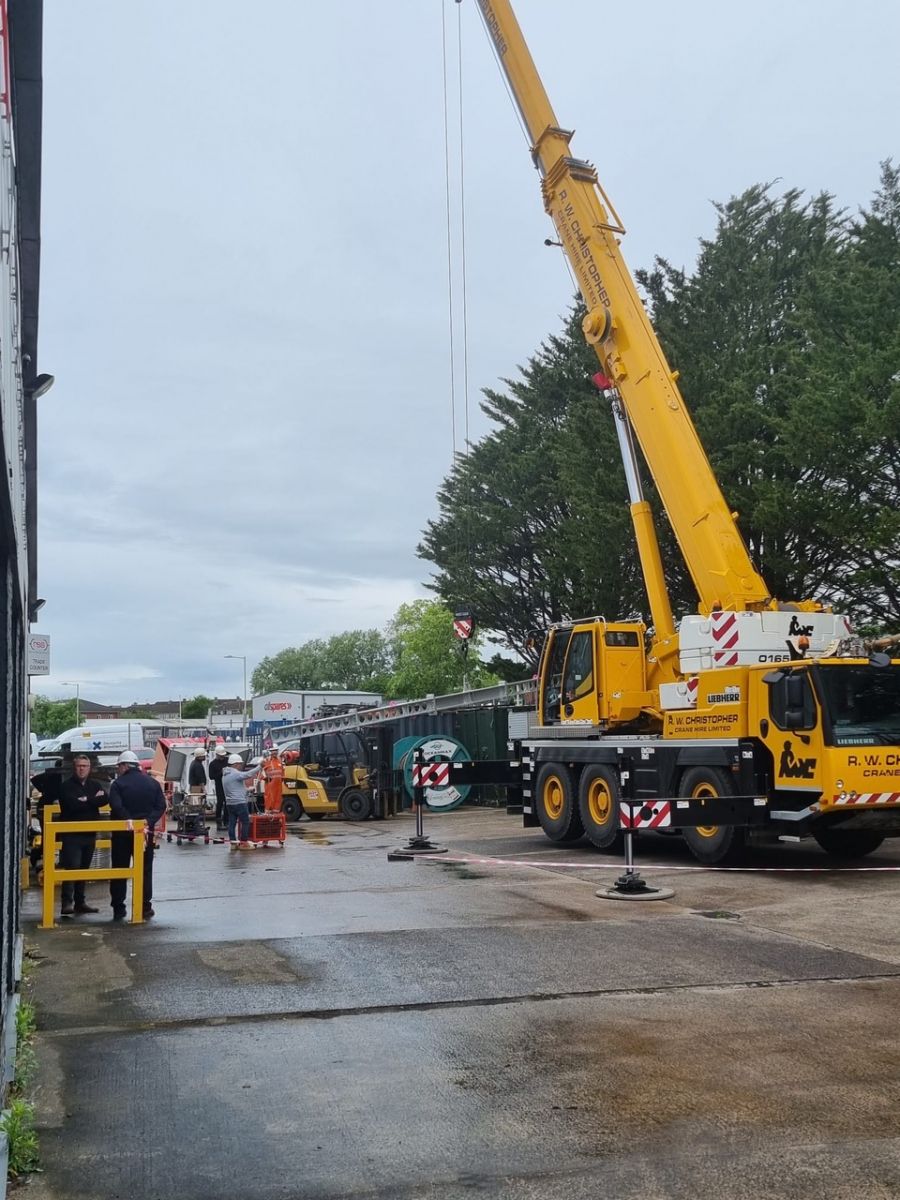 Govier said: "This beam is a significant feat of engineering—82,000 combinations are possible, based on load to be lifted, lift point position along the beam, counterweight positions along it, and equipment and accessories used."
Govier added that the solution had to include the ability to disconnect the counterweight once the load had been set down, so that the beam could be repositioned above subsequent loads.
"The wheeled counterweight basket allows operatives to pre-load the required counterweight, then easily maneuver into position at the tail end of the beam for connection to equalize the load," he said.
Govier added: "I have known and worked with Steve [Hutin, managing director at RSS] for over 20 years." Govier said he decided to give RSS a try on this project based on previous good support and service. "The test and application went perfectly, as anticipated, per design and calculations."