Slow to Grow: Synthetic Ropes still Seek a Bigger Niche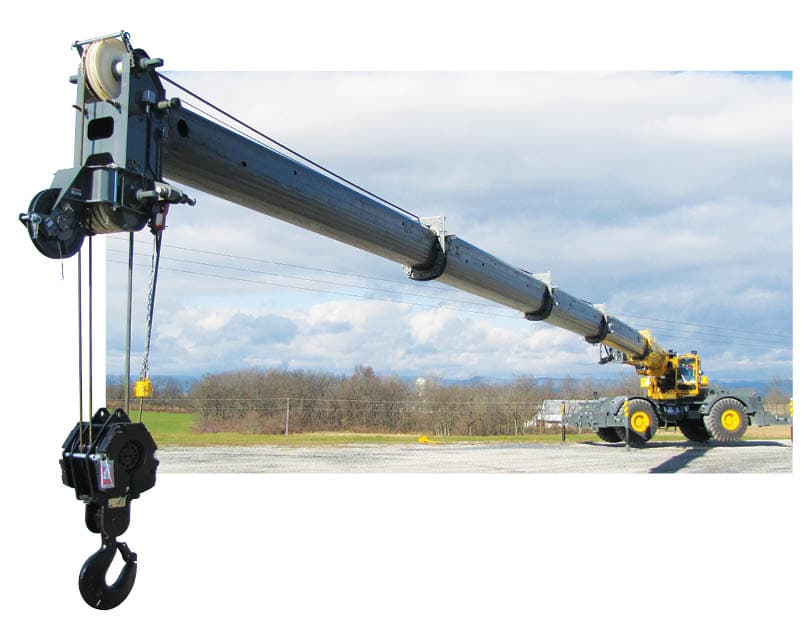 Despite several announcements in recent years of synthetic rope being used on construction cranes, it has been slow to catch on, notes an industry expert.
"I would call it actually a niche market," said Johannes Weirich, principal engineer for cranes and industrial with WireCo WorldGroup. "It's not developing as fast as expected," he added, estimating that synthetics make up only a fraction of a percent of the ropes used in crane operations.
Aside from some very specialized machines, of which there might only be two or three in the world, Weirich could think of "just one crane and rope combination that you can order from scratch" for typical onshore crane applications.
Big Bauma Announcements
That's the SoLITE fiber rope that Liebherr developed with Teufelberger, an Austrian rope maker, as announced at the 2019 Bauma trade show in Munich, Germany.
At the 2022 Bauma, Liebherr demonstrated a 520 EC-B flat-top tower crane with high-tensile 25-millimeter diameter EC-B fiber rope that the crane manufacturer and Teufelberger developed together over 10 years.
"The fiber rope is more durable, easier to handle when reeving due to its lighter weight, and maintenance is less complicated as lubrication isn't required," notes a Liebherr news release. "On top of that, operational safety is also increased; crane operators are able to see at a glance when the fiber rope needs replacing. The components of the rope's cover wear out at different rates – a red layer indicates that the rope has reached the end of its life."
The rope also comes in 22- and 20-millimeter sizes.
Also at Bauma 2022, Wolffkran unveiled a high-performance fiber rope it developed with Trowis GmbH.
According to Wolffkran, its trademarked chaRope has a unique fiber composite design that enables it to be substituted for a steel rope 1:1 —without any modification of the crane.
Better for Tower Cranes
Weirich said synthetic rope is better suited for tower cranes than for mobile cranes because under some circumstances the slack as design criteria of the rope on a tower crane's horizontal boom can handle a greater payload by reducing the dead load.
For mobile or crawler cranes, however, getting maximum benefit from the lighter weight of synthetic rope is more difficult.
For example, many big rental companies and fleet operators will rent cranes without an operator, which can result in "a lot of rough handling," such as striking an edge of concrete, "and this is something very difficult for a fiber rope," Weirich said.
Striking a sharp edge can damage a rope, which will then have to be discarded.
However, damage to a synthetic rope can be more difficult to detect and result in the load dropping, "and this is actually a bit risky," Weirich said.
Theoretically, it's possible to run synthetic rope through a sheave that was designed for steel wire rope. However, should the steel rope produce sharp edges in the sheave, those imperfections could also damage the synthetic rope.
"These are all things where the synthetic ropes are a little sensitive," Weirich said. "This is the big thing."
Pure Fiber Crane Model Envisioned
The solution, he said, is to design a crane to specifically use fiber rope. "Then you can really look for all the advantages of a fiber rope," Weirich said.
That would include hoist drums designed for the significantly different D-to-d ratios for synthetic fiber ropes.
Because synthetic rope is more flexible, its ratio of the diameter of a drum or sheave (capital D) to the diameter of the rope (lower case d) is less than for steel wire rope of the same diameter.
"If you can remove a half tonne or a tonne of steel wire rope and replace it with a few hundred kilograms of fiber rope, that gives you potentially some free space for your steel construction of the crane where you can make it stronger," Weirich said.
A hoist drum designed strictly for synthetic wire rope would require far less steel, also reducing weight, and some of that steel could also strengthen other parts of the crane.
"Steel wire rope is rounder, which creates more stress in the crossover zones to the drum body. And you would have to make the drum body relatively strong," Weirich said.
On the other hand, though, the softer wire rope "creates significantly higher forces to the flange because it's softer in the lateral direction," Weirch explained. "So for the fiber, you have to make the flanges stronger."
A hoist drum that could handle both steel and synthetic rope would need both a thicker, heavier barrel and stronger flanges. That would eat up any weight saved in the rope.
Weirich noted that all the crawler and mobile cranes that were designed over the last decade to really use the tensile strength of state of-the-art steel wire rope would not be easy to switch fiber rope because safety factors would change.
Ground Breaking
Teufelberger's website calls the soLITE synthetic rope it developed with Liebherr, "a ground breaking, innovative, high-strength fiber rope for challenging lifting applications, especially for use on tower, mobile, and crawler cranes."
Teufelberger also claims that soLITE now has a reliable way to determine the point of discard — something that was not previously possible for fiber ropes.
That's because of differently colored fibers in soLITE's protective cover. "As soon as the red core becomes visible, soLITE must be discarded," the company says.
Liebherr also sees a bright future for soLITE.
Its website says that whether tower, mobile, crawler, or maritime cranes, the new high-strength fiber rope will in future replace the steel rope in a wide range of operations.
Among other benefits, fiber ropes can be installed on a crane by hand without reeving winches, can reduce the weight of a hook block by 50%, and reduce an LTM 1750-9.1 mobile crane's weight by up to 1.5 tonnes (1.65 USt). Also, soLITE needs no lubrication.
What About Groves?
Almost a decade ago, at ConExpo 2014 in Las Vegas, Manitowoc presented a Grove RT770E rough-terrain crane equipped with KZ-100, a trademarked synthetic wire rope from Samson Rope Technologies.
The KZ name honored Manitowoc's lead engineer on the project, Karim Ziyad, who had died in a cycling accident the year before.
Samson later shorted the name to K-100, although it still paid tribute to Ziyad.
Two years later, Manitowoc announced that a Grove RT880E rough-terrain crane would be the first crane in the Middle East fitted with K-100 rope.
We reached out to find out how K-100 wire rope on Grove cranes has been received in North America, but both Manitowoc and Samson declined to comment.
At a 2015 crane and rigging conference in Edmonton, Prem Swaminathan, then manager of business development with Samson Rope, said Samson had developed synthetic ropes for 15 models of Manitowoc cranes, including rough-terrain cranes, National Crane boom trucks, and the Grove Yard Boss 7725 carry-deck crane.
Then, Samson was also open to working with other manufacturers on synthetic rope for their models.
At that time, Swaminathan, who is no longer with Samson, said, "We are telling all our distributors not to use these ropes on any other makes, like Tadano or Terex, until they are all individually tested and proven for durability and reliability."
That 2015 Edmonton conference also heard from Bill Fronzaglia, a development engineer with DSM Dyneema, which created K-100 rope with Samson.
"I've put synthetic rope onto hundreds of hoists and never seen one fail," Fronzaglia said during a presentation.
Dyneema was recently acquired by Avient Corporation, where Fronzaglia is now a senior technical and business development manager.
Various Fibers
Dyneema is a registered trade name for HMPE (high modulus polyethylene), one of many commercially available synthetic fibers.
HMPE was developed in the 1980s, nearly two decades after the 1965 invention of Aramid, as noted in a 2017 paper by Bamdad Pourladian and John Groce of WireCo World Group.
Aramid is best known as Kevlar, its Dupont Corporation trade name.
WireCo subsidiary Royal Lankhorst makes a synthetic rope of Dyneema fiber called LankoLift S.
It's bright yellow and "consists of 12 braided outer strands made of high-tech Dyneema and provides a breaking strength equal to that of steel rope of the same thickness," said a recent article by Andreas Schmeiss, WireCo's senior vice president of global cranes.
For the most part, synthetic hoist ropes have found their niche on ships.
For use in mobile cranes, "ropes must strike an optimal balance between breaking load and weight," Schmeiss wrote. "To do that, a synthetic must have the tensile strength of steel, which LankoLift S provides."
Hybrid Ropes
In their 2017 paper, Pourladian and Groce proposed a hybrid rope as a solution to the shortcomings of both synthetic and steel ropes, particularly in marine environments.
However, as their paper reveals, the first steel-Aramid hybrid rope came in 1977.
Then again, they note such challenges as a rope made of single strands of wire wound over a fiber rope not being rotation resistant.
Weirich said that WireCo is working on hybrid wire ropes, but that he was not in a position to say anything more about it. Schmeiss' article also alluded to hybrids.
"As with most things, the choice between steel and synthetic ropes involves tradeoffs," Schmeiss wrote. "That will continue to be the case for the foreseeable future."
Wire Rope Training
In his crane certification programs, Hans Tielmann, lead instructor and owner of New Jersey Crane Expert, touches on synthetic wire rope even though it isn't a class requirement.
"But I like to keep my students progressive in terms of what types of technology that's coming out. So it's something that we talk about frequently," Tielmann said.
His company has four boom trucks — a National and a Terex with straight, telescoping booms, and two BIK Hydraulics units with knucklebooms.
None of those cranes use synthetic rope. However, Tielmann has digger derricks and material handling bucket trucks that use it.
"I can see them being more popular with cranes that work around energized utility lines," Tielmann said of the synthetics.
His company, which has 17 other trainers and last year graduated more than 400 students in 27 U.S. states and Ontario, also does training on wood chippers. "Those machines, historically have had steel rope," Tielmann said. "Now they use synthetic winch lines because they're around components of the machine that, if the rope were to get caught, it could potentially damage the machine."
A trainer for five years and with about 20 years in the field, Tielmann admits a fascination about wire rope.
Earlier this year, his company's website even posted a brief history of wire rope.
"When you really look at it, there's so much that goes into the engineering, design, and manufacturing, so it can withstand the work that they have to do in the different environments," Tielmann said. "Whether you're working on a city skyline, in a construction yard, or in the marine industry, there's so many applications."
Meeting the Rope Pope
In 2022, Tielmann met Roland Verreet, known as "The Rope Pope," at a training session in New Jersey.
"And it was one of the most amazing programs that I ever got to experience," Tielmann said. "Typically, when we teach our classes, we only focus on the wire rope part of the crane for only so much time during the day. And this was a full day training on wire rope, very in depth, about the integrity of the materials that are used to make these wire ropes."
We reached out to Verreet by email. Unfortunately, he was working at a remote location and unavailable for an interview.
His family founded the well-known wire rope brand CASAR, which stands for Câblerie Sarroise and which in 2007 became part of WireCo.
Roland Verreet has retired from CASAR but is still working on industrial projects, lawsuits, research and software development, notes his website. "He is not doing it for the money, he is doing it because the work is so interesting."
Among the technologies he is embracing is a 3D printer to design and test rope. As a 2018 profile article noted, he even "patented the first wire rope not made out of wire."
WireCo's Weirich stressed that pure steel wire ropes have also undergone significant advances in recent years in such areas as tensile strength and minimum breaking force.
For that reason, synthetic wire rope "really needs to be compared with the latest state of wire products with very high MBFs and also with some improved mechanical properties like the lateral stiffness," he said. "Modern cranes are very much designed in using that maximum line pull and very small D to d ratios relative to the past."