Steel Erectors Association Awards 2018 Person of the Year, Lifetime Achievement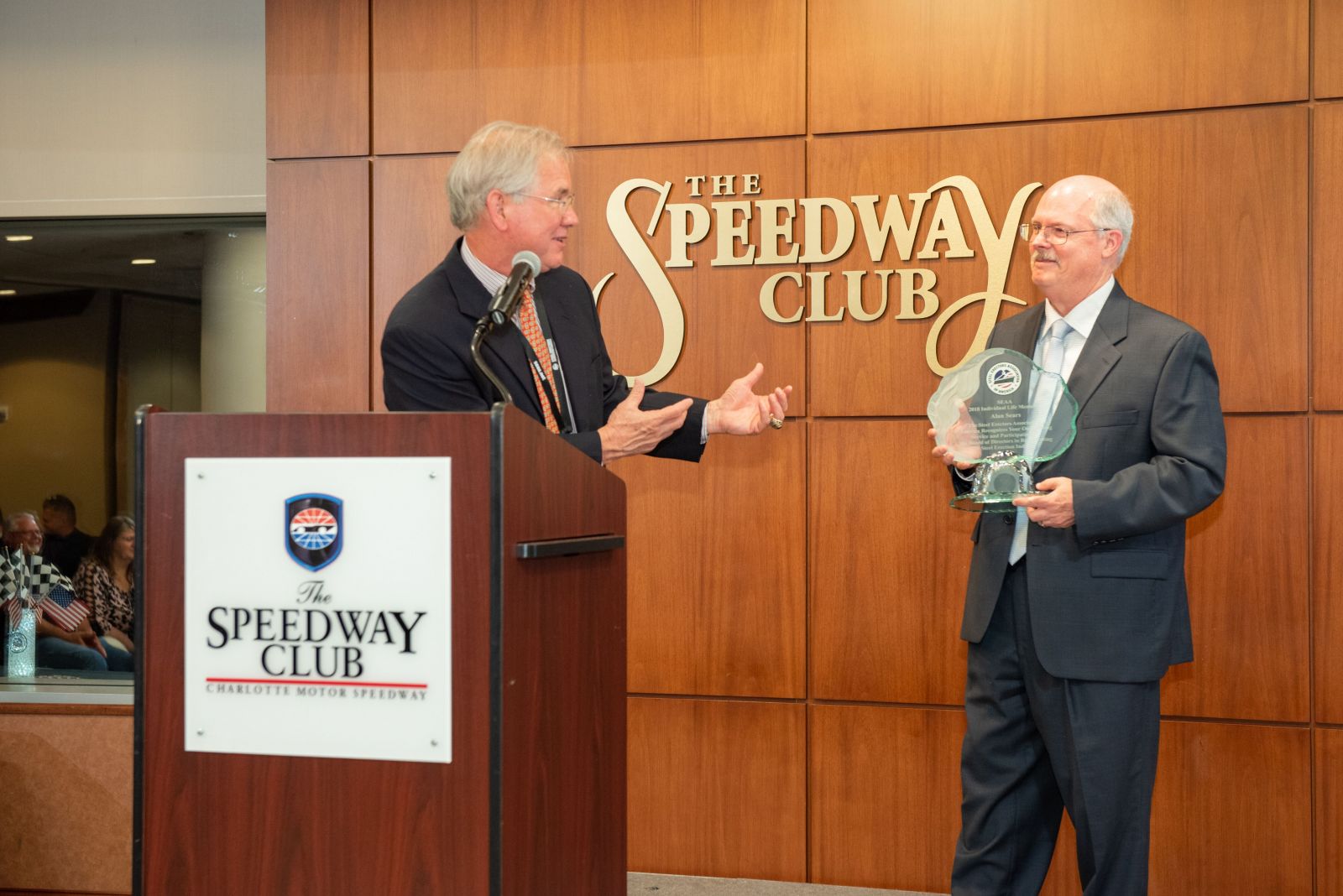 Executive Director Tom Underhill presents Alan Sears (right) with Lifetime Achievement award.
May 21, 2019 - Jack Vernon Nix, Jr., vice president of operations for Shelby Erectors Inc., was named the 2018 Person of the Year by the Steel Erectors Association of America (SEAA). A veteran of the steel erection industry for nearly 25 years, Nix is also currently serving his fifth term on the SEAA board of directors.
"Jack is a valued member of the Steel Erectors Association of America. He is both an inspiration and business mentor to so many people in our organization, and is currently breathing new life into SEAA membership recruitment efforts," said Alan Sears, master of ceremonies for SEAA's 47th Annual Convention in Concord, North Carolina.
Shelby Erectors specializes in the installation of reinforced steel and Stay-in-Place metal decking for bridge construction. In addition, Nix is president of JVN Construction Management, which provides project management resources and estimating services to steel erectors.
"This was a very unexpected surprise! I am humbled to be recognized by my peers whom I hold in high regard," Nix said. "SEAA has helped me as a business owner by keeping me aware of the industry trends. And it is personally rewarding to be surrounded by people in the same industry to share experiences that we can relate to. We discuss safety, labor quality, and shortages, and try to offer solutions that can be used by every business member. I will value this honor as a highlight in my career as an ironworker."
According to Nix, the SEAA Ironworker Craft Training Program is essential in battling the qualified labor shortages the industry faces. "Jack's passion for the steel erection industry is recognizable almost immediately. He has great respect for providing training and skills development for ironworkers," said Sears.
In addition, Sears, who has been a SEAA board member for at least 15 years and actively involved with the association for nearly 20, recently retired from Nucor-Vulcraft where he was the national accounts representative. He was recognized with a Lifetime Achievement award. He's also a previous recipient of the Person of the Year and William Davis Service awards.
"Many of you know him as the emcee of SEAA's convention and trade show. As he departs from the SEAA board of directors in April, the association extends its warmest wishes for a happy retirement," said Tom Underhill, executive director. "We appreciate his years of service leading the awards programs and being a gracious master of ceremonies of the convention, which we hope he will continue to do for many years to come."
Sears gave a short, emotional speech thanking the organization and all those who support it. He had playful words of wisdom for an audience filled with friends, family, and colleagues: "For those getting close to retirement, I highly recommend it."