Steel Erectors' Association Celebrates 50 Years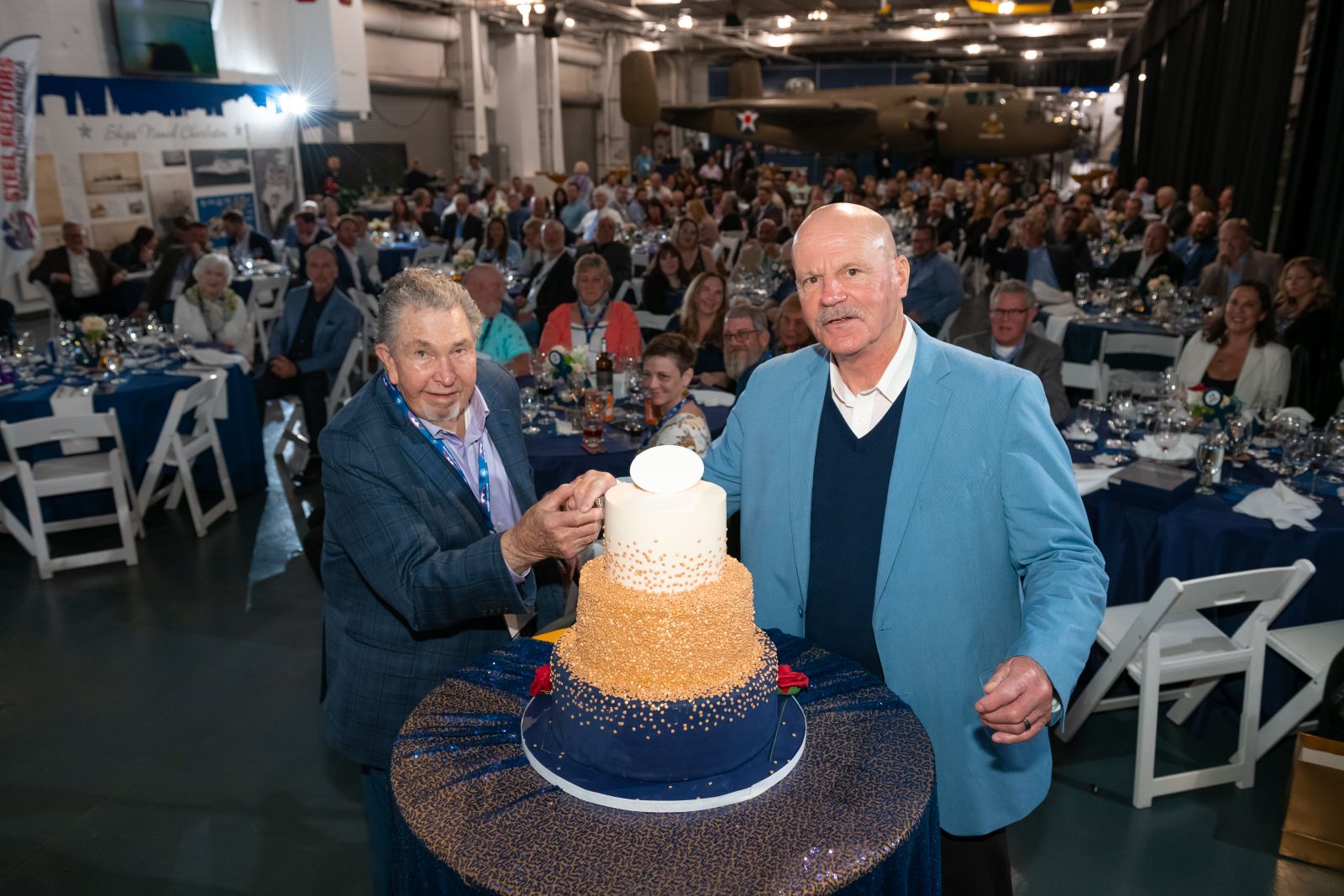 Eddie Williams (left) David Deem
May 17, 2022 - The Steel Erectors Association of America (SEAA) kicked off its 50th anniversary on April 8, 2022, at the conclusion of its 2022 convention and trade show in Charleston, South Carolina, with a celebration on the USS Yorktown aircraft carrier.
In the beginning, the association was a regional group known as the Steel Erectors Association of the Carolinas.
Founded in 1972 by 11 companies shortly after the formation of OSHA, the SEAA was created to give a voice to small erectors at a time regulations were changing dramatically.

In 1992, as membership began to spread westward, the association changed its name to the Steel Erectors Association of America.
"SEAA was and is about doing good for all of us. The association provides tools that help contractors achieve the highest level of education, safety, business practices, and competition in the market," said Eddie Williams, who was with C.P. Buckner Steel Erection in 1972. He served as the founding president, spent many years on the board of directors, and is a Lifetime Member.
"Eddie Williams opened the door for what SEAA has become. In the 1970s there wasn't a lot of concern about safety. His vision, and the example the founding companies set, established the tone and goal of the organization from that day forward," said Bob Beckner, who is retired from Peterson Beckner Industries and served as president of the association in 1999 and 2000. "Competitors are able to come together for a common cause."

Leading up to the anniversary, SEAA interviewed 15 of the 29 past presidents or executive directors. Each of them provided insight into the hot topics facing the industry over the past 50 years.

Establishing best practices for contract language that dealt with change orders and back charges was an early task for the organization. Later, the focus shifted to providing input on safety standards, including Subpart R (Steel Erection) and Subpart CC (Cranes & Derricks in Construction). More recently, workforce development has been a critical issue.
Geoff Kress of Gardner Watson Decking, who served as SEAA president in 2020 and 2021, said: "During my first year as president, nearly everything we did was done virtually. We were forced to find new ways to work, which ultimately has made the organization stronger than ever, with projects moving forward rather than getting tabled."
The association has released a video presentation and historical timeline that documents its half century of work. Find both at https://www.seaa.net/history.html.