Steel Erectors Present Person of Year, Lifetime Achievement Awards
July 27, 2022 - The Steel Erectors Association of America (SEAA) has posthumously awarded David Alan Schulz of Schulz Iron Works with its highest lifetime achievement recognition, the William Davis Service Award.
Also, the SEAA has named Stephanie Trainor, vice president and marketing manager at Construction Insurance Agency, as the association's 2022 Person of the Year.
William Davis Service Award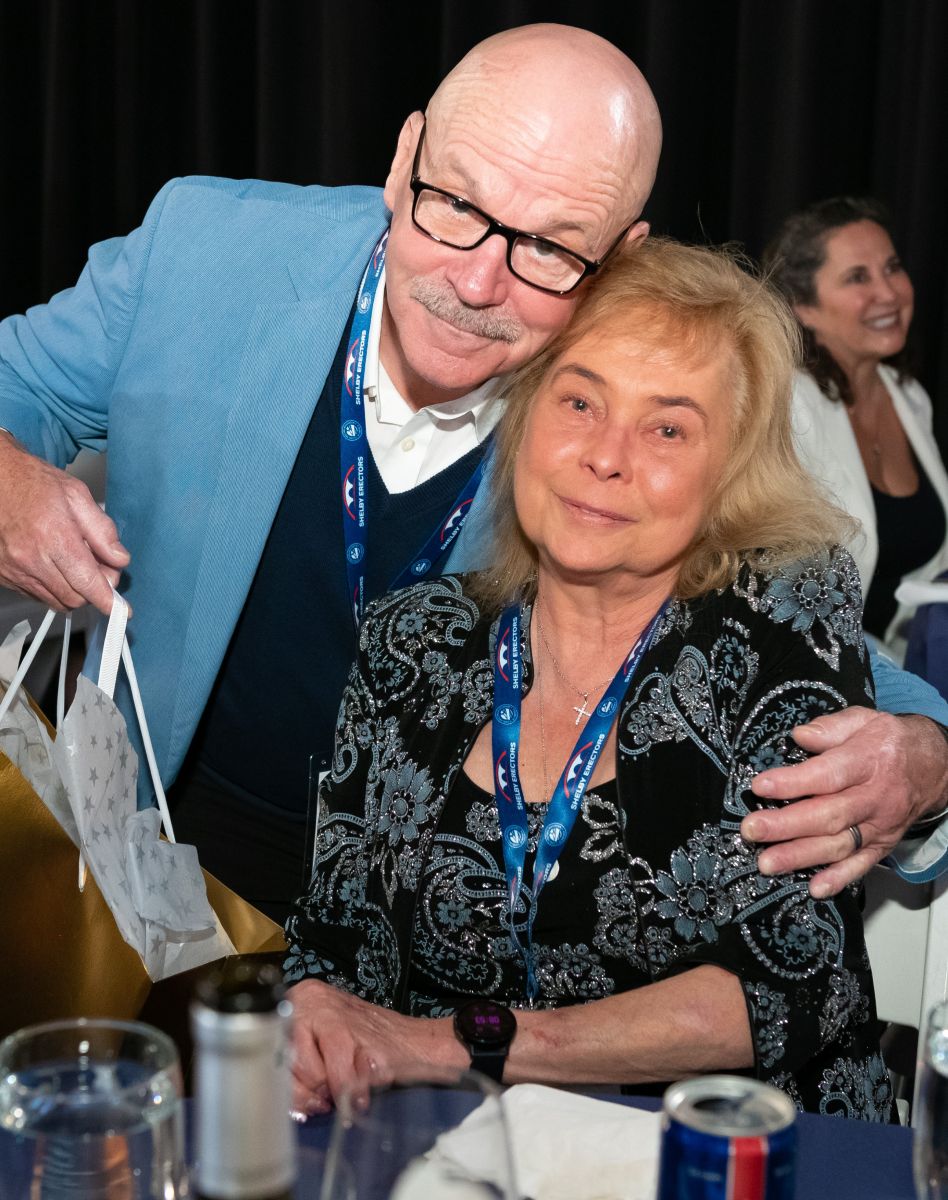 SEAA President David Deem presents Davis award to David Schulz's widow, Cindy Schulz.
The William Davis Service award is given to a person who has demonstrated a life-long commitment to service in the steel construction industry.
The award is the association's highest honor, and is not issued annually.
The lifetime achievement award is presented in memory of William Davis, who held board and committee positions for nearly 20 years through the 1980s and 1990s. Recipients of the award exemplify generosity and volunteerism.
David Schulz died unexpectedly in December of 2020. He was a hardworking ironworker who started his career in construction in 1973 erecting grain dryers and boilers.
"It was truly an honor to present Dave's wife, Cindy Schulz, with this award," said Alan Sears, retired chair, Awards Committee. "Dave put his all into the association. He spearheaded the fundraising effort for SEAA's education and training programs, and shared his passion for the safety with others in the industry."
Generous with both his time and finances, Dave was a man of second chances, affording many of his employees an opportunity for a fresh start and a career path. He supported them in more ways than just a paycheck, investing in their personal and professional lives.
He also was passionate about safety. Schulz Iron Works was one of the first companies to become an accredited training and assessment site in the SEAA/NCCER Ironworker Craft Training Program. He shared these training resources with other companies. An unofficial ambassador of SEAA, he put his all into fundraising for SEAA's education and training programs. Dave was named the association's Person of the Year in 2009 and was elected President in 2018.
Person of the Year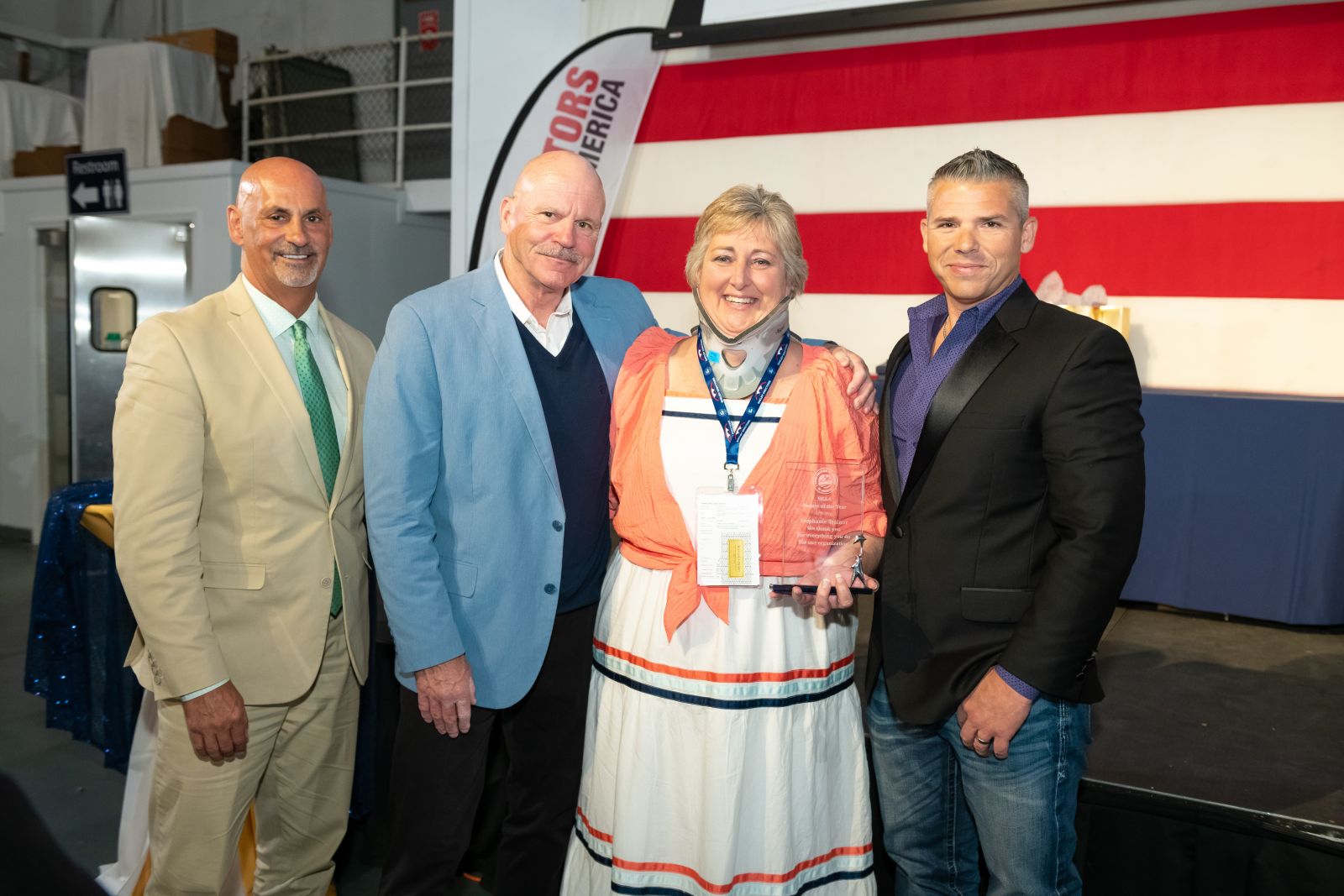 Stephanie Trainor, third from left, SEAA Person of the Year
Stephanie Trainor, SEAA's 2022 Person of the Year, has a long-standing history with the association.
Her father, George R. Pocock, was a board member and long-time organizer of SEAA golf events. He was a great asset to the association for more than 15 years.
Stephanie's brother, George R. "Chip" Pocock II, was president of the association from 2007-2008. They are also the only father and son pair to have both received the Person of the Year and the William Davis Service Award. Trainor's sister-in-law, Pamela Pocock, served as executive director from 2000 to 2012.
"SEAA is quite literally in her blood," said Drew Heron, chair of the Awards Committee. "She has been involved with the association for as long as I can remember. She has worked tirelessly as a volunteer behind the scenes and is always willing to take on more work."
Whatever the task is, making phone calls, soliciting sponsorship funds, coordinating the sale of golf ball raffles for the Boom Lift Ball Drop, Stephanie is willing to help. She is a familiar face and a constant presence. "I can remember when Steph first started attending SEAA conventions," said Carrie Gulajan, chair of the Events Committee. "She stepped behind the golf registration table, rolled up her sleeves and helped her mother. Her eagerness to help has never wavered, and she now carries on a family legacy of award winners."