Stellar Industries Hires New Product Manager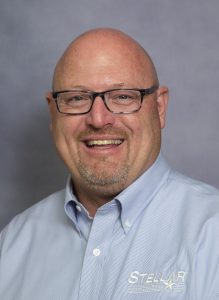 Oct. 7, 2019 – Stellar Industries Inc. has added Tim Worman to the team. Worman will be responsible for the planning, organizing, and controlling of the hook lift, cable hoist, and American Eagle accessory product lines from conceptual stages through product life cycles to optimize profit and meet marketing, financial, and corporate growth objectives.
Worman has over 31 years of experience in the truck equipment industry. His diverse background of engineering, product management, business development, and sales leadership within the work truck industry will be of great assistance as he takes on his new role.
"I am most looking forward to working collaboratively with everyone at Stellar to grow the market presence of the products assigned to me," said Worman. "My 30-plus year background in truck equipment and manufacturing is a great asset to assist in product development utilizing the voice of the customer to drive value-added enhancements, while maintaining revenue and profitability goals. Additionally, being able to work with the manufacturing team to assist in optimizing processes to gain efficiencies in producing the products."
Worman resides in Mason City with his wife, Jill, and their two kids, Jacob (20) and Hailey (17). In his free time, Worman enjoys golfing and camping, as well as volunteering at Newman Catholic School where he is a member of the Foundation board of directors and the development committee.