Stellar Industries Unveils Service Crane with Aluminum Boom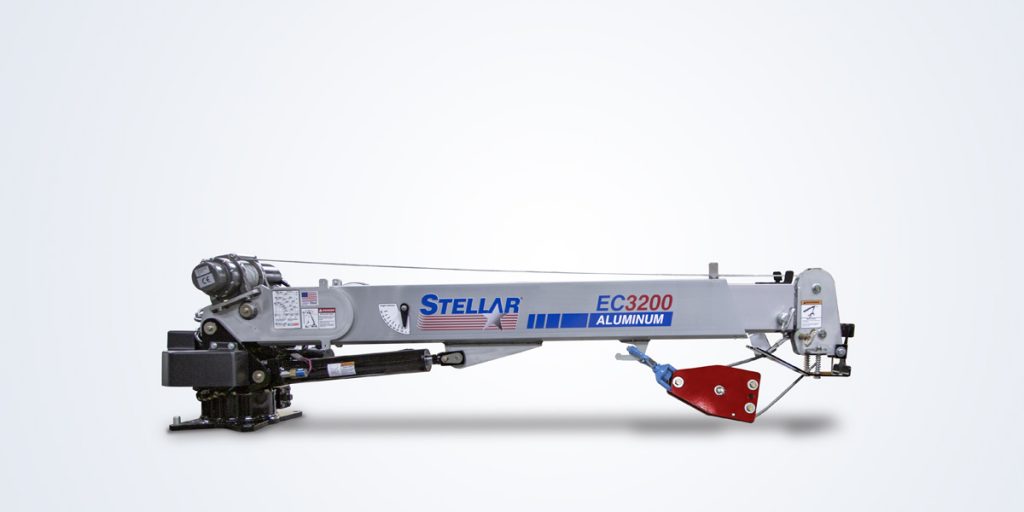 Oct. 4, 2019 - Stellar Industries has developed an innovative new electric crane to help operators save weight on their trucks. The lightweight EC3200 Aluminum telescopic service crane was released at The Work Truck Show.
Expanding the EC Series of telescopic service cranes, the EC3200 Aluminum telescopic crane is more than 30% lighter than its steel counterpart. It weighs just 500 lbs. — 230 lbs. less than the steel version of the EC3200. This weight savings offers operators the ability to carry more payload on their mechanics truck without sacrificing crane performance.
Exclusive aluminum extrusion construction, and proprietary design and manufacturing techniques ensure the strength of the crane, which offers 3,200 lbs. of lifting capacity and 15' of horizontal reach.
Rated at 11,500 ft.-lbs. (1.59 t-m), the EC3200 is ideal for service bodies with crane reinforcement kits. The unit's lightweight design, ease of operation, and economical pricing make it especially well-suited for municipal, oil and gas, and rental fleets.
"We've proven that aluminum construction can be lightweight, strong, and durable if advanced design and manufacturing methods are used," said Tim Davison, senior product manager, Stellar Industries. "The new EC3200 Aluminum is the lightest 3,200-lb. crane in the industry, giving our customers the freedom to carry more on their trucks — tools, parts, a lube skid, or anything else they need to do their jobs better."
The crane's aluminum construction provides not only significant weight savings, but also superior corrosion resistance for lower maintenance and longer equipment life. Enhanced corrosion resistance can be especially beneficial for customers that work in harsh climates or near saltwater in coastal areas. Like other members of the EC Series family, the Stellar EC3200 Aluminum telescopic service crane incorporates a variety of beneficial features including:
• A low-profile design for work in confined areas.
• A robust gear bearing rotation system with a high-strength steel ball bearing turntable gear, a high strength steel worm gear, and a cast steel worm gear housing.
• A planetary winch to ensure it will continue lifting until it reaches the full rated capacity.
• And, 410° of rotation with an integrated rotation stop to provide excellent performance while protecting wires and hoses from damage.