Superior Rigging & Erecting Expands Crane Fleet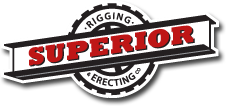 May 2, 2018 - Superior Rigging & Erecting Co., Atlanta and Orlando, has added five new hydraulic cranes from Link-Belt and Grove to its fleet.
The expansion included three Link-Belt hydraulic truck cranes (HTC 8675, HTC 86100, HTC 86110), a Link-Belt hydraulic rough-terrain crane (RTC 8100), and a Grove hydraulic all-terrain crane (GMK 5250L).
Superior Rigging & Erecting provides solutions for projects requiring heavy steel, erecting, and rigging. Experience built through more than 65 years of operation gives Superior Rigging & Erecting the know how to mobilize the most complicated heavy steel projects. The company undertakes the most complex projects and is available for operation nationally, from coast-to-coast.
Superior Rigging & Erecting offers services including steel erection, rigging and millwrighting, heavy transport, steel fabrication, special projects, art and sculpture installation, amusement park ride installation, equipment rental and more. Superior Rigging & Erecting boasts an expansive equipment fleet, a comprehensive preventative maintenance program and an active safety staff with complete, ongoing training.