Tadano Demag's New 88-USt AT is Compact, Powerful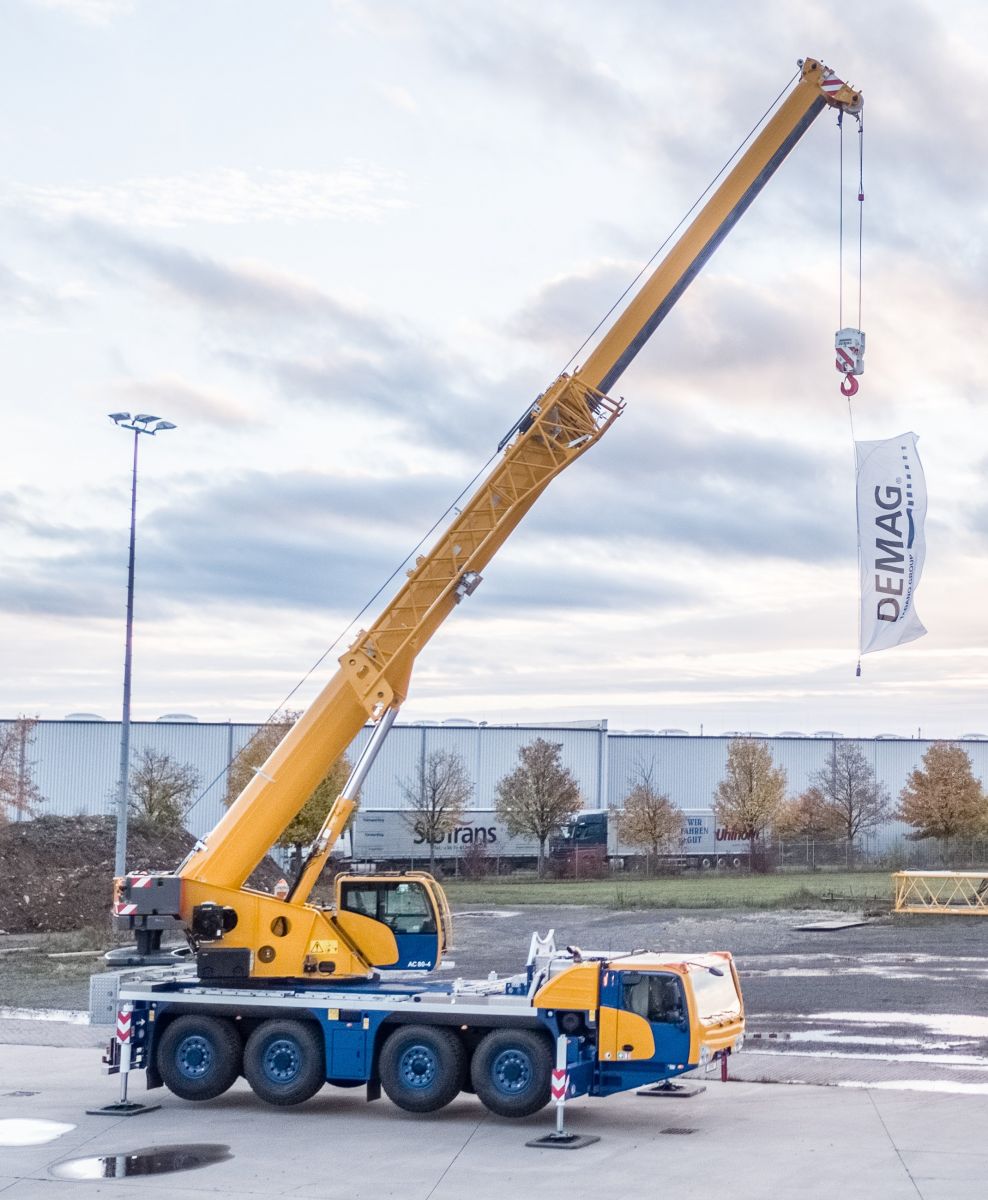 Feb. 3, 2021 - The new Demag AC 80-4 is a compact, versatile, four-axle all-terrain crane that delivers 88-USt maximum capacity, a 196.9' telescopic boom, and a 21.3' swing-away jib.
Demag Product Marketing Manager Michael Klein says the new crane's compactness, capacity, reach, IC-1 Plus controls, and Flex Base outrigger system let it excel in an enormous range of applications, particularly where space is tight.
One particularly interesting option is the E-Pack, a 32 kW electro-hydraulic system that can power crane operations quietly and exhaust free.
Demag says that in some configurations, the AC 80-4's 196.9' main boom offers the longer reach than cranes with maximum capacities of up to 132 USt.
Also, says Demag, the AC 80-4 with fully extended main boom outlifts all other AT cranes with maximum capacities of up to 110 USt at radii to 98.4'.
Some of the AC 80-4's sample capacities include 6 USt at a 45.9' radius, or 107 USt at 32.8' on 164' boom.
The 21.3' fold-away jib can be offset 0°, 25°, or 50°, and has a maximum capacity of 26.2 USt. Also available is a 4.9'runner that can lift 29.3 USt.
The two identical hoist drums each deliver up to 15,040 ft.-lbs. of single-line pull, up to 393.7 fpm line speed, and 787' of spooling capacity.
Compactness is a key feature of this model. It's just 39.9' long, including the 34.8' carrier and 4.9' of boom overhang. It stands 12.6' high and 8.4' wide.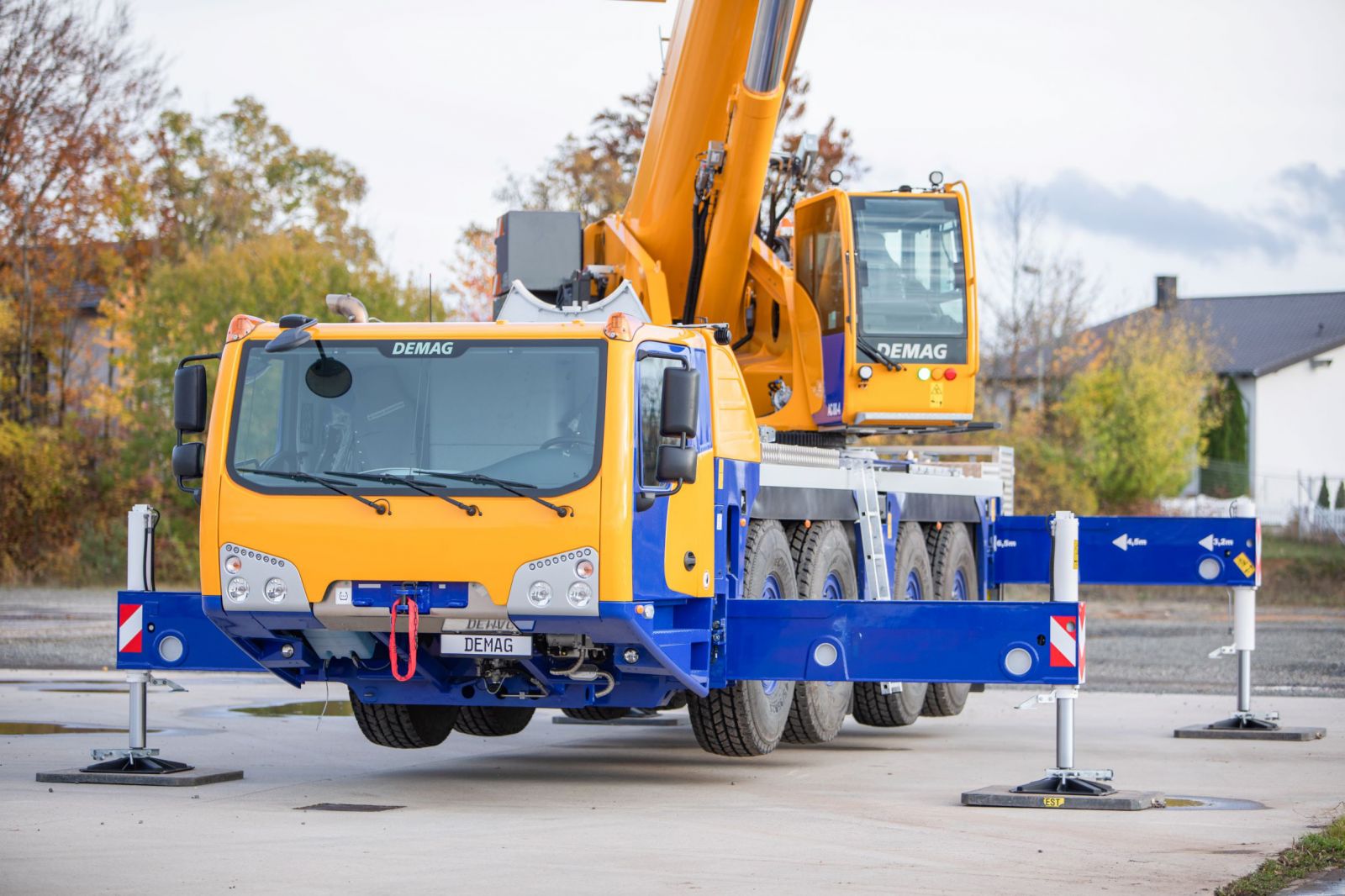 The Flex Base outriggers can each be extended independently to any length in its range. Maximum overall width is 21'3".The ability for non-symmetric outrigger setup lets the AC 80-4 fit into spots that other cranes may not be able to. It also lets the crane make the most of its reach and capacity.
The IC-1 Plus control system calculates the crane's lifting capacity based on boom position and slewing radius to provide the maximum possible lifting capacity available in any situation.
The maximum counterweight is 19.5 USt, and the crane can travel on roads with up to 10.3 USt of counterweight and the swing-away jib while keeping its axle loads to 13.2 USt or less. The rig is powered by a 462-hp Tier 4 Final diesel engine.
Demag's Surround View camera system can give the operator all-around vision both while driving and while operating the crane. It can shorten setup by showing the operator a computer-assisted diagram of the possible outrigger extension and counterweight tailswing radius.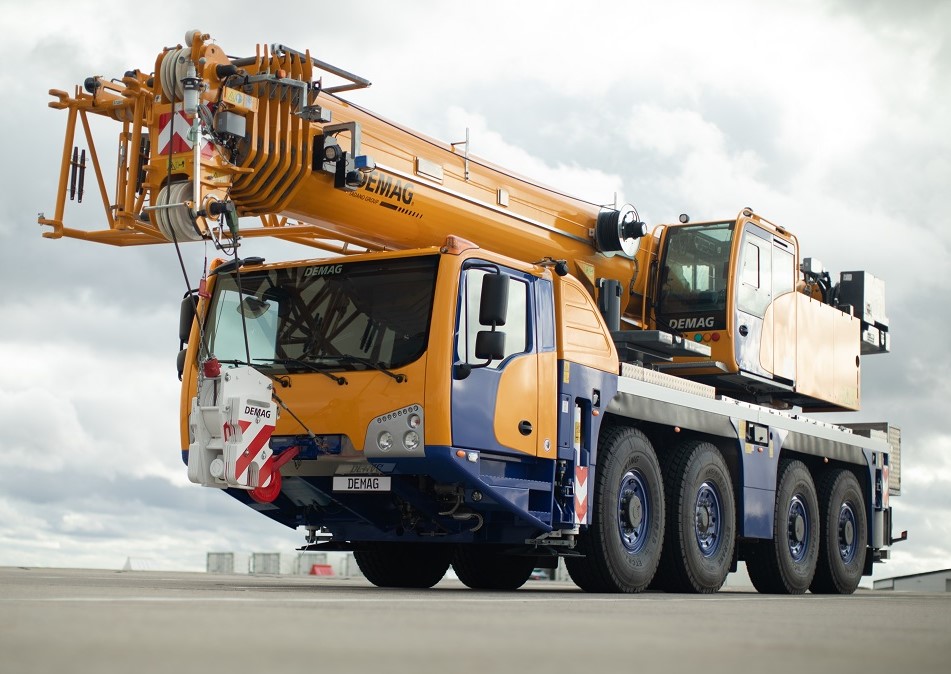 Demag's Klein says that comments from all the potential customers who have seen the new crane at the factory in Zweibrucken, Germany, have been "absolutely positive."