Tadano Mantis Unveils 55-Ton Teleboom Crawler Crane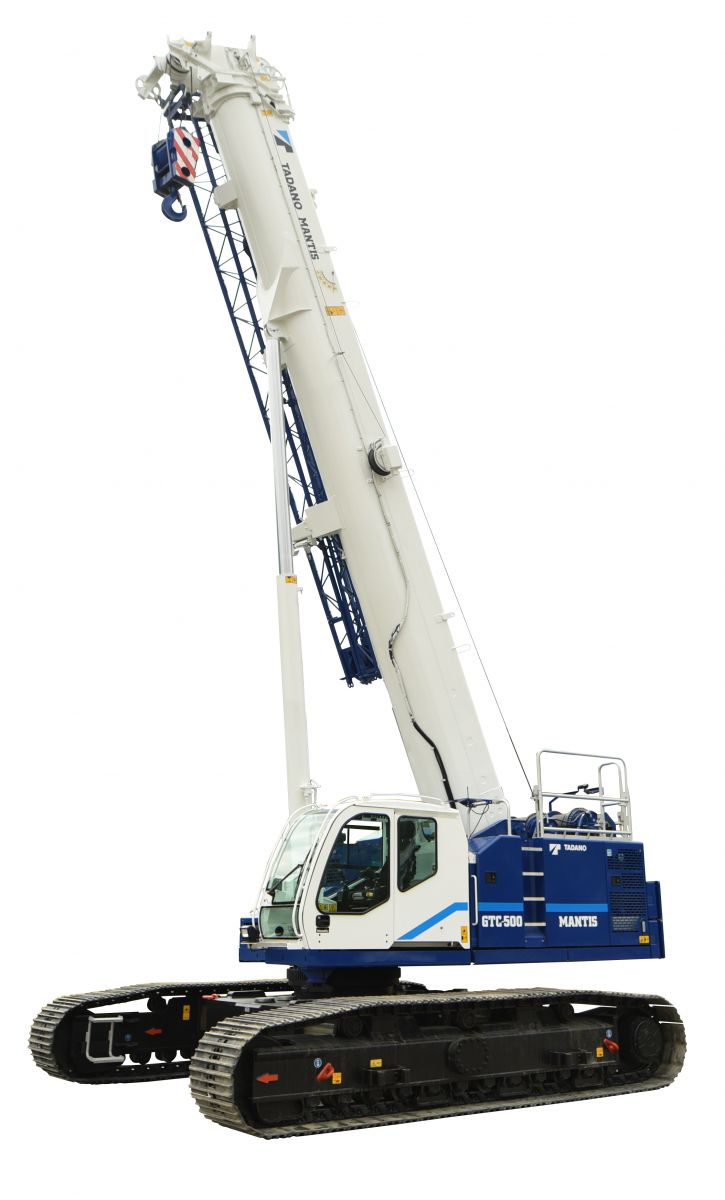 February 26, 2019 - Tadano Mantis Corporation has rolled out the newest addition to its GTC series of cranes, the GTC-500, a 55-U.S.-ton capacity telescopic-boom crawler crane.

This latest introduction brings the features and benefits of the GTC-Series to the smaller size class cranes offered by Tadano Mantis.
The GTC crane series is designed and built to meet the requirements of power transmission, bridge/heavy civil, and foundation applications, while also appealing to traditional liftcrane markets.
A collaboration between Tadano Mantis and Tadano, Ltd., the GTC-500 integrates Tadano winches, jibs, hydraulic cylinders, AML-C, and Hello Net telematics to maximize reliability and commonality with other Tadano models.

Superior Capacity: The 55-U.S.-ton rating is a real, usable capacity, and the GTC-500's "level ground" load chart allows operation on slopes of up to 1.5°. That lets the crane lift to its full capability without needing the ground preparation required for a perfectly level lifting base.

The load chart capacities can be picked and carried and swung 360°.
An optional Heavy Configuration with 28,200 lbs. of counterweight increases lifting performance at longer radii.
Tadano Boom Design: The four-section full-power boom can telescope under load to its maximum extended length of 113'10". The boom is purpose designed for the GTC series crane and manufactured by Tadano Japan for high lifting capacities and for heavy duty work, such as foundation, pick-and-carry, and work on slopes up to 4°.
The 28.9'-49.9' bi-fold lattice jib can be offset 5°, 25°, or 45°. Maximum tip height with the jib 170.5'. The jib load charts allow lifting on slopes to 2.5°.

Dimensions: The GTC-500's 103,900-lb. operating weight lets the crane ship in one truckload. Its unladen ground pressure is 9.3 psi. In standard configuration and equipped with 31.5"-wide track shoes, the GTC-500 measures just 11'5" wide, 42'11" long, and 12'1" high. Optional 35.4"-wide semi-grouser shoes and 35.4"-wide steel-flat shoes are also available.

OPTI-WIDTH: Only Tadano Mantis offers infinite symmetric or asymmetric track positions on telescopic-boom crawler cranes. The powerful hydraulic track-extension system can adjust the operating width of the crane from 11'5" to 17'1" (with 31.5" track shoes) to give the optimal lifting base for any site conditions.

Tadano Mantis telescopic-boom crawler cranes do not require the track frames to be pinned in a fixed position, so the crane user can position each track in the best position to meet site conditions. The AML-C system automatically selects the proper load charts to match the crawler positions.

Opti-Width load charts for asymmetrically positioned tracks can offer significant lifting capacity enhancements when compared to those for symmetric track positions. Opti-Width incorporates zoned load charts, rotational position sensing, and function soft stops to ensure that the crane operator cannot swing a load into a zone where the crane will be out of capacity.
The crane uses the full capabilities of the Tadano AML-C rated capacity indicator and has operating load charts for 1.5°, 2.5°, and 4° slope with automatic out-of-level load chart switching based on the crane's position. It is also possible for the operator to set work zone limits for swing angle, height, and radius, and the crane has function soft stops as operation approaches the selected operating limits.
Efficient Power: The Cummins Tier 4F, Euromot stage IV QSB6.7 diesel engine is rated at 260 hp @ 2,200 rpm. Its throttle can be controlled by auto-idle, adaptive control, or pedal.

The load-sensing, power-controlled hydraulic system optimizes hydraulic output for high efficiency and control. Swing is driven by its own closed-loop hydrostatic transmission for superior performance. Maximum swing speed is 2.0 rpm. The travel system features two-speed track drives with a maximum speed of 1.8 mph, and maximum unladen gradeability of 85%.

Telematics with Hello-Net: Telematics monitor the crane's work history, position, and maintenance. The information can be accessed free through the Tadano Hello-Net internet portal.

Productivity-enhancing Options:
• Boom mounted auger system can be mounted to the boom base section or to the second stage of the boom for variable-radius drilling up to 54' at any swing angle. The auger system can use drives with a maximum digging torque to 20,000 lb.-ft.
• WP-750, two-person, 750-lb. capacity work platform can be mounted to the boom or the 23'0" jib for a maximum platform height of 120'. It includes a hydraulic tool circuit with hose reel.
• Heavy (28,200-lb.) Counterweight Configuration
• Hydraulic pole claw.
• Cold weather packages for operation to -40° F
• Radio Control package
• Anemometer
• Barge load charts