Tadano's New AC 2.040-1 All-Terrain Starts New Era
March 2, 2022 - The new Tadano AC 2.040-1 two-axle all-terrain crane is a world first in two ways.
First, it's the first all-terrain crane developed jointly by Tadano's Lauf and Zweibrücken factories in Germany.
Second, it's the first member of the future Tadano AC family.
In addition, its launch signals completion of the Tadano-Demag brand merger. All Tadano Group cranes will from here onward be sold exclusively under the Tadano brand name.
"That's why this market launch is really special for us. After all, the new AC 2.040-1 is the first crane to combine the best of our two worlds with the know-how from Zweibrücken and Lauf," said Dr. Frank Schröder, vice president of Tadano's all-terrain crane products.
Also, the AC 2.040-1 is the first crane in Tadano's new AC family. All future models will share its DNA: a standardized crane control system, cab, and technologies.
The AC 2.040-1 is part of Tadano's innovation push, which will see 15 new crane models come to market in the next few years.
"The slogan for our one-brand strategy is Your Passion. Our DNA. As far as we're concerned, cranes are more than just a product we sell," said CEO Jens Ennen. "In addition, we also want to convey an exclusive sense of purpose and dedication. No other manufacturer is as undividedly focused on lifting equipment as we are, and this goes both for our company as a whole and for each individual member of our team. For us, every single lift that is performed out there is just as important as it is to the customer carrying it out."
Kicking Off the New Tadano AC Family
Like all future models, the AC 2.040-1 features the innovative IC 1 Plus control system with automatic counterweight detection, a capacity radar, and a work area display.
The system determines the crane's lifting capacity for every boom position as a function of the superstructure's slewing angle. That lets the AC 2.040-1 always make use of the maximum available lifting capacity with any outrigger configuration, including asymmetrical ones. That advantage is maximized when combined with the Flex Base system, which makes it possible to extend an outrigger to any point in its range.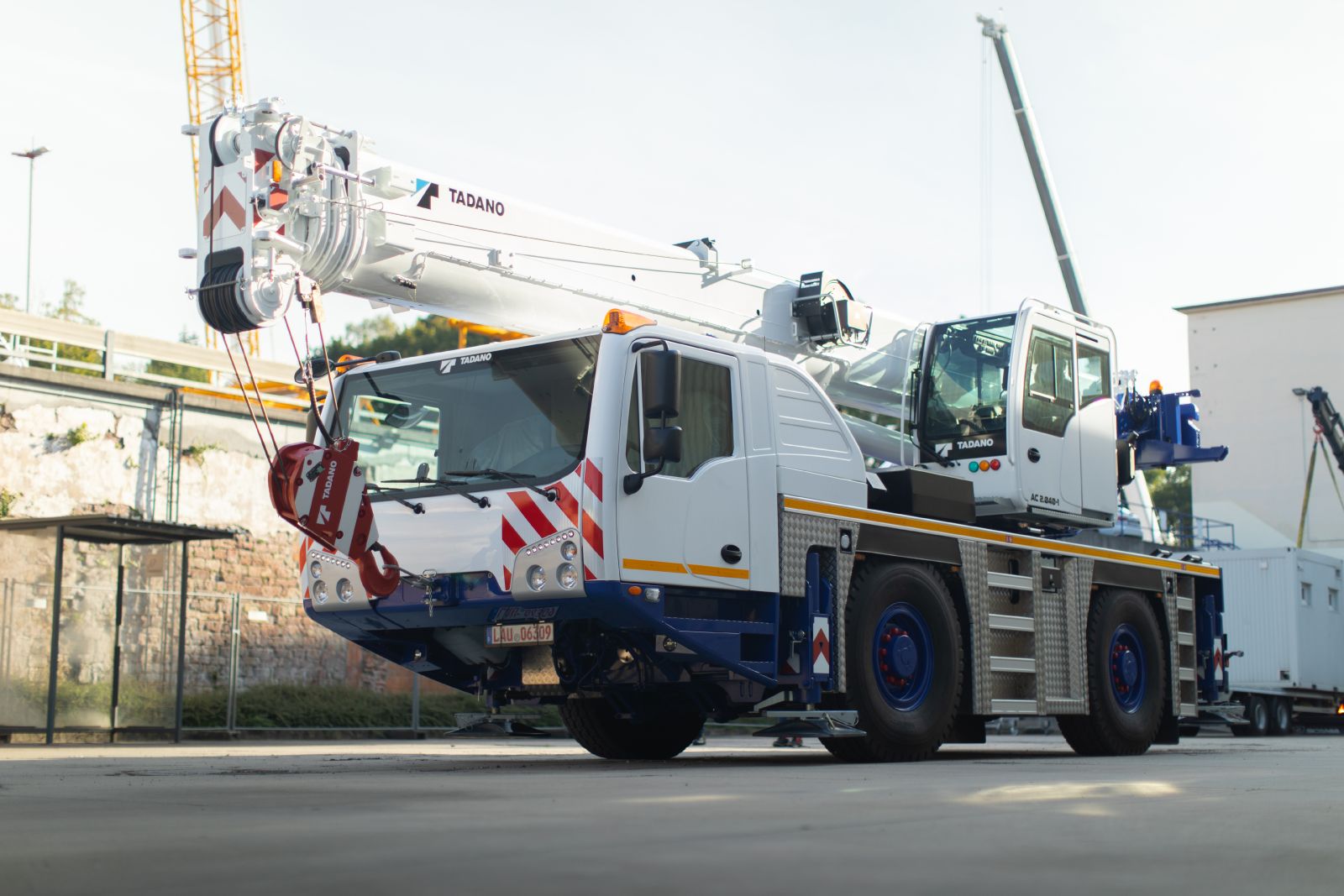 In addition, the crane features the one-of-a-kind Tadano Surround View camera system, which shows both the maximum possible extension lengths for the outriggers and the counterweight tailswing radius. Tadano Surround View makes it significantly easier to position the crane optimally at work sites. The system also helps on the way to the work site by making it easier for crane operators to notice pedestrians and cyclists when turning.
The crane comes with IC 1 Remote telematics, which makes efficient crane and fleet management possible and shows both the location of the AC 2.040-1 and all its operating information on the monitor. This system helps with scheduling projects and routine maintenance, ensuring that the crane will have the highest possible availability for assignments. Moreover, it can be used to read error codes so that service team members can read the corresponding data "remotely" and run fault analyses to quickly diagnose and fix problems.
Maneuverable and Compact
The AC 2.040-1 offers an entire series of model-specific advantages. It is extraordinarily compact and perfect for use at constrained work sites. Its maneuverability comes from a steerable rear axle with automatic programs for extremely tight radii and crab steering. Its compactness and optimized weight improve it roadworthiness. It can carry up to 2,425 lbs. of counterweight while staying under an axle load of 26,455 lbs. Also, it meets the latest emission standards both in Europe and North America. In fact, its state-of-the-art Cummins engine puts out 310 hp while offering both low fuel consumption, long drive-train life, excellent gradeability and acceleration, and quiet travel operation.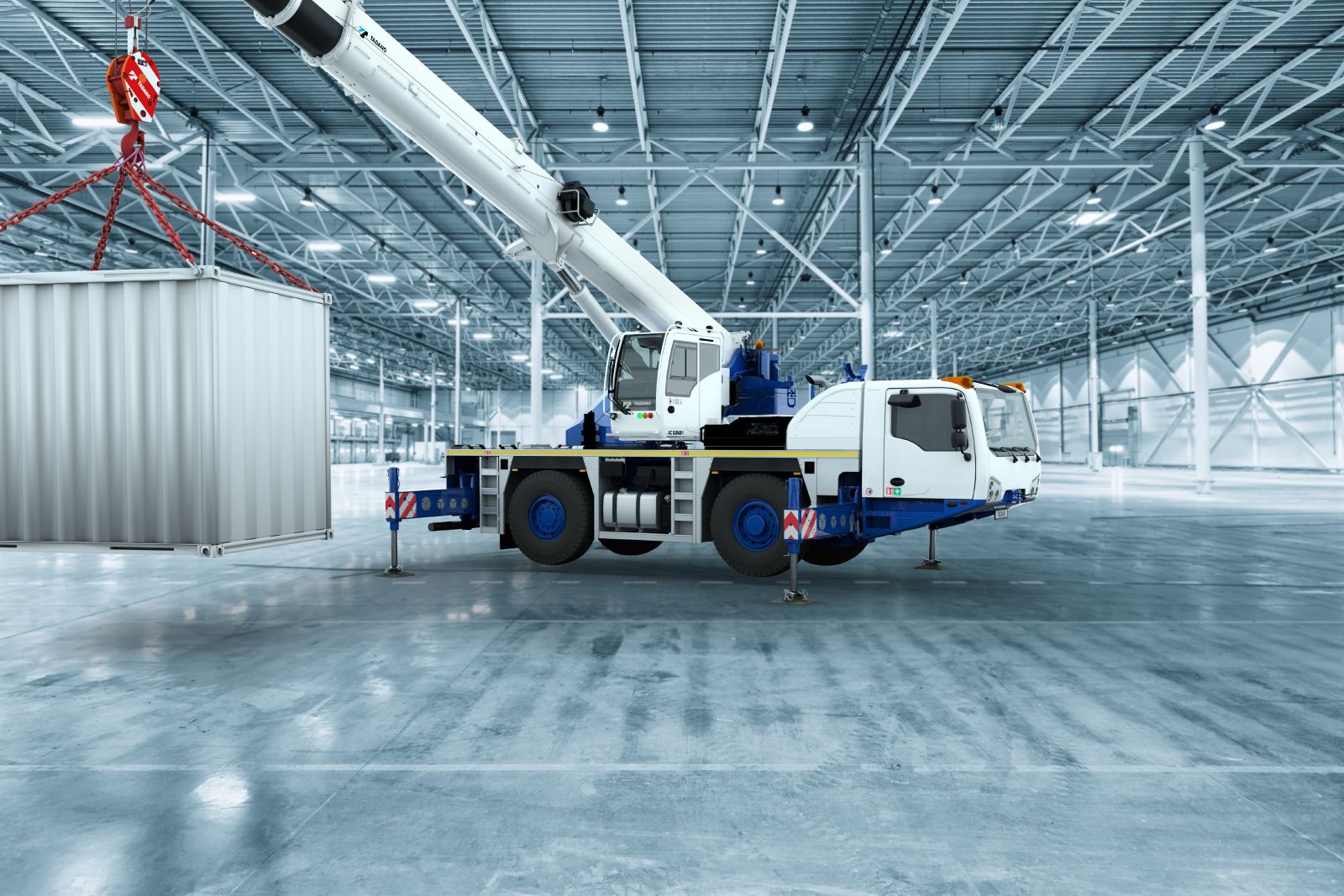 Tadano is making the carrier in Lauf, and the superstructure in Zweibrücken. "This will allow us to take full advantage of the unrivaled carrier development and manufacturing know-how of our Lauf location," Schröder said. A removable rear storage box, carried over from the successful Tadano ATF 40G, continues to be available with or without a wood rack. "This solution is extremely popular among our customers, and we expect it to be a fixture in all future AC developments," Schröder said.
Most Powerful Two-Axle Crane
The AC 2.040-1 raises the bar when it comes to steep boom positions. With a fully extended boom length of 115.5' at a radius of 26.3', it can lift 16,755 lbs. – something no other crane in this class can do.
In addition, the 2.040-1's ability to lift up to 70,327 lbs. without adding sheaves lets it cover a broad range of lifts without time-consuming setup changes, Schröder explained. He noted that its boom can telescope under load with impressive lifting capacities.
If a lift requires more reach than the maximum main boom length of 115.5', the crane's range can be extended with a 29.5' extension that can be offset by up to 40°.
Tadano's new, extraordinarily versatile taxi crane is a perfect solution for a wide range of applications, including roofing, photovoltaic system installations, lifting containers, and handling material at work sites.