Terex Number Nine for Elmer W. Davis, Inc.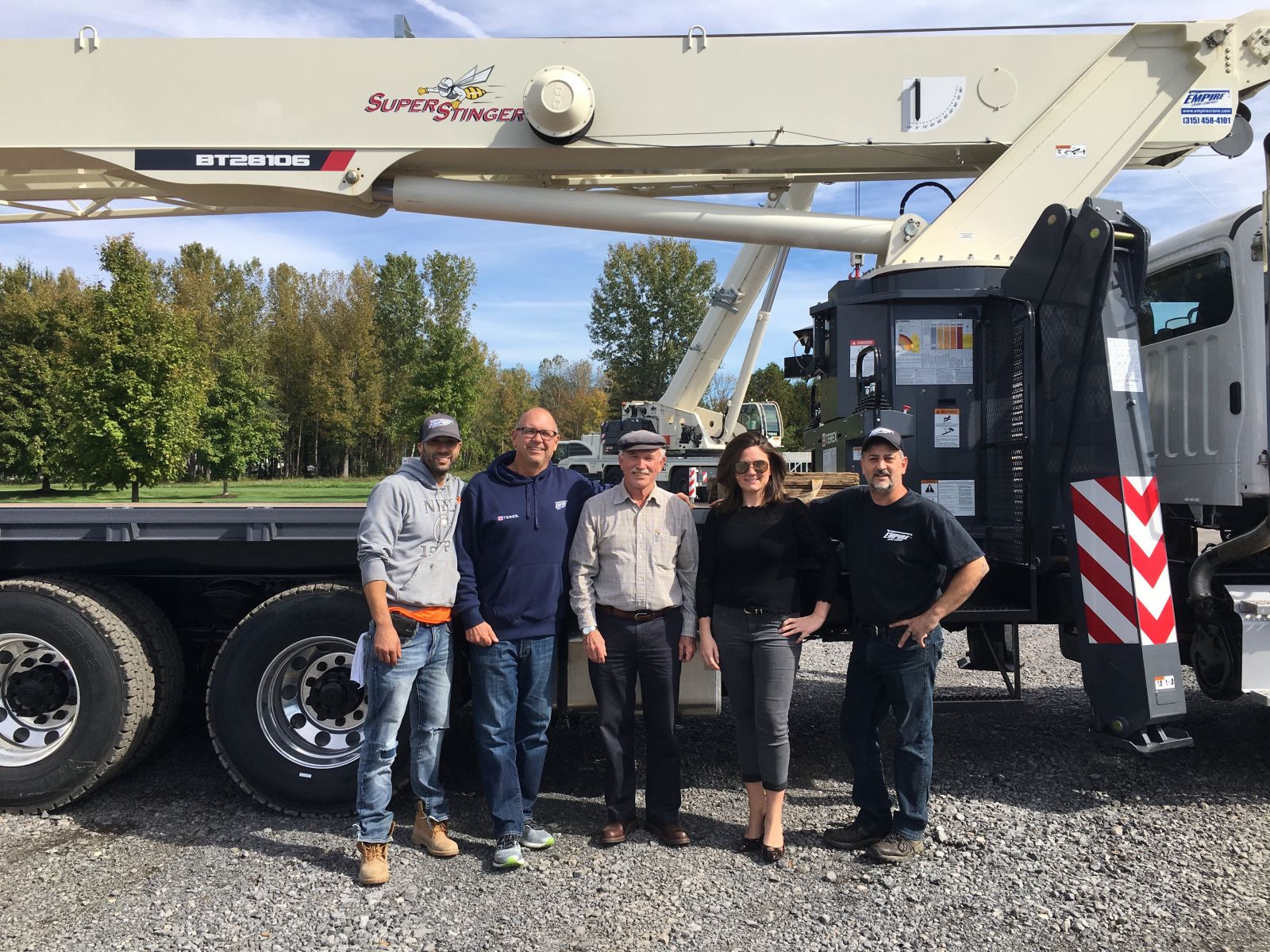 From left,
Louis Sanchez, operator, Elmer Davis; Luke Lonergan, CEO, Empire Crane; Carl Benson, fleet manager, Elmer Davis; Katie Pharoah, sales manager, Empire Crane; Rick Caparco, service manager, Empire Crane.
October 11, 2018 - Elmer W. Davis Inc., Rochester, N.Y., recently picked up its new 2018 Terex BT28106 boom truck from Empire Crane Company LLC in Syracuse, N.Y.
The BT28106 is the 9th Terex boom truck in Davis' growing fleet of cranes.
Elmer W. Davis Inc. is the largest roofing contractor in New York. Superintendent Damon Runyon said the company likes Terex machines because "they are reliable cranes with almost no downtime."
The BT28106 can lift up to 28 U.S. tons, has a 106' boom, and offers a 30'-47' jib. It offers a modular, dual control console for operation from either side of the crane, work-area definition, and high-performance hydraulics.
Carl Benson, fleet manager, said, "The boom length and jib length fit our roofing needs, and the rapid mobility of a boom truck makes things a lot easier. We don't have to worry about transportation or setup and takedown time."
The crane's first job will be a roofing at the Wegmans Supermarket in Fairmount, N.Y.
Elmer W. Davis Inc. is a roofing and sheet metal contractor that has been in business for more than 80 years. During peak season, it has up to 300 employees working in the field, serving customers throughout central and western New York State.
Empire Crane was founded by Paul and Luke Lonergan in 2002. It is a dealer for Terex, Tadano Mantis, Kobelco crawler cranes, Shuttlelift carry-deck cranes, Manitex boom trucks, Wolffkran tower cranes, and Magni telehandlers. The company offers sales, parts, and service at offices in Syracuse, N.Y., Bridgewater, N.J., and Boston, M.A.