Two Demag All-Terrain Cranes Shine at Boston Bridge Job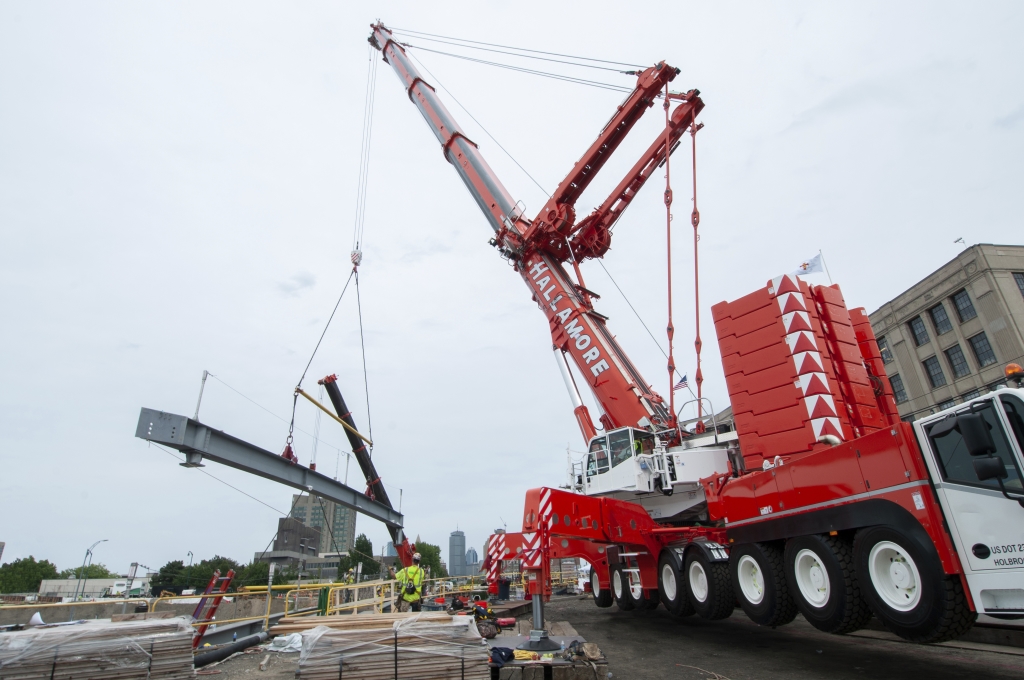 Demag AC 500-8
January 15 - Heavily congested construction sites like the Commonwealth Avenue Bridge spanning the Massachusetts Turnpike in Boston pose a problem for planning agencies.
Conventional bridge construction projects can take years to complete and impede traffic throughout construction.
An alternative, accelerated bridge construction (ABC) affects traffic more significantly, but for a much shorter time.
The Commonwealth Avenue Bridge is a major Boston thoroughfare. Each day, about 200,000 people rely on the Turnpike and bridge to get to their destinations, which include nearby Boston University, Boston College, and Harvard.
With so much riding on the project, the Massachusetts Department of Transportation (MassDOT) decided to use the ABC method to replace the 53-year-old structure.
Using ABC condensed the estimated 3-year conventional bridge construction project into two intense, meticulously planned, short-lived masterpieces that took weeks instead of years.
The MassDOT contract called for the eastbound bridge lanes to be demolished and replaced in 2017 and the westbound lanes replaced in 2018.
The prime contractor for replacement of the eastbound lanes had just 20 days to demolish and replace those lanes. It chose a 1600-ton-class crawler crane for all the heavy lifting. The crane was positioned and rigged below the bridge on the Massachusetts Turnpike.
Although the big crawler crane had the needed capacity, assembling it for such a short project resulted in extra work and expense for that contractor during mobilization, according to Gary Spencer, general manager for Hallamore Corporation of Holbrook, Massachusetts.
A year later, when it was time to replace the bridge's westbound lanes, the timetable allowed just 15 days to complete the job. This time the prime contractor worked with Hallamore to devise a lift plan with faster crane set-up.
Hallamore's strategy included using two 600-U.S.-ton-class Demag all-terrain cranes: the AC 500-8 and AC 500-1. One would work from Commonwealth Avenue; the other from the Massachusetts Turnpike.

A Need for Speed
The monumental task required installing 45 bridge beams with lengths to 165' and weights to 66 U.S. tons. The cranes also placed 214 precast concrete deck panels weighing up to 19,500 lbs. and positioned abutment backwall panels weighing up to 59,000 lbs. each.
"MassDOT requires a load factor, which, of course, was included while planning the lift," says Justin Melvin, territory manager for Empire Crane Company, a Terex Cranes distributor.
While the number of travel lanes was restricted during the 15 days of construction, the Mass Turnpike remained opened, which created some congestion for crane positioning. "We knew it was going to be tight, so our 600-U.S.-ton Demag cranes were the best choice," says Spencer.
Andrew Longacre, regional business manager for Terex Cranes, adds, "The AC 500-8 has a carrier length of just over 56', making it the most compact eight-axle crane in its class, perfect for accessing congested sites."
Each crane was mobilized quickly, and needed just 12-13 truckloads of counterweight and rigging materials. The trip from Hallamore's Holbrook yard to the bridge was about 25 mi.
Hallamore has used its AC 500-1 crane for nearly 15 years. "It has been very dependable for us, and that is why we decided to purchase the AC 500-8 (current class model) for this project," says Spencer.
Hallamore bought the new Demag AC 500-8 for this project from Empire Crane, which is headquartered in Syracuse, New York, and has branches in Bridgewater, New Jersey, and Boston. The Hallamore family and the Lonergan brothers, who own Empire Crane, have done business together for more than 25 years.
The new AC 500-8 arrived just weeks before the bridge project. Experts from Terex Cranes and Empire worked with Hallamore to make sure it was ready for the project's days of intense, around-the-clock lifting. "Crane set-up went flawlessly, so we were confident it was ready for the project," adds Spencer.
During initial set-up, Spencer and his crane operator noticed some differences between the new AC 500-8 and the 2003-vintage AC 500-1, for example, additional tie-off points on the new AC 500-8.
The new IC-1 Plus control system also caught Spencer's eye. "The crane functions are very similar between the two cranes, but the control system on the new crane is touch-screen and a lot easier to operate," he says.
IC-1 Plus is designed to provide the crane's maximum allowable lifting capacity, based on slewing angle, for main boom operation. "The capacity charts of the AC 500-8 are improved over our older crane," adds Spencer.

Working Together
Hallamore's crew positioned the AC 500-1 below the bridge on the Massachusetts Turnpike and rigged it with its full 352,800-lb. counterweight in about 4 hours. For this job, the crane didn't need its sideways superlift (SSL) structure.
The newer, AC 500-8, crane was positioned on Commonwealth Avenue, near the bridge. The lift plan called for it to use its full 183.7-ft. telescopic boom to pick concrete panels at radii to 168 ft., so it was rigged with its full 396,800-lb. counterweight and SSL for additional lifting capacity. "Even with [installing] the SSL, we were still hook-ready within 6 hours," says Spencer.
During demolition of the bridge spans, the AC 500-1 removed girders and worked its way toward the abutment, span by span. In just 36 hours, spans 1 and 2 had been completely taken out. "In total, Hallamore removed 1,700 U.S. tons of scrap steel," says Melvin.
For reconstruction, the AC 500-8 lifted and positioned 8 beams weighing up to 33,200 lbs. using 154.9' of boom and working at radii to 128 ft. The crane block and rigging added 17,700 lbs. to each lift, and the 1.5-times-load safety factor also had to be figured in.
"The heaviest girder was positioned with 154.9' of boom at a 120' radius, which gave crews a capacity of 76,500 lbs., enough to allow them to complete the lift with safety factor," says Longacre.
From down at Turnpike level, the AC 500-1 made several heavy picks while working closer to the spans. The heaviest load weighed 78,800 lbs. (96,500 lbs. with block and rigging). Factoring in the MassDOT safety requirement, the crane needed a capacity of 144,800 lbs. to make the lift. "We handled this load with 106.9' of boom at a 65' radius, which gave us a 160,300-lb. capacity," says Spencer.
The precast concrete road and light-rail deck panels were placed by both Demag cranes.
The AC 500-8 handled panels weighing from 4,100 to 19,500 lbs., placed at radii to 168' using 183.7' of boom.
The AC 500-1 made its lifts with 170' of boom at radii to 157'. Once the panels were in place, 680 yd3 of concrete and 580 U.S. tons of asphalt finished the process.
From late July through early August, an average of 200 people worked two 12-hour shifts to complete demolition and reconstruction of the 380'-long bridge.
Up to $1 million per day of disincentive for not meeting the project's major milestones made the risk high. "It was an incredibly tight timeline, but our Demag cranes and all workers performed flawlessly to complete each milestone on time or ahead of schedule," said Spencer.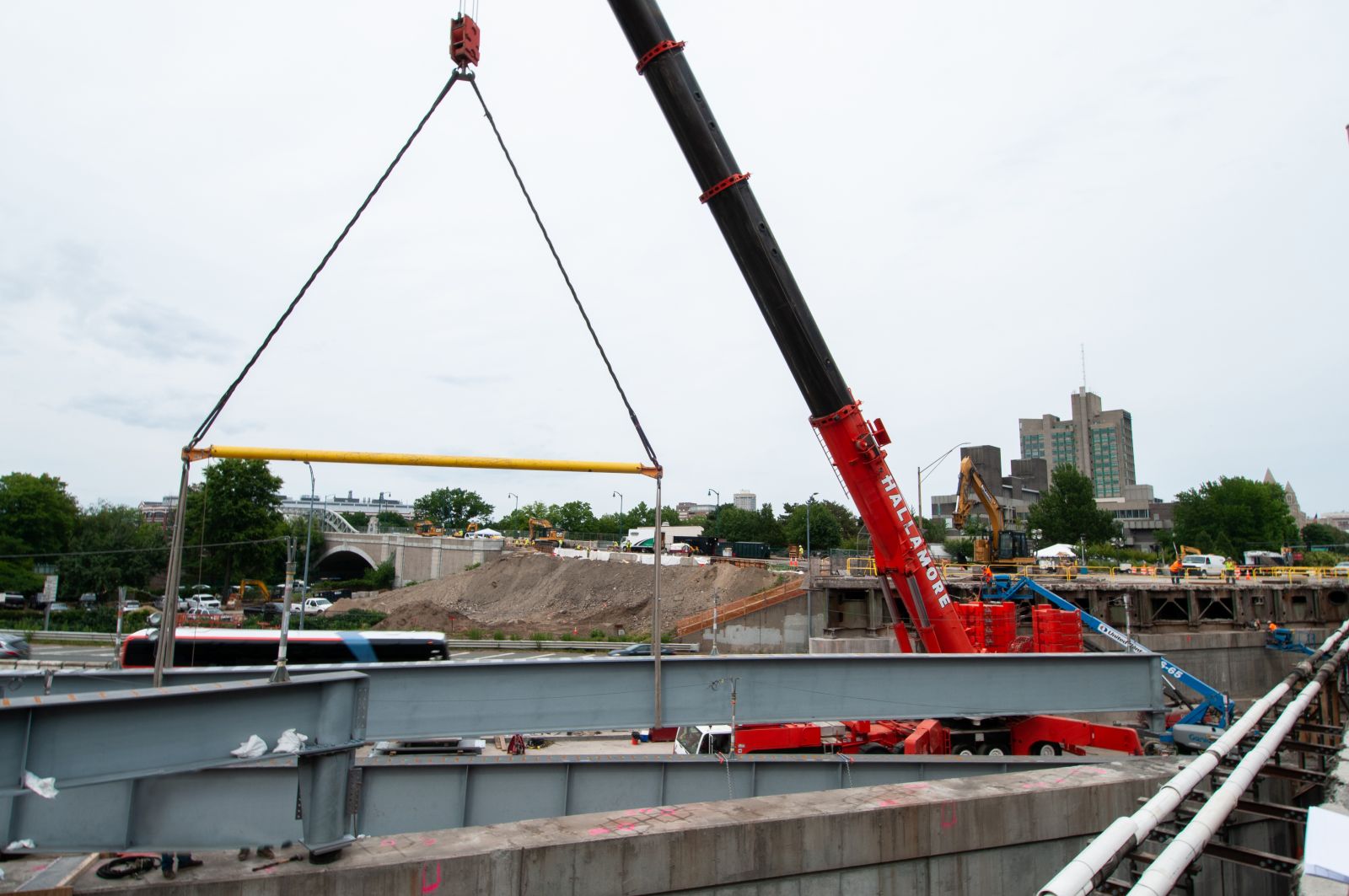 Demag AC 500-1