Two New Link-Belt Cranes are Available to Order Now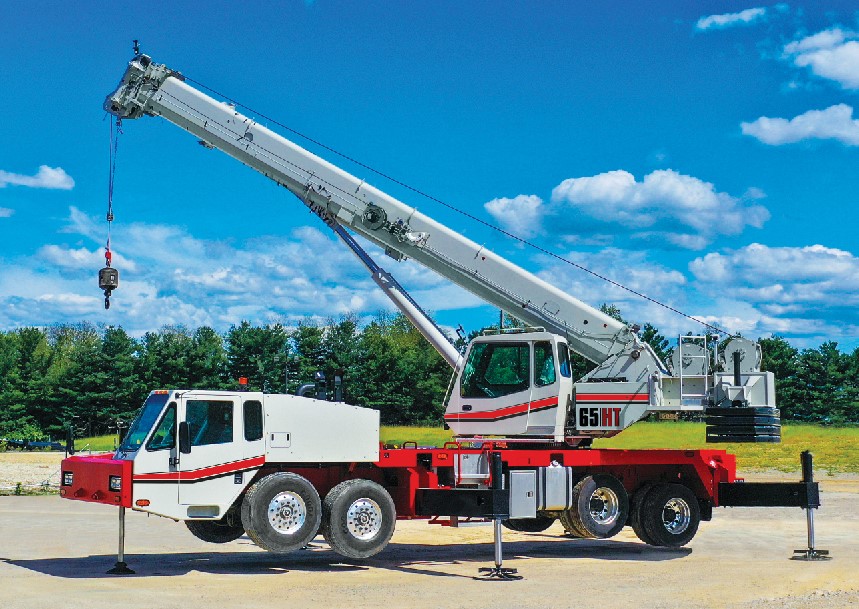 Link-Belt's new 65-USt 65|HT features a 115' formed boom.
June 7, 2021 - Two new Link-Belt cranes that will be among the stars of Crane Fest in late September are already available for customers to buy.

During the first week of June, the Lexington, Kentucky, manufacturer announced that the new TCC-550, a 55-USt capacity teleboom crawler crane, and the 65|HT, a new 65-USt capacity truck crane, are already starting production and can be ordered.

The 65|HT started production June 1, and shipments are expected to start in the third quarter of this year.

The TCC-550 is expected to reach full production later this summer, with the first units heading to customers during the third quarter.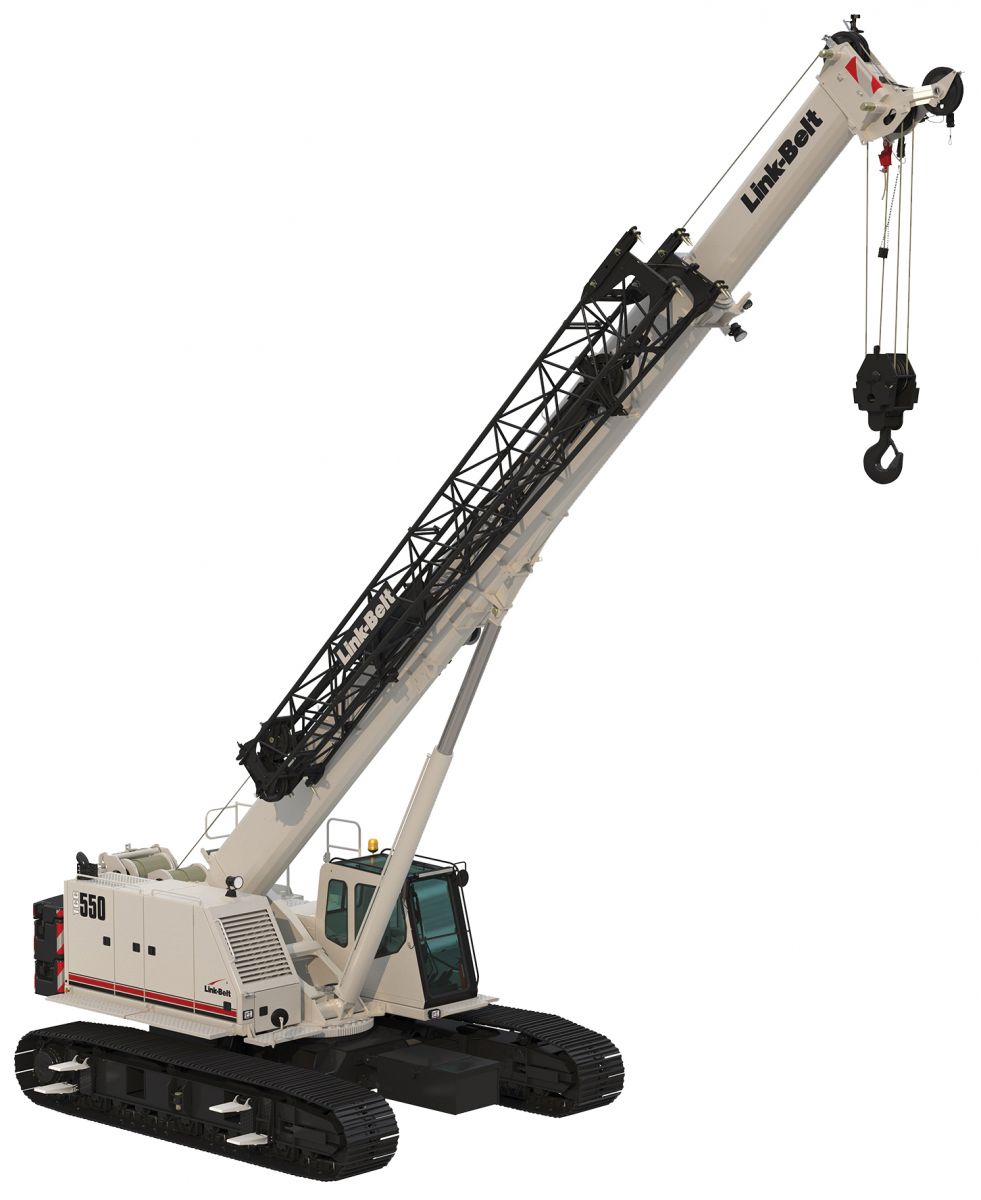 The 55-USt TCC-550 features a 115' formed boom, competitive capacities, and powerful on-site travel.
Each of the new models replaces a predecessor with a solid history.

The 55-ton TCC-550 telescopic-boom crawler crane is replacing the 50-ton TCC-500, which has been in the Link-Belt lineup since 2006.

The 65-ton 65|HT four-axle truck crane is replacing the venerable 60-ton HTC-8660, of which 500 were delivered since the first unit rolled out the door in 2004.

Both new Link-Belt cranes are based heavily on the proven designs and performance of the cranes they're replacing. But both new cranes also offer several significant improvements that deliver important new benefits for owners and users.

A Better Boom

One major improvement on both new models is Link-Belt's modern formed boom.

The TCC-500 and HTC-8660 Series II are some of the last Link-Belt models to use the rectangular, four-plate bossed boom. New models going forward will use formed boom.

The new four-section, full-power, 36.5'-115' formed boom gives both the TCC-550 and the 65|HT 5' of extra length and significantly more lifting capacity than their predecessors. It also virtually eliminates boom maintenance, thanks to greaseless lubrication.

Link-Belt says the formed boom also has strong telescope-under-load capability.

"The new boom is longer, weighs less, and picks more," said Andrew Soper, product manager for telescopic-boom truck and all-terrain cranes.

To help owners maximize use of existing assets, the TCC-550 and 65|HT each use the same two-piece 28.5'-51' jibs as their respective predecessors.

65|HT Truck Crane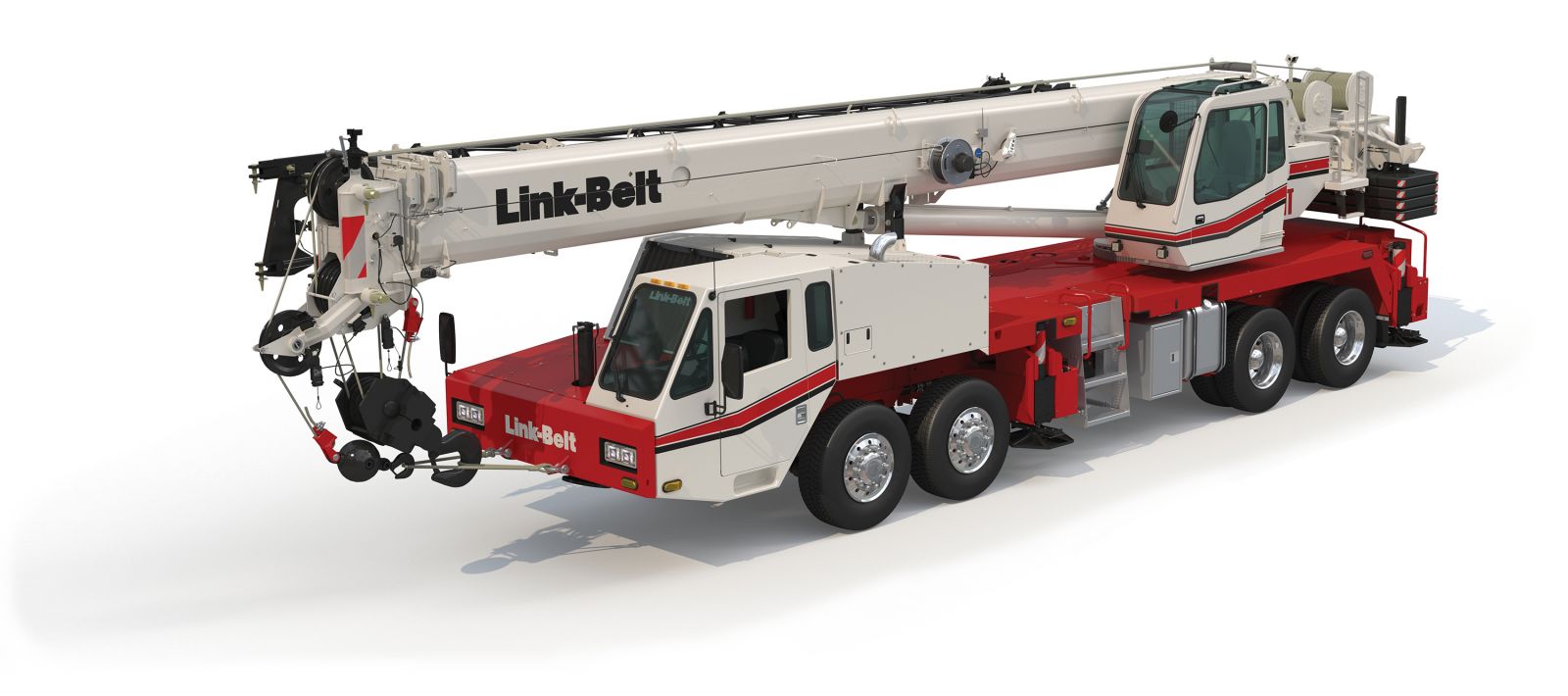 The 65|HT travels at less than 84,000 lbs. with full counterweight.
The 65|HT delivers the easy on-road travel, fast setup, and powerful lifting needed in order to do more jobs per day.

It has a 65-ton base rating and delivers an average of nearly 17% more capacity than the HTC-8660 S-II at all radii from 12' to 100', with increases of 20%-28% at every radius of 55' or more. Maximum tip height with the boom is 125', and with boom and jib is 172'.

Complete with its full 18,700-lb. counterweight, wire rope, and load block, the four-axle 65|HT roads at less than 84,000 lbs. For good handling and minimized per-axle loadings, the rig is well balanced with 40,825 lbs. on the front tandem and 42,825 lbs. on the rear tandem. Where weight restrictions are especially tight, removing all the counterweight lets the crane travel at less than 65,000 lbs.

Road ready, the 65|HT measures 36'11" long, 8'6" wide, and 11'7" high.

Its ability to travel as a self-contained unit makes it ideal for fast-paced taxi-crane work.

All four counterweight plates are identical and can be installed in any order. The self-installation system uses just two hydraulic cylinders and pins.

The Cummins L9 8.9-liter diesel engine is certified to the EPA 2021 on-highway emission standard. It delivers 370 hp and 1,250-ft.-lbs. of peak torque, while the ZF AsTronic transmission offers 12 speeds forward and two reverse for plenty of power and speed. ABS drum brakes help maintain control during stopping.

The crane controls can be single or dual axis. Link-Belt's Pulse system is easy to use for operators, both experienced and new.

New safety features include slip-resistant textured paint on all walking surfaces, anchor points for fall-arrest lanyards, and the addition of a swing camera on the right side of the turret.

TCC-550 Teleboom Crawler

The new TCC-550 raises the lower end of Link-Belt's teleboom crawler family from 50 tons to 55. And that 55-ton base rating is at a usable radius of 10'.

With 25,000-lb. standard counterweight, the TCC-550 transports complete at less than 100,000 lbs.
In fact, the TCC-550's entire range of capacities competes well with other cranes in its class. And, says Pat Collins, Link-Belt's director of product marketing, "The TCC-550's capacity charts have the deduction for the stowed jib already built in." In addition, there are capacity charts for working up to 4° out of level.

Strong capacities, good reach, powerful travel, compact size, and easy transportation make the TCC-550 a strong performer for the kinds of infrastructure projects where teleboom crawler cranes of this size often work.

Its extendible tracks can be set to provide an overall stance of 15'2.37", 13'6.11", or 11'5.24" to accommodate site condition or obstacles.

The powerful travel drive has two speed ranges, can reach speeds to 2 mph, and is designed to climb a 40% grade.

For easy transportation, the crane, complete with two hoists, wire rope, the load block, and its standard 25,000-lb. AB counterweight, can be trucked at less than 100,000 lbs.

With crawlers retracted and boom stowed for transport, the complete TCC-550 measures just 46'8.2" long, 11'5.24" wide, and 9'10.55" high.

It arrives at a job ready to come off the trailer and go to work in as little as 5 minutes.

The crane's enhanced safety features include durable, slip-resistant texture paint on all walking surfaces, anchor points for attaching fall-arrest protection, and a right-side swing camera to help the operator see the far side of the crane.

The standard lighting package now includes a high-intensity LED light on the house and one on the top of the boom base, both controlled remotely from inside the operator's cab.

As mentioned earlier, these two dynamic new cranes will be featured at Link-Belt's Crane Fest in Lexington in late September, but interested customers can order today by contacting their Link-Belt dealer.