Up for the Task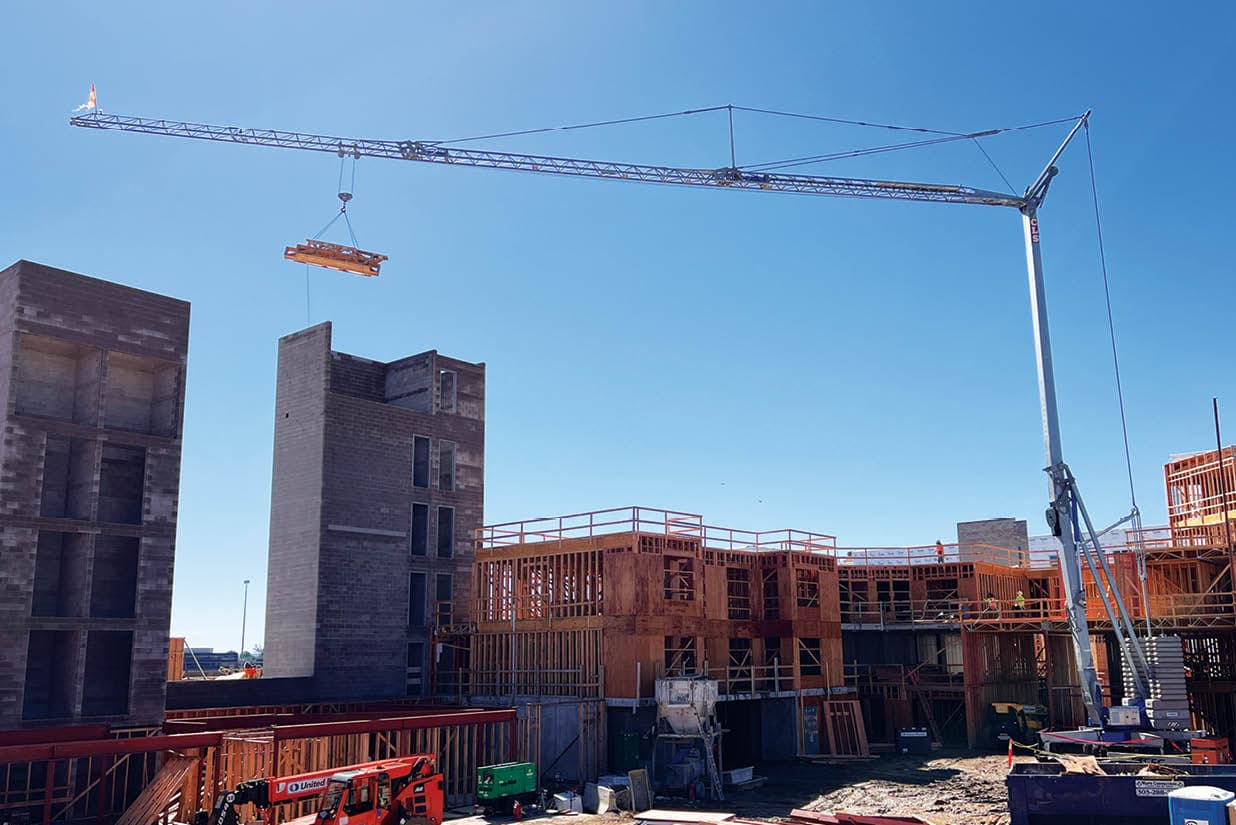 Self-erecting cranes are proving perfect for building luxury homes and other structures in the Rocky Mountains.
"These cranes are a really good tool for the mountains," said Kelly Webb, president of Creative Lifting Services. "Getting a mobile crane to and from some of these jobs can be challenging even before the snow falls."
A few days of mobile crane rental will cost about the same as having a self-erector on site for a month.
Also, the self-erector takes up a lot less space.
Based in Brighton, about 25 miles northeast of Denver, Creative Lifting has about 50 self-erecting cranes.
It is the authorized distributor for Saez cranes, which are made in Spain, and for Vicario cranes, which are made in Italy.
But it's also familiar with brands that are more common in the U.S., such as Terex, Potain, and Liebherr.
"Thanks to trade-ins, we have models from all over the world," Webb said. "We buy and sell a lot of cranes, so we have experience with all the brands, and everything's for rent or sale."
Money Maker
One of Creative's customers is Kevin Stelling, owner of Kevin's Construction Company, of Breckinridge, Colorado.
In 2017, Stelling bought a Vicario V1785 26m (89') self-erector with self-contained counterweights and hydraulic outriggers. He has found it versatile.Most recently, Stelling has used the Vicario in an addition to Father Dyer United Methodist Church in Breckenridge.
"I use it for a mix of commercial and residential work, mostly big houses for rich people that don't live in them," Stelling quipped. "And it's been great. It's made me a lot of money."
The crane has also saved Stelling a lot on labor. On the church project, for example, he built an elevator shaft with just two workers.
"It allows us to stage and build a lot differently," Stelling said. "Having the crane lets us build a wall in an area that's big enough, then pick it up and move it to where it gets installed, rather than building it in a tight spot near where it will end up."
Stelling added, "When you build elevator shaft walls, you build a couple of levels of floor and then you slide those walls down through them. That saves us a lot."
Plenty of Capacity
Creative's self-erecting cranes range in max capacity from 2,000 to 17,500 lbs., and in tip capacity from 1,100 to 3,500 lbs. "That doesn't seem like a lot, but it covers the needs for that type of work," Webb said. "We deal with about every size of self-erector, from one that can be towed with a small SUV to one that takes multiple truckloads to move."
Creative also has about 20 conventional tower cranes, mostly Saez flat-tops, and one Saez hydraulic luffing jib crane.
Like the self-erectors, those small conventional tower cranes have done well in remote mountain areas.
Two recently helped build a gondola tram at Big Sky Ski Resort, and another helped build a massive mountain house for a well-known TV personality.
Certainly, the self-erectors some- times work in the city, putting up smaller apartment or condo buildings, but they shine brightest in tight spaces at higher elevations.
"We customize all our trucks, trailers, boom trucks, and other support equipment for tight and rough terrain," Webb said. "Our trucks have short wheelbases, differential locks for the best traction, and hitch options to match various requirements."
Added Webb, "We might disassemble a crane to lighten or shorten it to make tight turns or steep grades. We might build a special rear steering axle to make tight turns. We plan it all ahead of time."
The cranes are often used to install high-end marble and glass from Europe on those luxury homes with the billion-dollar views. For glass, they can use special suction attachments.
Log homes are another forte for the self-erectors.
"These cranes are really good for those," said Webb. "A log-home maker can use the self-erector to help manufacture a house in its yard, load it out, and then assemble it on the home site."
Webb added, "Sometimes a log-home maker even pre-assembles the whole house in its plant, then delivers it as a kit, and puts it together on site, all with the crane."
Stelling, for example, uses his self-erector to assemble log houses that he imports from British Columbia, Canada.
"It's great for setting logs," Stelling said of the Vicario. "It has the same lifting capacity, or more, at reach than a 22-ton boom truck with 120' of stick."
True Self-Erecting Crane
Webb said that not having to transport the counterweights or needing another machine to lift and stack the counterweights "saves a lot of hassle."
A lot of times relocating a smaller crane a few times on a project works better than using a larger crane that can sit in one spot.
The key is being able to move it efficiently.
Using a crane that can travel with its counterweights on saves relocation time, as do hydraulic outriggers that make re-leveling quicker and easier.
"That makes it a true self-erecting crane," said Webb.
"The Vicario V1785 is a perfect mountain crane," Webb said. "It's tall enough to get above the trees and has the reach to do most projects. It also has a small footprint, self-contained counterweights, and hydraulic outriggers. You rarely see all of that in one crane."
For mobility, Creative Lifting equips most of its hydraulic self-erectors with highway axles that always stay under the crane.
"A lot of these step-reducing features make it easier for a contractor to focus on their work," said Webb.
Most self-erectors have a built-in derrick that they can use to stack their own counterweights. "We equip our truck tractors with a knuckleboom crane and a short deck behind the cab to carry the counterweights," said Webb. "That lets one person in one truck take the self-erector and counterweights to a job site, then use the knuckleboom crane to stack the counterweights during setup."
Webb explained that the knuckleboom is faster, can reach further with the counterweights, and is a little safer than using a crane's built-in derrick.
"Once in a while, though, a customer wants to buy a crane with the derrick so that it's truly self erecting," he said.
One challenge with a self-erecting crane is planning a project in more detail, Webb said. Getting in on the job early enough to get the full benefit of the crane is sometimes hard when individual trades are focusing on only their portion of the project.
The key to maximum efficiency, says Webb, is choosing a crane that can serve all the trades without being too large or too expensive.
Decades in the Business
Webb's father, Will Webb, started Creative Lifting Services more than 20 years ago after many years of experience with construction equipment, bare-rental cranes, and operated crane service.
Creative Lifting's main focus has always been self-erecting and tower cranes. "He's always had a thing for the challenge of working with cranes," said Kelly Webb. "I have the same addiction."
Will Webb is still involved in the business, and Kelly is president.
The company's 30 employees rent, sell, and service cranes across North America, from Hawaii to the U.S. Virgin Islands and Canada.
Creative offers sales and bare rentals as well as rentals with operators, including operators for the self-erects.
"We encourage using a wireless remote controller," Webb said. "On a lot of jobs, especially in the mountains, it lets you do the work with a couple fewer guys. The crane operator can also be the rigger, and since he or she can move freely to always see the load, there's no need for a signaler. The operator can wear the hats of two or three people."
Webb said that on mountain jobs, customers most often provide their own operators.
For that reason, Creative Lifting always keeps a self-erector and a certification course set up in its yard. "It lets an operator practice and be tested as part of receiving an operator certification card," Webb said.
On projects in the Rockies, Creative's cranes work at elevations to 11,000' or more. That can mean a lot of snow.
Among the attachments the cranes can use is a snow tarp that is laid down on a work area to collect the white stuff overnight.
"Then, you just pick up the tarp, swing it over the side of the mountain, and unhook two slings to dump out the snow," Webb said.
Snow Jobs
Stelling said the area averages 355" of snow per year, with some years seeing 400" to 500". Without tarps, snow would pile up on the building. "I run two sets of gang chains when I do it, so I can grab all four corners at once. They pick up real clean and then we take off three of the hooks and dump the snow in a pile," Stelling said.
The tarps are heavy enough so they don't blow away in wind gusts that can reach 140 mph. "We shut down for wind sometimes," said Stelling, "but very rarely for anything else."
Webb said contractors often time their jobs to avoid the worst weather, but that it sometimes isn't possible because they might not even receive permits until after the snow starts.
"We do pretty well in winter," Webb said. "If you're going to build in winter, why not have a crane help you be more efficient — especially when you can use an attachment like a snow tarp or snow bucket?"
It can take longer and cost more to build in winter. But starting a job in one winter may let a contractor finish before the next winter starts. "It's probably better to start with a foundation in winter than to enter the next winter without a roof," Webb said.
Strong Attachments
Attachments like forks, spreader bars, and trash buckets help users maximize productivity. "They let a crane do more," said Webb.
These cranes run on single-phase electricity, which is often more available than three phase. Where electrical service hasn't been installed, the electricity can come from a generator.
But their most notable feature is working in spaces too cramped for other heavy equipment.
"There's often nowhere to use a forklift or boom truck," Webb said. "The self-erector's footprint is about 16' x 16', and it often does everything from there. A boom truck takes up twice that and can't reach everything, so it has to keep moving. Forklifts make ruts and track mud. That's where the self-erects are really great."
Small Crane, Big Savings
A self-erect crane is also less expensive. Medium-sized self-erects cost from $150,000 to about $300,000.
A self-erector's major competition, though, is a forklift, boom truck, or mobile crane. Those all cost more to buy and run, Webb said.
"A mobile crane in the mountains could rent for $400 an hour," he said. "It's gonna take up three times the footprint of the crane, and three times the footprint might not be available."
By comparison a self-erect crane might rent for $150 an hour, or even less if the renter supplies its own operator.
"Everybody thinks you need a really big crane," Webb said. "But we often look at the site plan and tell a customer where to put a smaller crane so they can still reach everything. Sometimes we can show them how they can use an even smaller crane if they move it a couple of times. That's the beauty of it."
Keith Norbury is a construction journalist and editor living in Victoria, British Columbia, Canada. He can be reached at keithnorbury@shaw.ca.