Wolffkran Test-Assembles New 20' x 20' Tower Section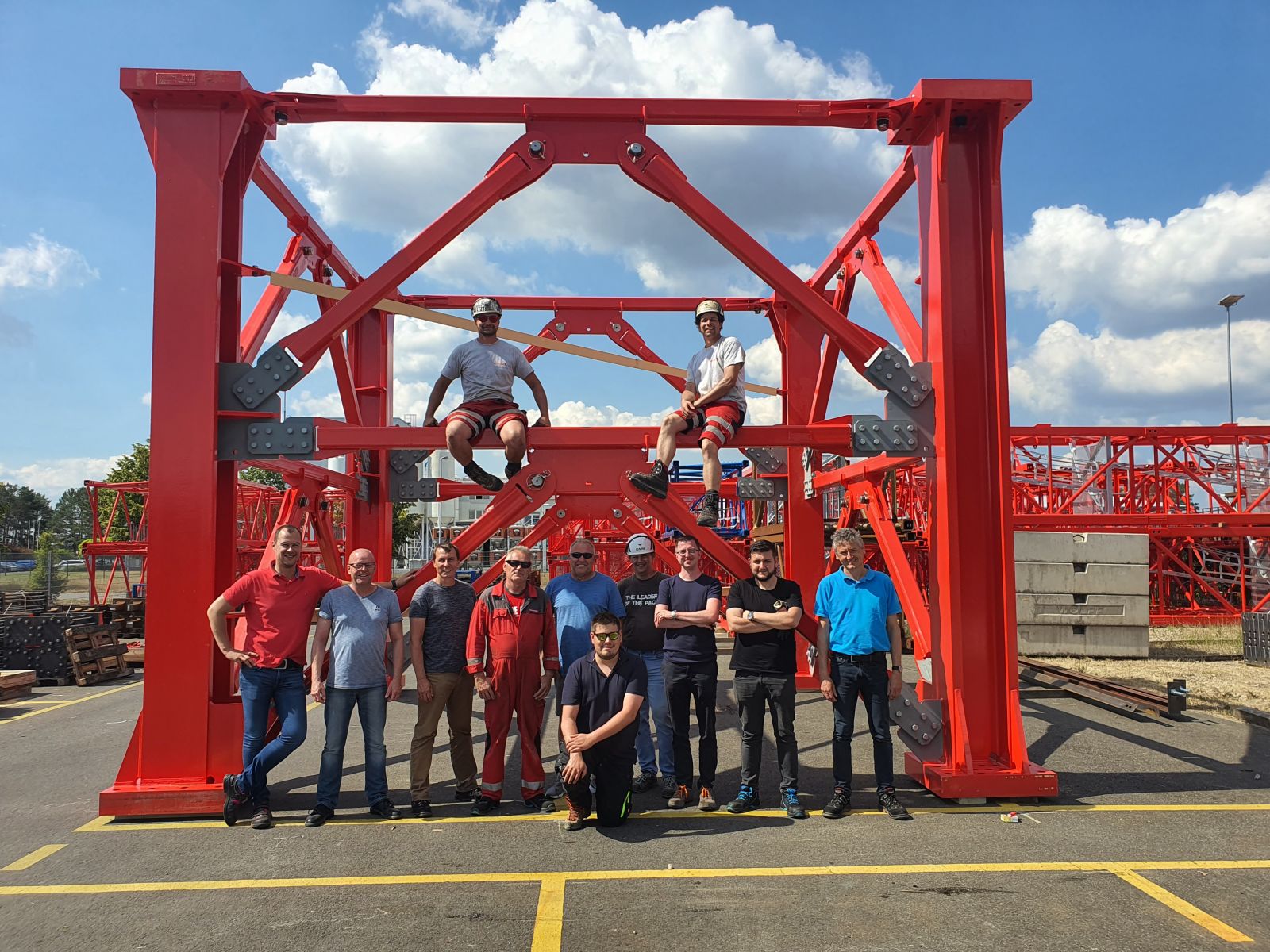 July 20, 2020 - Wolffkran has begun testing a new 6-meter (19'8" x 19'8") tower section developed to meet the needs of a Swiss dam project.
Wolffkran has confirmed that it expects the new TV 60 tower to be available in North America about the middle of 2021.
The tower's impressive footprint could accommodate a boxing ring or a twin carport. In addition to measuring 19'8" x 19'8", a section stands 16'5" tall and weighs 30.8 U.S. tons.
The new tower will first be used in combination with two Wolff 1250 B luffing-jib tower cranes on the high-altitude construction site at the Grimsel Pass in Switzerland.
At the beginning of the year, Wolffkran secured the contract to supply the crane concept for the construction of the Spitallamm Replacement Dam at Lake Grimsel, located almost 2,000 m (6,562') above sea level.
With crane assembly planned for September, Wolffkran has since been designing, and manufacturing at full speed to meet the project deadline.
Recently, the first two TV 60 tower sections were successfully test assembled at Wolffkran's production facility in Brandenburg, Germany. Wolffkran says, however, the tight schedule is not the only challenge.
Solid as a rock
"Both Wolff 1250 B luffers have to be erected with a freestanding tower height of 92 meters (301'10"), as they can neither be tied to the dam wall nor the surrounding rock face – and this in high alpine terrain with extreme weather conditions," explained Patrick Witteck, who is from Wolffkran's technical support team and responsible for the development of the new TV 60.
"At the same time, they have to lift 16 tonnes (17.6 U.S. tons) at a maximum jib radius of 70 to 80 m (229'8" to 262'6"). This would not have been structurally possible using the TV 33, our largest standard tower element with external dimensions of 3.30 x 3.30 meters (10'10" x 10'10")," added Witteck. "That is why we developed the TV 60 for this project."
The cranes can thus lift the specified loads without needing any tower-ties, while at times withstand wind speeds of up to 220 km/h (136.7 mph) when out of service. "This was decisive as the Wolff cranes will remain on the construction site throughout the winter," said Witteck.
288 Bolts, 24 Pins, 1.5 trucks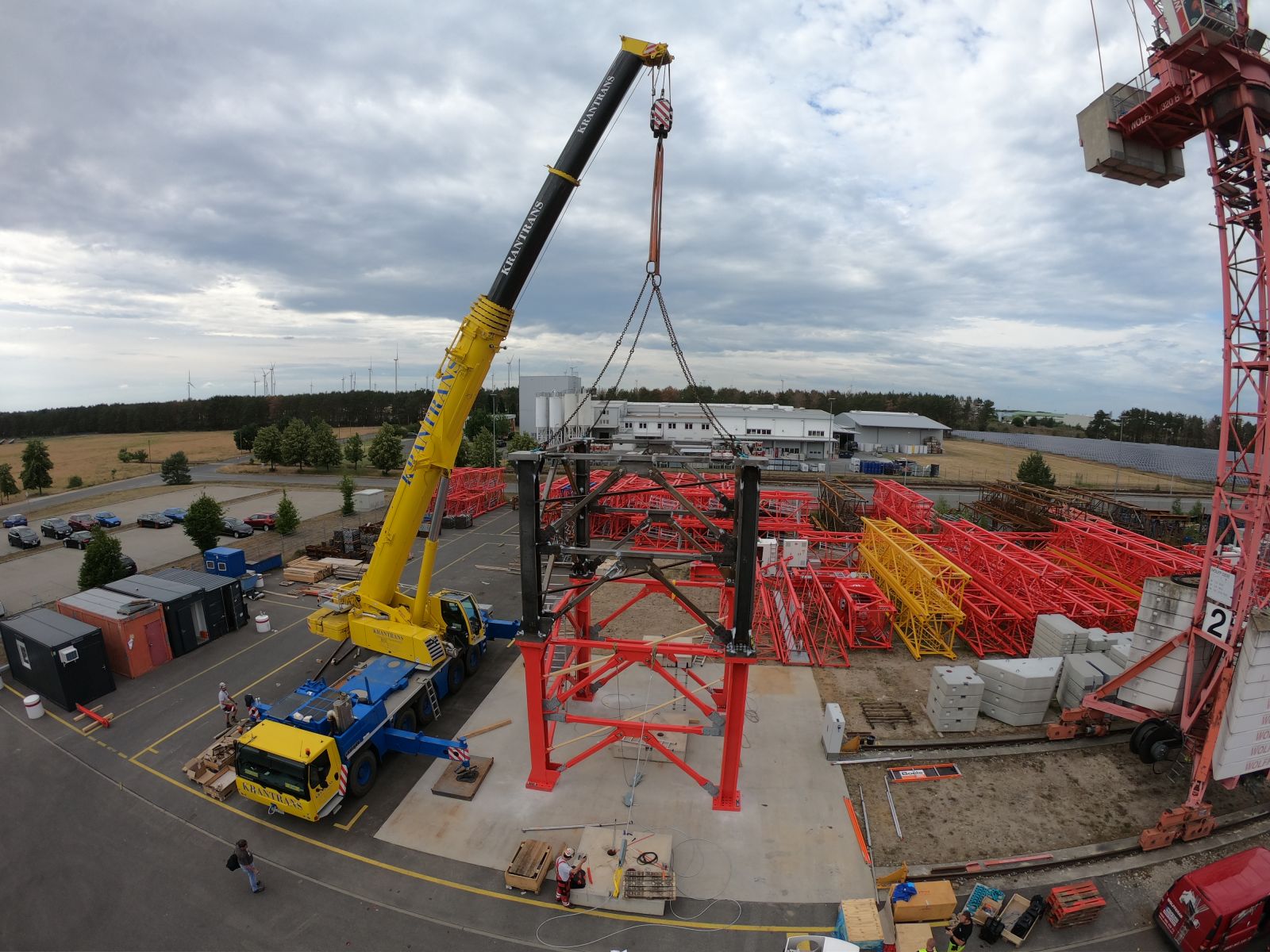 Despite the sheer dimensions of the tower section, which takes 288 bolts and 24 pins to assemble, the project team placed particular emphasis on making its assembly as simple as possible.
"By using only comparably small M48 and M24 screw bolts, the tightening tools can easily be handled with one hand. Also, the screw bolts for connecting the tower sections are positioned so that no fixed tightening sequence is necessary, and they can be handled by one person," said Witteck.
Wolffkran estimates an assembly time of about four hours per tower element.
A total of fourteen TV 60 tower sections will be manufactured for the dam project at Lake Grimsel. A new connecting frame VR 3360 has also been developed to combine the TV 60 with the TV 33 tower system, allowing a freestanding tower height of up to 130 m (426'6") for the Wolff 1250 B.
The new 28-tonne (30.8-U.S.-ton) XXL tower element can be disassembled into its individual parts and transported on just 1.5 trucks while also being optimized for transportation in standard sea freight containers.
Wolffkran foresees the tower being used on power plant and wind turbine projects or high-rise construction sites where it is impossible or inefficient to tie the crane to the structure.