Yonkers Contracting Company Uses Grove GRT880 on New York Project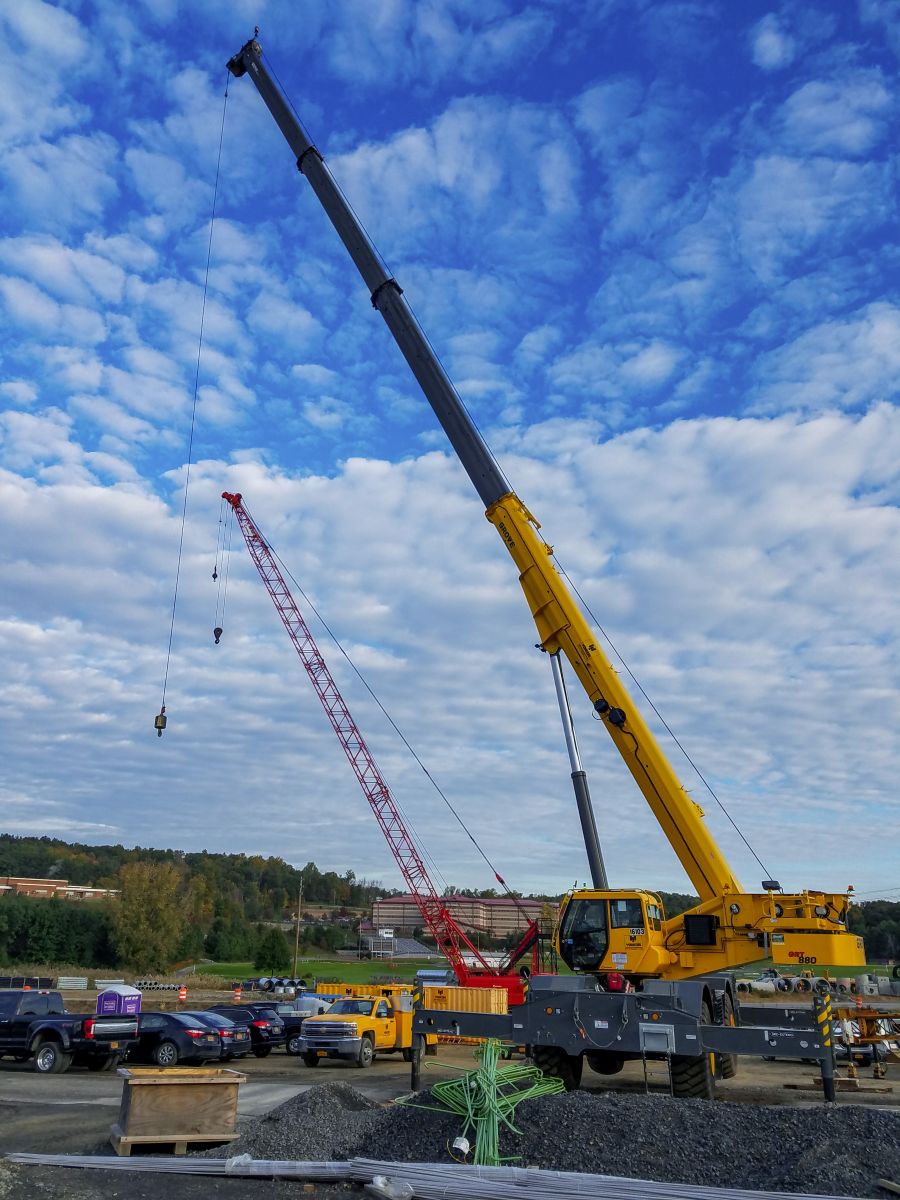 The Grove GRT880 was delivered directly to the road construction job site in New York in April 2018 and has since reported zero downtime.
June 24, 2019 - Yonkers Contracting Company (Yonkers) is using its recently acquired Grove GRT880 on an infrastructure project along Route 17 in Harriman, New York. The project includes building a new bridge, a new interchange, and inserting new drainage. It has a quick-paced schedule and is expected to be completed later this year.
Yonkers is using their GRT crane to lift steel beams, precast drainage pipes, and other materials for the project. Due to the reach needed to complete the lifts of the steel beams and drainage pipes, the GRT880's load charts were on full display. On the jobsite, loads as much as 20 U.S. tons are being raised to heights of 25' and then placed below ground level at radii up to 75'.

"The 50 U.S. ton cranes we typically use didn't have the capacities for the type of lifting that we needed to do on this job, so we really had to look at load charts to see which crane was best for us," said Lou Marino, VP equipment operation at Yonkers. "The GRT880 has been a great fit for this project. Its lifting capacity and boom length were ideal for the job, and we haven't had any downtime with the crane, which has enabled us to boost our efficiency."

Grove's Crane Control System (CCS) was also an important feature that stood out. Yonkers has a fleet of about 750 pieces of equipment and uses them across New York, New Jersey, and Connecticut, so ease of use and consistency within operation is paramount.

"Because our equipment gets moved around to different states, we don't have the same operators on the equipment every day," Marino said. "So, it is important for us to have a crane that is easy to operate with a cab that was comfortable. I think we found exactly that with the GRT880."

CCS has a user-friendly interface, featuring two full graphic displays mounted vertically for easier viewing and a jog dial for easier navigation and data input. The system allows the electronic controllers to be reprogrammed by the operator for specific speed and reaction. It also has a 20° tilt cab for optimal vision and comfort for the operator.

Over the years, Yonkers has worked closely with its Grove and Manitowoc dealer, Hoffman Equipment, from which it also purchased the GRT880. The Piscataway, New Jersey-based construction equipment helped Yonkers choose its newest machine, even helping get the crane certified in New York City.

"The tilt cab and CCS in the GRT880 are great, but Yonkers needed this crane to complete the Route 17 project because of the machine's added boom length and higher capacity," said Pasquale Tomasetti, account manager and sales representative at Hoffman Equipment. "We've had a great working relationship with Yonkers over the years, whether it's selling new equipment, servicing machines, or answering any questions that they have. We look forward to seeing this crane on other jobsites helping them drive results."